Tuesday Morning Prepper
It's The Interest Rates Stupid
PREMIUM 
CHARTS
Morning Data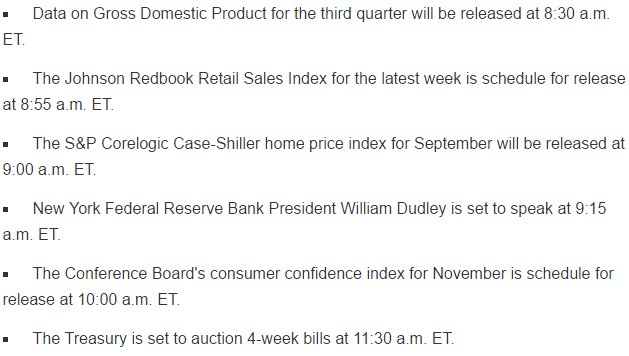 The Streak Ends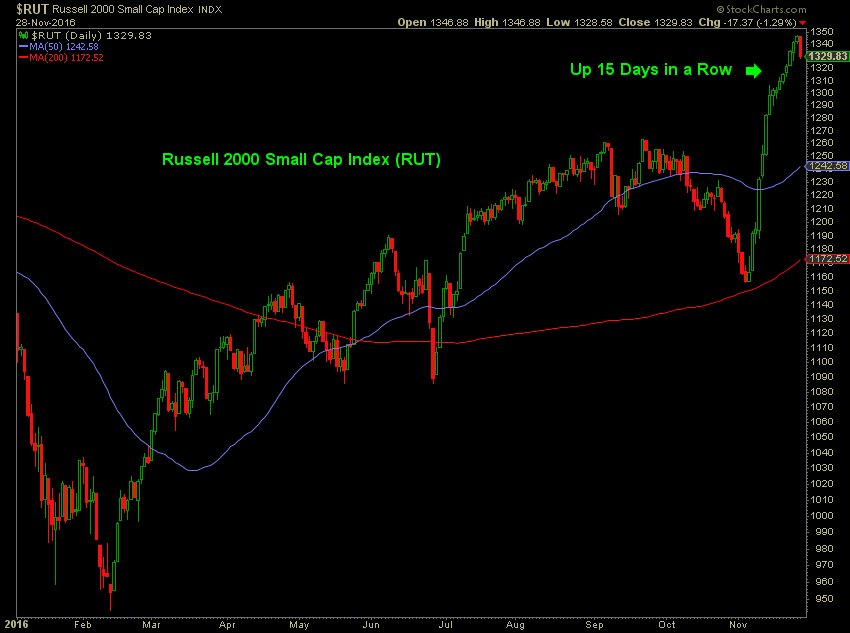 Earnings Grow?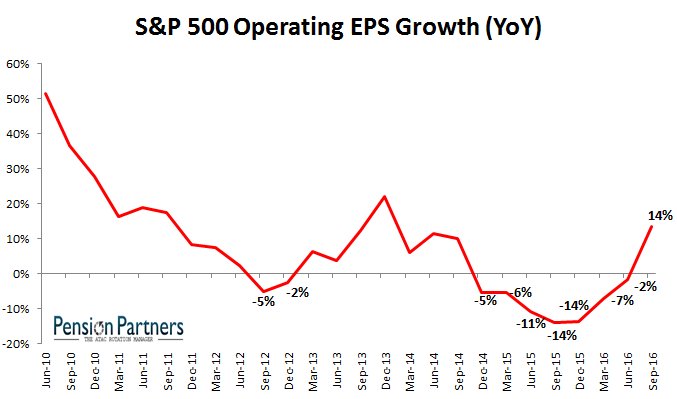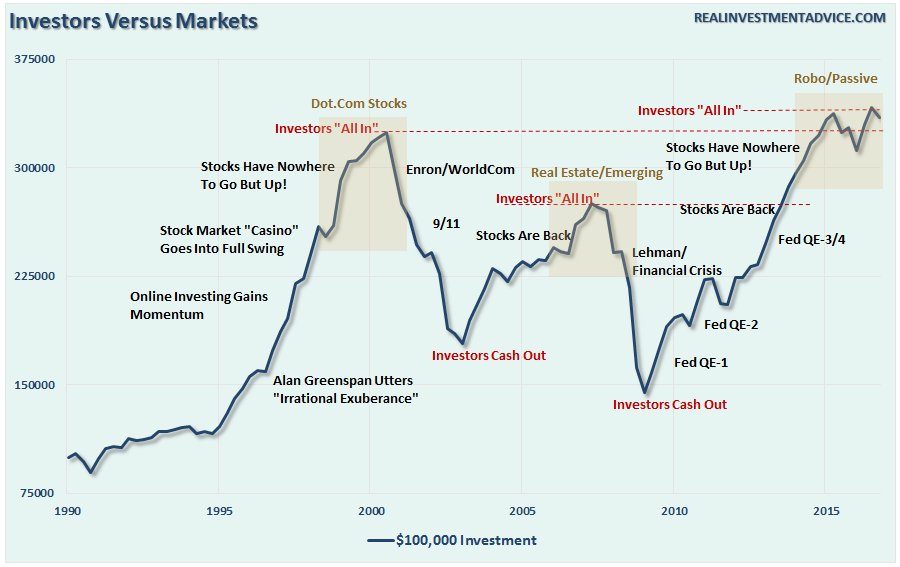 MORNING COFFEE
Oil prices are giving up some of Monday's gains ahead of the official start of the latest OPEC meeting in Vienna tomorrow. Things are looking increasingly shaky following reports that OPEC's technical experts failed to bridge their differences and Russia confirmed it would not attend the gathering. The group is aiming to agree on its first crude output deal since 2008, however, details of a potential accord remain unclear.
Economy
The U.S. Commerce Department is scheduled to release its revised estimate of gross domestic product for Q3 at 8:30 a.m. ET. Economists expect a slight upward revision to 3% growth, from 2.9% in the earlier estimate, potentially keeping the Fed on track to raise interest rates in December. If correct, it would also remain the best quarter for economic growth in two years.
Amid reports of discord in Donald Trump's transition team, a new contender has emerged for Secretary of State. David Petraeus, the former CIA director, met with the President-elect yesterday. Trump is also likely to roll out what he will cast as a "dream team" today to overhaul the U.S. healthcare system. Georgia congressman Tom Price will be named as Health and Human Services Secretary and Indiana consultant Seema Verma will take the helm of Medicare and Medicaid.
Speaking at the European Parliament in Brussels on Monday, Mario Draghi warned that Britain, rather than the eurozone, will "first and foremost" feel the pain of Brexit. He also called for clarity over the negotiation process that will govern the U.K.'s departure from the EU, but said that it was impossible to estimate the full economic impact at this stage.
With protests growing in South Korea, President Park Geun-hye has asked parliament to find a way for her to relinquish power and shorten her term, but the opposition said she was just trying to avoid impeachment. "I am giving up everything now," Park said in a televised address to the nation, again offering an apology for the corruption scandal that has paralyzed her government for weeks.
Brazil's Senate is scheduled to hold a first-round vote today on a constitutional amendment that would cap government spending in inflation-adjusted terms for as long as 20 years. The bill, which sailed through the lower house last month, is one of the cornerstones of President Michel Temer's effort to shore up confidence in Latin America's largest economy.
Stocks
U.S. online sales gained momentum on Cyber Monday and looked set to surpass initial expectations by hitting a record $3.39B, which would mark the nation's largest online sales day in history. That's according to Adobe Digital Insights which has projected a more than 10% jump in online revenues as consumers scramble to get their hands on the web's best bargains. Adobe will release final figures later today.
Shoppers have finally got their hands on Nike's (NYSE:NKE) self-lacing, "Back to the Future Part II"-inspired sneakers. The HyperAdapt 1.0 shoe, which will retail at $720, is Nike's "first step into the future of adaptive performance." That means the hi-top sneaker can sense how snugly it should be laced, without the wearer having to tighten and loosen it manually.
The FBI said a record-setting number of gun background checks were processed this Black Friday, a possible indicator of higher firearm sales. The National Instant Criminal Background Check System processed 185,713 transactions, giving the gun industry a much-needed boost. After a run-up in sales the week before the election, major gun manufacturers saw their stocks dive by double-digits. Related tickers: SWHC, RGR, CAB, SPWH, VSTO, OLN
It's been more than a year since Marriott (NYSE:MAR) entered talks to buy Starwood Hotels & Resorts and speculation has been rife about the $13.3B deal. Over the long Thanksgiving weekend, Marriott began putting its strategy into place, keeping all 30 combined brands despite similarities. According to its website, they are being distinguished by whether they are "classic" or "distinctive," while joint loyalty plan details are still to be determined.
The fifth Amazon Web Services re:Invent conference will begin today in Las Vegas, as more than 32,000 people gather to hear about the cloud giant's services, strategy, pricing, best practices and new offerings. "We're not close to being done adding new capabilities," AWS Chief Executive Andy Jassy said in an interview last week. Sales of Amazon's (NASDAQ:AMZN) subscription-based, on-demand services ballooned 55% in the third quarter to $3.2B.
AT&T took the wraps off its new DirecTV Now streaming service on Monday, making a foray into the new and crowded online video service market. The company said it will offer three new streaming plans - DirecTV Now, Freeview and Fullscreen - starting Nov 30. Introductory offers? DirecTV Now (NYSE:T) pricing bundles will range from over 60 channels for $35/month to over 120 channels for $70/month.
Allstate has agreed to acquire privately held Squaretrade, which sells warranties for electronic products, for about $1.4B from a group of shareholders that includes Bain Capital. "This acquisition expands Allstate's (NYSE:ALL) customer relationships with 25M protection plans for consumer electronics and connected devices," CEO Tom Wilson declared.
British media regulator Ofcom is proceeding with a formal notification to legally separate Openreach from BT, the division that develops and maintains the U.K.'s main telecoms networks. Sky (OTCQX:SKYAY), Talktalk (OTC:TKTCY), Vodafone (NASDAQ:VOD) and of course, BT, all use Openreach networks. In a statement, BT said it was open to Ofcom's proposal for legal corporation and "has proposed a model that is fair, sustainable, and proportionate."
Texas has reported its first home-grown case of Zika virus - making it the second U.S. state with mosquitoes spreading the disease. It's a long-feared development but not a surprising one. Like Florida, South Texas is home to the Aedes aegypti mosquitoes that spread Zika and also hosts many travelers to and from countries where the virus has been spreading. Related tickers: SNY, ABT, INO, AEMD, XON, CEMI, BCRX, TMO, OSUR, OTCQB:GOVX
Actelion is considering a complicated deal to combine with part of Johnson & Johnson (NYSE:JNJ), a move that will leave the Swiss company independent from the U.S. drugs giant, FT reports. The structured transaction would create a new, larger biotech firm uniting Actelion (OTCPK:ALIOY) with relevant parts of J&J's pharma division, with the latter becoming a major shareholder in the new business.
A Munich court has rejected Lufthansa's (OTCQX:DLAKY) request to issue a temporary injunction to prevent yet another strike by German pilots union VC over a long-standing pay dispute. The airline warned that an additional walkout, planned for today and tomorrow, could result in the cancellation of a further 1,700 flights.
Boeing is looking on the bright side following the WTO's ruling against a Washington state tax break for its 777X jetliner, calling the decision "a victory." "In total, the EU claimed that Boeing (NYSE:BA) had received $8.7B in subsidies. This claim was rejected by the WTO, which found future incentives totaling no more than $50M/year to be impermissible," the planemaker said in a statement.
U.S. airlines are proceeding with plans to launch new flights to Cuba this week despite doubts that President-elect Donald Trump has raised about the future of ties between the countries. American Airlines (NASDAQ:AAL) kicked off its first flight to Havana from Miami on Monday and intends to launch Charlotte-Havana service tomorrow. JetBlue (NASDAQ:JBLU), United (NYSE:UAL), Delta (NYSE:DAL) and Spirit (NASDAQ:SAVE) also have flights to Havana starting this week.
Marking the latest push to police the development of self-driving cars, the NHTSA has raised concerns over GM's plan to halt semiautonomous vehicles with unresponsive motorists, advocating a safety feature will slowly bring vehicles to a stop and automatically activate hazard lights. General Motors previously delayed Super Cruise, set to debut on a Cadillac car this year, until 2017.
Tesla has come under fire for using prohibited accounting metrics and sharing the information with investors, Dow Jones reports. The SEC said Tesla (NASDAQ:TSLA) in its August earnings release used "individually tailored" measurements when the company added back certain costs to revenue calculated under GAAP, although the agency judged the matter resolved without further action.
Auto parts maker Delphi Automotive (NYSE:DLPH) and Mobileye (NYSE:MBLY) are putting an Intel (NASDAQ:INTC) chip at the heart of their joint effort to produce self-driving cars by 2019. The move is a boost for the world's largest semiconductor maker, as it will afford an opportunity to catch up in autonomous vehicles, a field where some chip makers have made deeper inroads.
Uber will head to Europe's top court today, looking to convince authorities that it's a digital service and not a transport company. That would exempt UBER from strict laws like licensing and safety rules across the continent, a feature which has had traditional taxi services and labor unions up in arms. A decision in the landmark case, which could have huge implications for the entire app-based economy, is expected by March.