Tuesday Morning Market Prepper
PREMIUM 
Stocks Vs. Bonds (@jackdamn)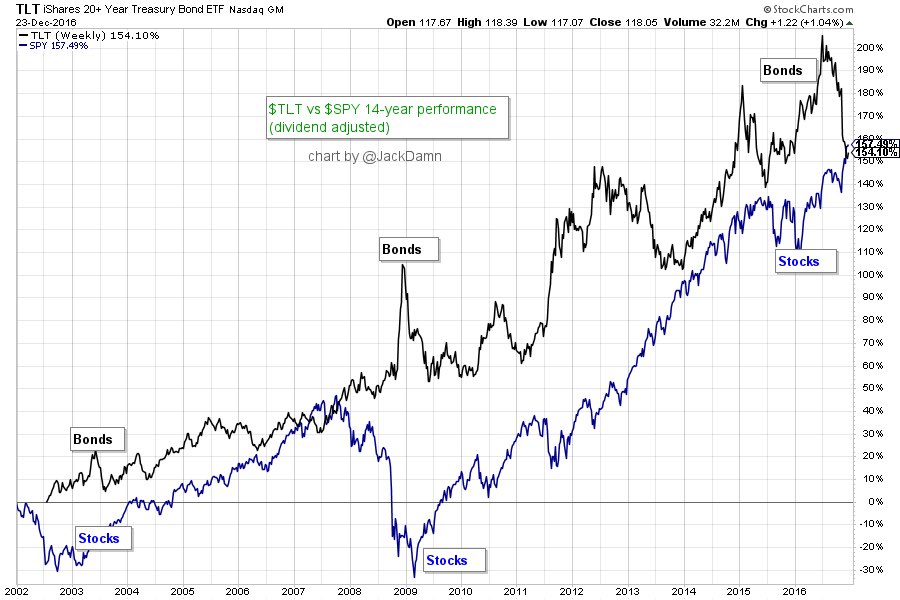 CHARTS
and more
Global equities and U.S. futures are largely unchanged as some of the world's major financial markets reopened following a long holiday weekend. Although trading is expected to be thin this week, some are saying that concerns about Italian banks, Chinese growth and an overplayed Trump rally may keep investors on edge into the start of 2017. Is a so-called Santa Claus rally still in the cards?
Economy
Indian shares were the exception overnight. The Sensex index notched up its biggest single-session rally in about three weeks, climbing 1.6%, after Finance Minister Arun Jaitley underlined the need to have globally compatible tax rates to broad-base the economy. He has also gone to great lengths to allay market fears that the government would impose tax on long-term capital gains on share earnings.
Japan's consumer prices fell for the ninth straight month in November, slipping 0.4% from a year earlier, as the nation struggles to shake off deflation that has plagued its economy. The news comes after Governor Haruhiko Kuroda defended the BOJ's yield curve control and shrugged off criticism that his 2% inflation target was too ambitious.
President Xi Jinping isn't wedded to China's 6.5% economic growth objective due to concerns about rising debt and an uncertain global environment after Donald Trump's election win in the U.S., Bloomberg reports. Xi told a meeting of the Communist Party's financial and economic leading group that China doesn't need to meet the objective if doing so creates too much risk.
Dozens of MPs have split from South Korea's Saenuri Party over the corruption scandal involving impeached President Park Geun-hye, as the country gears up for elections that might take place within months. The division means South Korea's National Assembly will have four major parties for the first time in 20 years. The New Conservative Party for Reform will be launched on Jan. 24.
Greece's eurozone creditors have agreed to unblock previously suspended debt-relief measures for the country after Athens assured them that a Christmas gift it offered pensioners would be a one-off. The move should ease tensions over the country's bailout, fueled by Athens' decision to pursue fiscal largess without informing its lenders and disagreeing with them over its economic overhauls.
Donald Trump's trade chief has urged Britain's rivals to exploit the "God-given opportunity" of Brexit and "take advantage of the inevitable relocations that will occur during the period of confusion." According to The Times, Wilbur Ross made the comments to Cypriot financiers in the days following the June referendum. He would be among those responsible for negotiating a free trade deal with the U.K. as Trump's Secretary of Commerce.
Oil prices are holding steady with markets adopting a wait-and-see approach before the first "OPEC and non-OPEC" output cut deal in 15 years goes into effect. The accord, which kicks in on Jan. 1, is designed to bolster oil prices by lowering production of all the parties involved by almost 1.8M barrels per day.
Stocks
Rogue One kept its grip on North American movie fans over the Christmas weekend, giving the film a second straight win at the box office and pushing Disney (NYSE:DIS) further past its record $7B in annual global ticket sales. The title beat four new releases, including Sing (NASDAQ:CMCSA), Passengers (NYSE:SNE), Why Him (NASDAQ:FOX) and Assassin's Creed (NASDAQ:FOXA), collecting $96.1M in U.S. and Canadian theaters.
Sony Music Entertainment apologized to Britney Spears and her fans after its Twitter account was hacked and falsely reported the pop star's death, just over two years after a major cyber attack crippled its parent company's film division. "This has been rectified," Sony Music (SNE) said in a statement. The tweets, which appear to have since been deleted, included "RIP @britneyspears #RIPBritney 1981-2016."
The initial excitement surrounding Nintendo's (OTCPK:NTDOY) debut mobile game appears to wearing off. According to researcher App Annie, Super Mario Run is no longer the highest-grossing iOS app in any country. The drop in rankings may reflect problems with the app's price: It can be downloaded for free, but users have to pay $10 if they want to progress beyond the first three levels of the game.
Snap is buying augmented reality startup Cimagine Media for an estimated $30-$40M, Calcalist reports. Cimagine has developed True Marketless Augmented Reality, which allows users to virtually place furniture and appliances they wish to purchase in the space of their home. With Snap (Private:CHAT) looking to go public perhaps some time next year, it's quite possible that facilitating shopping through Snapchat might open up additional revenue opportunities.
Chinese mapping company NavInfo, internet services group Tencent (OTCPK:TCEHY) and Singapore sovereign wealth fund GIC are jointly purchasing a 10% stake in digital maps company HERE. Last year, Mercedes-Benz (OTCPK:DDAIF), Audi (OTCPK:AUDVF) and BMW (OTCPK:BAMXF) bought the firm from Nokia (NYSE:NOK) for €2.55B to create an alternative digital mapping business to Google (GOOG, GOOGL).
As part of a solar partnership first announced in October, Panasonic (OTCPK:PCRFY) and Tesla Motors (NASDAQ:TSLA) have agreed to begin production of photovoltaic cells and modules at a factory in Buffalo, New York. The two companies plan to start manufacturing in the summer of 2017 and increase to one gigawatt of module production by 2019.
Toshiba expects to record another hefty writedown connected to its U.S. nuclear business, clouding the firm's plan for turning around after an accounting scandal in 2015. The impairment loss, which could be valued in the billions of dollars, relates to Westinghouse's acquisition of Chicago Bridge's (NYSE:CBI) nuclear construction unit a year ago for $229M. Toshiba (OTCPK:TOSYY) shares closed down 12% in Tokyo on the news.
Major Saudi Arabian newspaper al-Eqtisadiah has retracted a report that said Saudi Aramco planned to sell 49% of its shares over the next 10 years. It was "completely wrong and far from reality," the newspaper said, apologizing for the mistake. The company aims to sell some of its shares in 2018 in what could be the world's biggest IPO (Aramco CEO Amin Nasser said in October a flotation of up to 5% was being considered).
"Boeing has announced that its IranAir contract is worth $16.6B. However, considering the nature of our order and its choice possibilities, the purchase contract for 80 Boeing aircraft is worth about 50% of that amount," said Deputy Transport Minister Asghar Fakhrieh-Kashan. Boeing (NYSE:BA) and Airbus (OTCPK:EADSY) both signed huge contracts this month to supply airliners to Iran, the first such deals since international sanctions were lifted on the Islamic Republic.
The ECB has told Monte dei Paschi (OTCPK:BMDPY) it needs to plug a capital shortfall of €8.8B, higher than a previous €5B gap estimated by the world's oldest bank after it asked for a "precautionary recapitalization." It means only a modest bail-in of investors though the government can buy shares or bonds on market terms endorsed by EU state aid officials in Brussels. Last week, the Italian government approved a new €20B fund to help support its struggling lenders.