Tuesday Morning Reads
Reads:
News:
Earnings: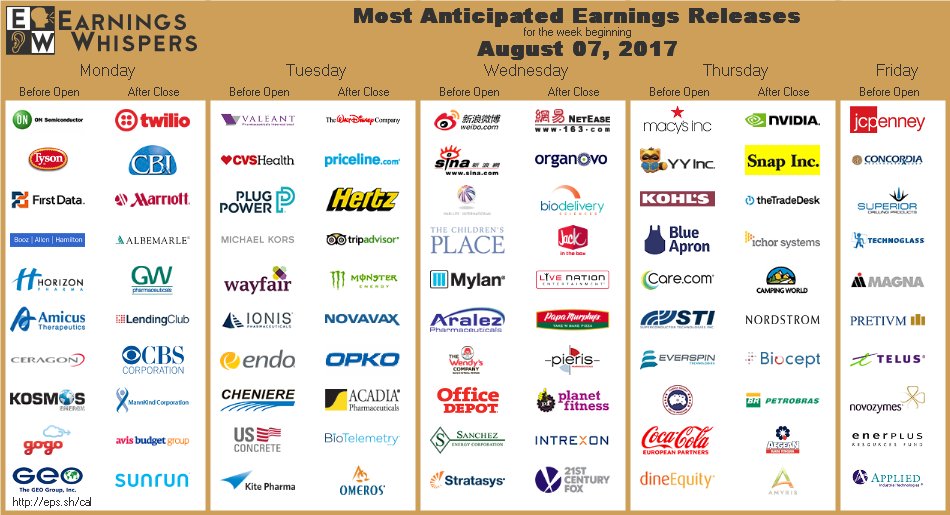 Charts:
Seekingalpha:
U.S. stock index futures are hugging the flatline after the DJIA achieved a ninth consecutive record close in yesterday's session, while the S&P 500 notched a new all-time high. Reactions? "It's really hard to see anything that could send the market for a stumble," said Bruce McCain, chief investment strategist at Key Private Bank, while Michael Hewson, chief market analyst at CMC Markets UK, dubbed the moves "picking up pennies in front of a steamroller."
Economy
Less than a week after President Trump embraced legislation to reduce immigration, Minneapolis Fed President Neel Kashkari is pushing for the acceptance of newcomers. "Just going to math, if a big source of economic growth is population growth, and your population growth slows, either because you restrict immigration or because you have fewer babies, your economic growth is going to slow," he said at the Rotary Club of Downtown Sioux Falls.
Chinese trade data produced a rare miss in July with annual growth levels undershooting expectations. Exports from the world's second-largest economy rose 7.2% from a year earlier, while imports expanded 11%, resulting in a trade surplus of nearly $47B. China also said it will pay the biggest economic price from the new UN sanctions against Pyongyang, but will always enforce the resolutions.
A 2017 defense white paper from Japan has upgraded its official warning on North Korea, stating the threat has entered a "new stage" and the regime may have already acquired the ability to miniaturize nuclear weapons. Defying pressure from new UN sanctions, the hermit regime said it would "under no circumstances" negotiate on its nuclear and missile weapons programs.
The rand is on edge ahead of a secret no-confidence vote in President Zuma. According to analysts, the South African currency could surge if he's ousted, though gains would falter if he survives the vote. Zuma has had a rocky term, with corruption allegations and questions about his management of the economy.
The Trump administration is preparing sanctions against another group of Venezuelan officials linked to President Maduro in response to his creation of a new legislative superbody. The measures, to freeze the individuals' U.S. assets, ban them from travel to the U.S. and prohibit Americans from doing business with them, could be rolled out as early as this week.
Oil prices are on the rise on reports that Saudi Aramco (Private:ARMCO) will cut crude oil allocations in September by at least 520K barrels per day. Buyers in Asia will see supplies from the Kingdom dwindle by up to 10%, as part of its commitment under an output reduction pact. It comes as representatives from a joint OPEC and non-OPEC committee meet in Abu Dhabi for the second day to discuss compliance.
Stocks
CBS is taking its broadcast streaming service worldwide. CBS All Access will be offered internationally through a partnership of CBS Interactive and CBS Studios International, although prices weren't disclosed. According to CEO Les Moonves, the service is headed to Canada first, in the first half of 2018, before going to "multiple continents."
Giving some color to reports that AT&T (NYSE:T) might look at divesting assets like CNN when it wraps up its $85B acquisition of Time Warner (NYSE:TWX), AT&T's John Stankey said the news network isn't for sale. Meanwhile, the hacker behind HBO's recent data breach has posted a link to a cache of internal documents online, including a script summary of an upcoming Game of Thrones episode and a month's worth of executive emails.
McDonald's is betting that Chinese consumers are hungry for more. The fast food chain plans to open 2,000 new restaurants across the world's most populous nation in just over five years, bringing the total to 4,500. The strategy, termed "Vision 2022," will see McDonald's (NYSE:MCD) partner with Citic (OTCPK:CTPCY) and Carlyle (NASDAQ:CG) to drive double-digit sales growth.
Traditional engines are still at the center of Mazda's (OTCPK:MZDAY) longer-term strategy. The automaker will launch a new engine in 2019 that would be the world's first commercial gasoline engine to use compression ignition. The company is also aiming to make autonomous-driving technology standard in all of its models by 2025.
Travis Kalanick isn't returning to fill his prior role, according to UBER board member Garrett Camp, following rumors that he was attempting to come back as CEO. "It's time for a new chapter and the right leader for our next phase of growth," he declared. Kalanick reportedly wants to "pull a Steve Jobs" and return to the top spot, potentially after a SoftBank (OTCPK:SFTBF) investment.
IEX Group has passed a major hurdle to challenge the New York Stock Exchange (NYSE:ICE) and Nasdaq (NASDAQ:NDAQ) after winning regulatory approval for a process to open and close the market and transfer listings from other exchanges. It's still a small player: Since launching last August, IEX's market share has risen from 1.6% to 2.4% in the U.S.
The cautionary words of the SEC have done little to chill the red-hot market for new virtual currencies as the agency determines whether the recent mania should fall under securities rules. July was the biggest month for coin offerings, with 34 projects raising $665M, according to Tokendata.io - or twice as much money as was raised in the first five months of the year combined.
Back to bank settlements... Citigroup (NYSE:C) has agreed to pay $130M to resolve private U.S. antitrust litigation accusing it of conspiring with rivals to manipulate Libor. It's the second institution to resolve claims by so-called "over-the-counter" investors that transacted directly with banks on a panel to determine the benchmark. Barclays (NYSE:BCS) reached a similar settlement for $120M in November 2015.
A judge in Brazil has temporarily suspended criminal proceedings against 22 people and four companies accused of killing 19 people in the 2015 Samarco mine disaster, over the legality of phone intercepts between executives involved and other evidence. VALE and BHP Billiton (NYSE:BHP) are among those accused of crimes related to the burst tailings dam considered to be Brazil's worst-ever environmental disaster.
Baker Hughes has won a major contract to provide a wide range of services to develop Papua New Guinea's first offshore gas field. The contract, worth several hundred million dollars, is seen as a new model to help producers adapt to a world of low oil prices and contrasts with the traditional model where a company awards various parts of field development to different providers. BHGE +1.3% premarket.
It's a blow to Venezuela, because oil production accounts for 95% of the nation's foreign currency earnings. Repsol (OTCQX:REPYY) has withdrawn all foreign workers from the country's oil fields amid the deepening economic crisis, while Chevron (NYSE:CVX) and Total (NYSE:TOT) have removed some employees, Bloomberg reports. Statoil (NYSE:STO) has also pulled its expatriate staff.
Once one of the world's largest container-shipping companies, South Korea's Hanjin Shipping (OTC:HNJSF) has raised only a fraction of what it needs to repay creditors, whose claims total about $10.5B. In court papers filed with the U.S. Bankruptcy Court in Newark, N.J., Hanjin said it amassed about $220M since filing for bankruptcy nearly a year ago.
In recent days, Israeli government officials have successfully pressed TEVAto delay 350 job cuts in its home market and are asking the drugmaker to consider paring costs by targeting management rather than rank-and-file staff. Teva has an obligation to Israel because of the special tax benefits it's enjoyed over the years, according to Economy Minister Eli Cohen. TEVA +1.6%premarket.
James Damore is exploring legal remedies after Google (GOOG, GOOGL) fired the engineer for writing a controversial memo suggesting biological reasons for gender inequality and the scarcity of women in leadership jobs. In a company wide note, Google CEO Sundar Pichai said the views violated the company's code of conduct by "advancing harmful gender stereotypes."