It is no coincidence that as Tesla sees its stock drop to fresh multi-year lows on a near daily basis, I see more and more of the $TSLAQ tags on Twitter.  I see more Tesla car fire headlines,  car crashes, demand issues... based on the headlines alone, you would expect the common stock to be trading much lower than it currently is.
And maybe Tesla is heading to zero.  Clearly the option market is showing some incredibly bearish bets on the name.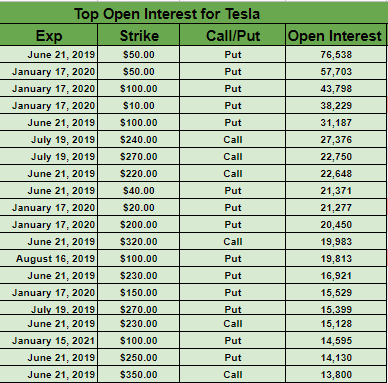 Mind you there were similar incredibly bearish bets that went up in smoke  this past January, March, April, and May.
A quick glance at Tesla's options chain shows a market looking at Tesla and saying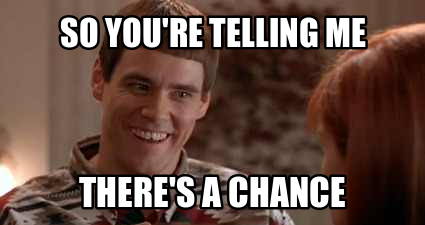 The June options, with less than three weeks until expiration are showing interest for the stock to plummet at least another 50% from here.... by June 21 --->>
The bearishness on Telsa is nothing new.   There was over 40% of the  float short when it was a $20 something stock back in 2012.  And the shorts continued to bet against it as it rallied from there to over $100.
Goldman Sachs said to sell Tesla when it broke $100 for the first time.  Widely followed twitter short sellers were also saying to hit the sell button.  And yet the stock continued to rally.
Those analysts today stating Tesla is a $45 stock were saying the same thing when Tesla was an $80 stock in 2013.
The TSLAQ crowd isn't just betting on downside for Tesla, they are calling it 2019's Enron!
A year ago $TSLA was trading up over $373 a share.  Today the stock is one day removed from hitting a new multi - year low, closing at $179 a share.
I think the line has been clearly drawn for a nice risk/reward on $TSLA stock.  Love it or hate it, the stock came right down to support yesterday.
When Tesla broke the $245 level last month, I said I would wait for the stock to hit that $175-$180 support line.  It hit it almost perfectly yesterday.
Yesterday $TSLA came right down to that multi-year long term support line.
and it held into the close.
and with that hold I entered some calls for a possible reversal.  Reversal? Am I  Crazy to think there is upside in a stock seemingly everyone thinks is going bankrupt... some as soon as June options expiration in a few weeks.
Bottom line, I like the risk reward here at long term support.