Let's face it.  Trendlines don't always go the way you expect them to.  What do I mean by that?
Trendline support you thought was strong, turns out to be very weak.  Trendline resistance you thought was weak turns out to be impenetrable... or vice verse... however at the end of the day trendlines matter.  And they offer great risk/reward opportunities.
From my experience the longer the trendline in time, the more reliable it ends up being.
This weeks 'trendlines matter' chart comes from $TSLA.
I covered $TSLA on Tuesday before the open and its big trendline test --->>>
Trendlines matter... right?
And I say trendlines matter because I know there are many who think charting is for the groundhogs.   I disagree.  This weeks Tesla chart shows exactly why charts matter.
After breaking support at $245 I waited patiently for $TSLA to come down to the next big trendline support.  Granted I did not expect it to fall to $180 when it was over $300.  Or even when it was at $250.  But when it broke $245 the long term trendlines said, unless it gets back over $245 and holds, the $175-$180 trendline will be an excellent risk/reward buying opportunity.... and guess what???? It was..
On Monday when I entered the $197.50 calls - I attached these two charts: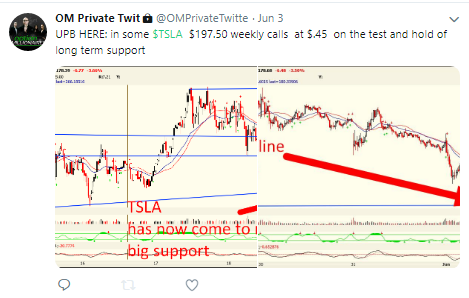 and then on Tuesday.  After an initial pull the stock started to rally.  A giant opening call sweep for August didn't hurt the cause.
fwiw those AUG $250 calls tripled later this week.  A $6 million gain....
Look at the trendline support...
Those  $197.50 calls that were $.45 on Monday hit $14 just a few days later!
$TSLA rallied some 15%+ this week from Tuesday to Friday after successfully testing long term support.
That long term trendline offered a tremendous opportunity and proved trendlines matter.