The earnings season really takes flight this week with some big names reporting earnings including: $NFLX $IBM $GOOGL $SBUX and a bunch more.  Tonight we get $IBM and $NFLX.
Both stocks have seen quite a reversal from the lows in February.
$IBM, like a many charts on this time frame, is bumping up against trendline resistance.
On a longer term time frame, $IBM looks to have hit support, and is setting up for a move to the top side of the channel, which implies another visit with the $200's?
For $IBM earnings, the market is expecting roughly a 5% move: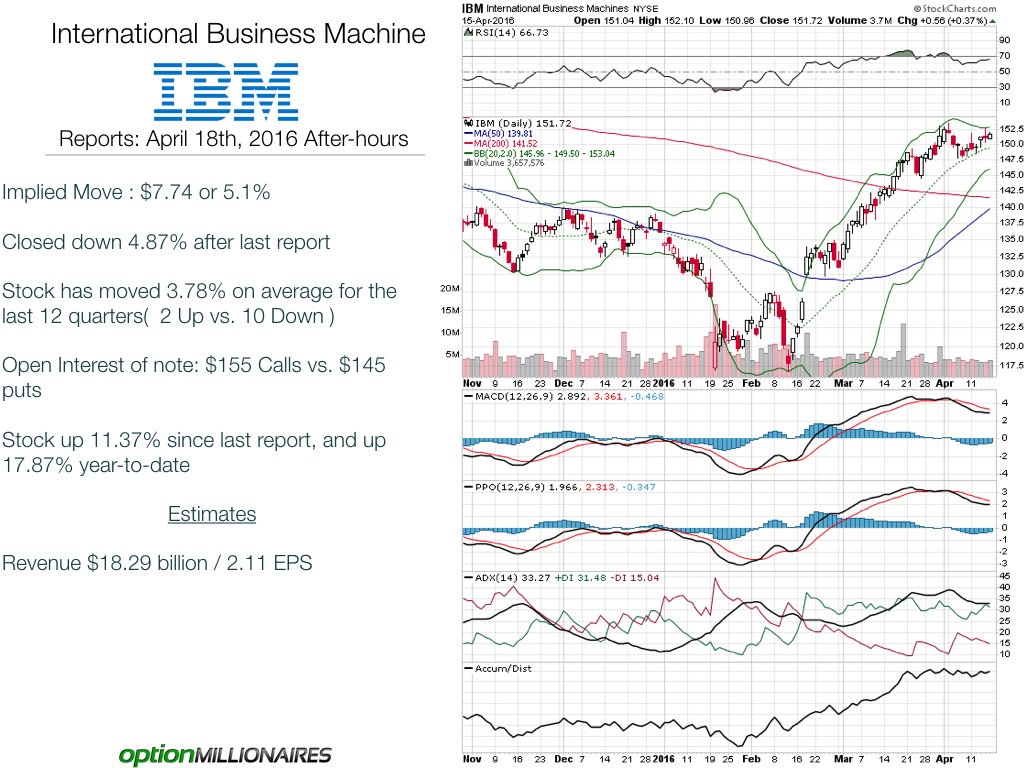 IBM has moved 3.78% on average for the last 12 quarters( 2↑ vs. 10↓ )
Will the current rally off the 2016 lows continue after tonight report?  Or is Big Blue setting up for a big pull back?
Momentum remains on IBM's side.  A break above the recent hit of resistance would set the stock up for a move over $160 this week.  A failure means $145 and below.  In either case I don't think the risk priced into the report is worth getting some leaps.  This is a stock I want to trade tomorrow at the open.  With this report being one that will likely dictate the next three months of trading action, following tomorrows sentiment will be the way to go.  If $IBM is down tomorrow at the open I'll be looking for puts and vice versa.  If I had to go out for the earnings report the $160 calls at $1.00 and the $143 puts at $1.00 would be a nice strangle to take advantage
$NFLX reports after the closing bell today as well.
The long term chart shows a stock under steady accumulation.
After hitting record highs in 2015 the stock dropped under $80 before rallying some $30.  Historically $NFLX has seen some dramatic 20%+ moves after its earnings reports.
Here is what the market is pricing in: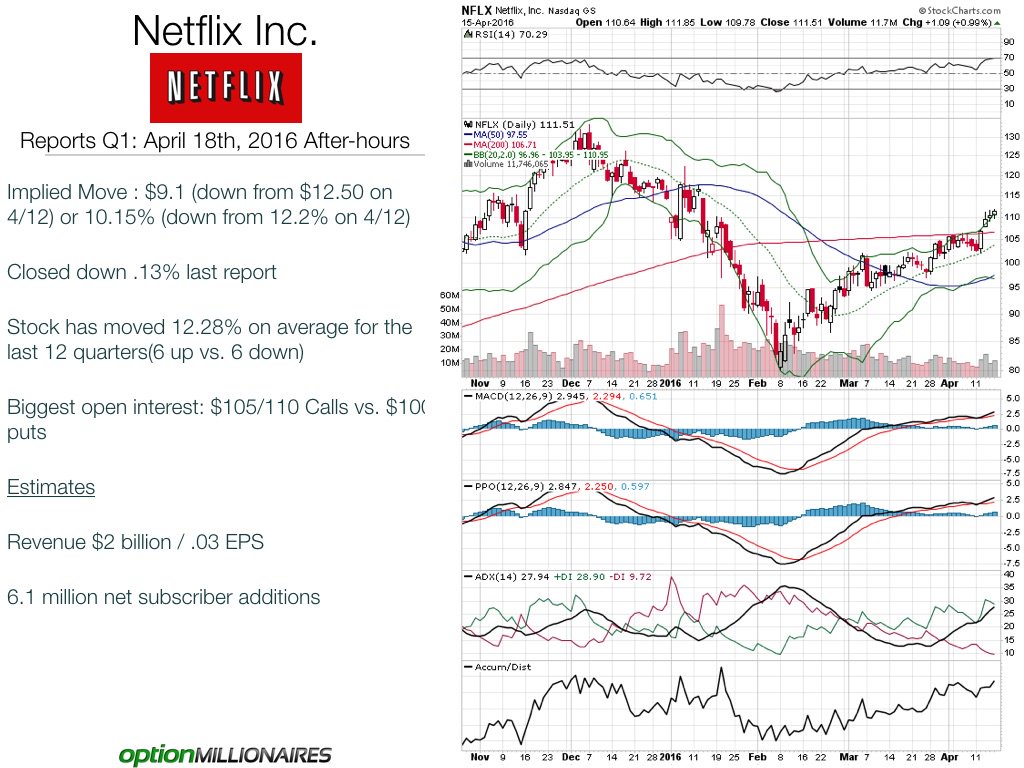 On a 5 year time frame $NFLX is under trendline support and has failed to break out above it.  There is always a risk heading into earnings.  Are expectations to high?  Has the bar been set too low?  For $NFLX many are expecting subscriber numbers to impress.  But will it be enough for the stock to rally back over $120 and to fresh record highs?  Or will the earnings report be an excuse for investors to take some off and revisit the name back in the $80's?
I think the stock will see a $10+ move post earnings.  The $122 calls are $1.00 and the $95 puts at $1.  A strangle would capitalize on the looming sharp post earnings move.  Of course the risk is the stock trades within that range or flat post earnings.
This is a big earnings season for 2016.  The market isn't expecting much and we could get many names surprise for upside.  With the VIX lower than it's been in quite a while low option premium will offer less expensive entry into earnings season trades than we've seen in quite a while.