Stock futures are reacting to the ECB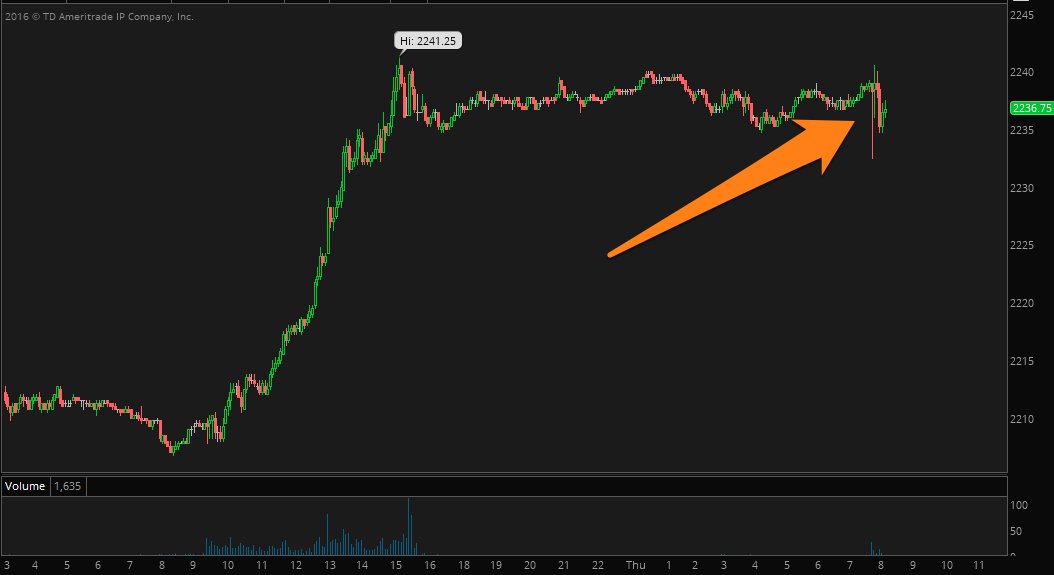 However in the context of the massive buying frenzy we saw yesterday, you could call the action fairly muted.
From the ECB this morning
Morning News and Reads
PREMIUM 
CHARTS
SURVEY SAYS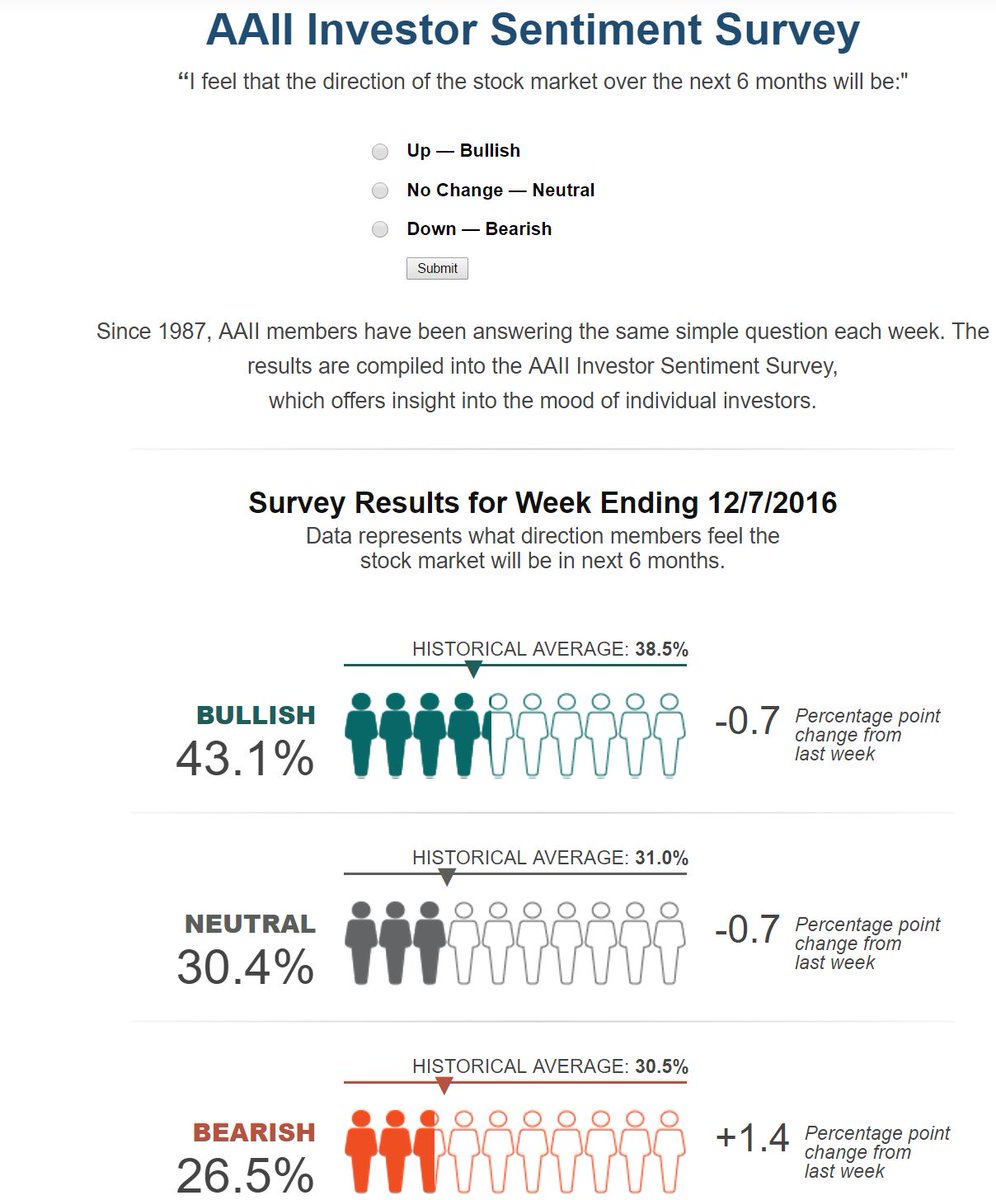 and more
Mario Draghi's final policy announcement of the year will come at 7:45 a.m. ET, with a highly watched press conference to follow 45 minutes later. More important than the expected extension of asset purchases at the current monthly pace of €80B for six months may be any signal by the ECB president on the path of stimulus thereafter. Questions are swirling about the ultra-loose monetary policy that underpins the eurozone's economic recovery but is out of sync with Berlin and Washington.
Economy
Snapping a seven-month losing streak, China's exports gained in November as a cheaper yuan aided foreign purchasing. Exports in dollar-denominated terms edged up 0.1% on year, while imports rose 6.7%, leaving Beijing with a trade surplus of $44.6B. The stabilizing data suggests demand remains intact for now as the world's largest exporter faces potential headwinds and policy uncertainty in the U.S.
Japan's economy grew much slower than initially estimated in Q3, recording an annualized 1.3% expansion instead of a preliminary reading of 2.2%, as capital expenditure dried up and companies ran down inventories. The government's projection for the overall size of the economy rose, however, thanks to its adoption of a new base year and incorporation of international accounting standards.
Italian Prime Minister Matteo Renzi has officially resigned after a bruising referendum loss at the weekend, with most parliamentary factions pushing for an early election in a few months' time. Underscoring the financial risks that Italy faces, Moody's changed its outlook on the country's bond rating to negative from stable, citing slowing prospects for much-needed economic reform and the nation's debt burden.
British MPs have voted in favor of government plans to trigger Article 50 by March 31, 2017, meaning Britain will formally initiate the process of leaving the EU before that date. But both the government and opposition said the motion didn't affect a case at the Supreme Court over whether the government has the authority to start negotiations without legislation in parliament.
A federal judge who ordered Michigan to begin its presidential recount has effectively ended it, tying his decision to a state court ruling that found Green Party candidate Jill Stein had no legal standing to request another look at the ballots. Her recount effort in Pennsylvania has already been shut down, while the recount in Wisconsin has yielded almost no change to the results.
More Trump picks: The President-elect will reportedly name Oklahoma Attorney General Scott Pruitt, a close ally of the fossil fuel industry, as the next head of the EPA. Trump has also chosen retired Marine General John Kelly as homeland security chief, wrestling magnate Linda McMahon to lead the Small Business Administration and Iowa Governor Terry Branstad as U.S. ambassador to China. All four posts will require Senate confirmation.
Passage of legislation aimed at speeding up FDA approvals, combined with an incoming president who has pledged to "cut red tape" at the agency, is expected to usher in a new industry-friendly era of drug and device regulation. The Senate Wednesday night cleared the 21st Century Cures Act, which will provide funding for cancer and Alzheimer's research, help fight the opioid epidemic and advance research into precision medicine.
Stocks
Monte dei Paschi has asked the ECB to extend a deadline for completing its rescue plan to Jan. 20 and the central bank's supervisory board may discuss the situation today, Reuters reports. Italy must come up with a solution quickly to avoid the crisis at BMPS (OTCPK:BMDPY) spreading to the wider banking sector, but the power vacuum created by Sunday's referendum is not helping.
Eight months after Deutsche Bank settled a lawsuit claiming it manipulated prices of precious metals, plaintiffs say documents it disclosed as part of the accord provide "smoking gun" proof that UBS, HSBC, Bank of Nova Scotia (NYSE:BNS) and other firms rigged the silver market. Separately, an audit commissioned by German regulators suggest that Deutsche (NYSE:DB) employees may have manipulated internal indexes as part of a scheme to help Monte dei Paschi (OTCPK:BMDPY) conceal losses.
The clouds surrounding Wells Fargo are getting darker, as the bank, which is already in hot water over its recent fake account scandal, is reportedly falling short in its fair lending requirements. According to Reuters, the Office of the Comptroller of the Currency may cut Well's (NYSE:WFC) CRA rating two notches from "outstanding to "needs to improve," which would give regulators greater say on day-to-day matters like opening new branches.
Wal-Mart is plowing $1.3B into Mexico to build new distribution centers and expand existing ones as investment in the country comes under the spotlight following the election of Donald Trump. It will not result in "any jobs being moved from the U.S.," Wal-Mart (NYSE:WMT) spokeswoman Jo Warner confirmed. "The investment is funded by Walmex and is necessary for expansion of Wal-Mart's Mexican business."
Following the first U.S. airline flights to Havana last week, two American cruise lines have received permission from the Cuban government to begin trips to the island next year. Royal Caribbean (NYSE:RCL) and Norwegian (NASDAQ:NCLH) said the Cuba stops would comply with regulations enforced by the Treasury Department and the trips would involve activities that fall under the U.S. "people-to-people" exchange license.
After repeatedly telling customers and journalists it was confident of resuming rocket launches in 2016, SpaceX (Private:SPACE) has pushed back its timetable to January. "This allows for additional time to close out vehicle preparations and complete extended testing." The next Falcon rocket to fly will carry 10 satellites for Iridium Communications (NASDAQ:IRDM) following the company's catastrophic launchpad explosion in September.
The EU will take action today against seven nations including Germany and Britain for failing to police car emissions rules after the Volkswagen (OTCPK:VLKAY) cheating scandal showed suspicious behavior in the industry. Officials say many nations wooed by the industry's importance - it employs some 12M people in the bloc - have shielded carmakers from the kind of sanctions some face in the U.S.
Alphabet's autonomous vehicle project is expected to "soon" graduate from the company's moonshot X division, according to Recode. Kevin Vosen was hired to be the self-driving unit's chief legal officer and the group is also looking for a head of real estate to secure new space. While vague, it's one of the first times Alphabet's (GOOG, GOOGL) self-driving project has given any official indication of its growth ambitions.
Swapping gas for cash: National Grid (NYSE:NGG) has sold a 61% stake in its U.K. gas distribution business to a consortium of investors led by Macquarie and China Investment Corp., in a deal valuing the business at £13.8B, including debt. Meanwhile, Glencore (OTCPK:GLNCY) and Qatar's sovereign wealth fund have taken a near 20% stake in Rosneft (OTC:RNFTF) for around $11.3B, as Russia tries to privatize some state assets to help bolster its finances.
Chevron has announced a $19.8B capital and exploratory investment program for 2017, down 42% from its outlays in 2015. "This is the fourth consecutive year of spending reductions," Chevron (NYSE:CVX) CEO John Watson declared. "This combination of lower spending and growth in production revenues supports our overall objective of becoming cash balanced in 2017."
United States Steel could be in position to restore up to 10K jobs in the U.S. if improvements to regulation and tax laws are able to significantly drive growth. "I have not felt an environment of positive optimism... in quite a while," U.S. Steel (NYSE:X) CEO Mario Longhi told CNBC. Corporate America is cheering President-elect Trump's promises of less regulation.
As Facebook works on new tools to stop the spread of misinformation on its network, a recently published USPTO filing reveals that the company applied for a patent on technology that would automate the process of removing "objectionable content." However, a spokeswoman said Facebook (NASDAQ:FB) often seeks many different patents and this should not be taken as an indication of future plans.
Microsoft is working with Qualcomm to spawn a new breed of tablets and notebooks that promise to diversify the software giant's tech base and give the chip maker access to new markets. The partnership will result in an update of Windows 10 (NASDAQ:MSFT) that runs on a chip in Qualcomm's (NASDAQ:QCOM) widely used Snapdragon line of processors, the first Windows 10-Snapdragon pairing.
Nintendo's upcoming Super Mario Run mobile game on iOS is forecast to earn more than $71M in worldwide gross revenue during its first month, according to analytics firm SensorTower, less than half that was achieved by Pokemon Go in the same time period. Nintendo's (OTCPK:NTDOY) game, initially free - but $9.99 for the full version, is set to be released on Apple's app store on Dec. 15 with 20M users ready to download it on day one.
Surging e-cigarette use by young adults is "a major public health concern," according to the U.S. surgeon general, who will recommend increased regulation and taxation of the products in a report set to be released today. Those will include higher duties, raising the minimum age to 21, incorporating e-cigarettes into smoke-free laws and restricting certain marketing efforts.