Thursdays Market Prepper
Reads:
News:
Premium:
Charts:
Earnings: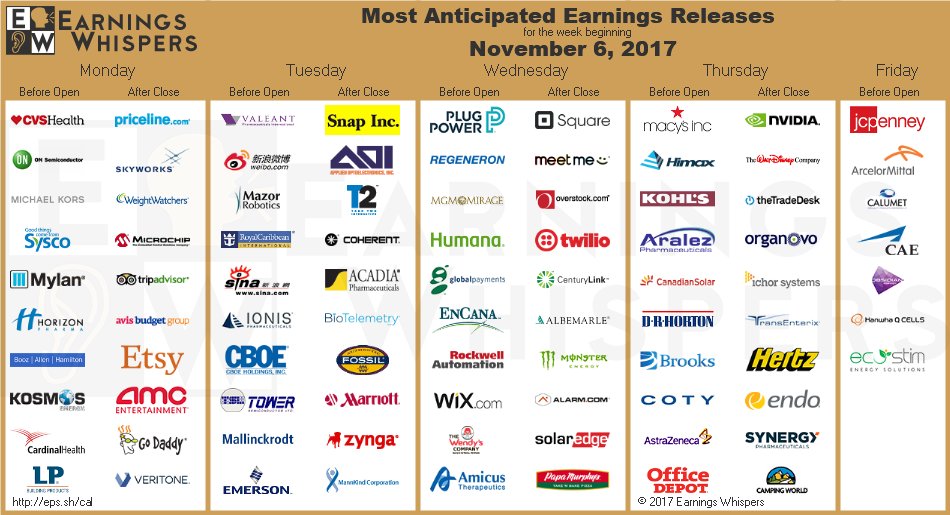 Option Data:
Seekingalpha
It's now one year since Election Day, with the past 12 months seeing one of the most profound and prolonged declines in market volatility on record. Continuous closing highs have also propelled U.S. equity indexes over the period: Dow +32%, S&P 500 +24%, Nasdaq +35%. With stocks eking out more gains yesterday to push all three benchmarks into record territory, what lies in store for the future?
Economy
The trade deals in China keep coming as the White House expects to proclaim upwards of $250B in investments during President Trump's visit to Beijing. Big announcements today included over $50B of contracts and MOUs for Qualcomm (NASDAQ:QCOM), Boeing (NYSE:BA), Air Products (NYSE:APD) and General Electric (NYSE:GE). China's Sinopec also agreed to help develop Alaska's liquefied natural gas sector, creating up to 12,000 American jobs and reducing the U.S. trade deficit with Asia.
Talks on pushing the Trans Pacific Partnership ahead without the U.S. reached a critical point today as ministers from the 11 countries discussed a proposed agreement in principle at the Vietnamese resort of Danang. The TPP aims to eliminate tariffs on industrial and farm products, and contains provisions for protecting everything from labor rights to the environment to intellectual property.
"Right now, unfortunately, the economic playing field is very unfair and one-sided. But, I don't blame China... I give China great credit," President Trump said alongside President Xi Jinping. "In actuality, I blame past U.S. administrations to allow this out of control trade deficit to take place and to grow." He also discussed North Korea's nuclear and missile programs, stating, "China can fix this problem quickly and easily."
As Venezuela teeters on the edge of default, U.S. oil service companies face the prospect of hundreds of millions of dollars in writeoffs for overdue payments from the PDVSA state-run oil company. Halliburton (NYSE:HAL), Schlumberger (NYSE:SLB), Weatherford (NYSE:WFT) and Baker Hughes (NYSE:BHGE) all hold outstanding bills and receivables, according to Reuters, which cited the most recent financial reports.
Greece's primary surplus is likely to rise to 3.9% of GDP next year, beating a target of 3.5%, when the country is to exit the latest eurozone bailout program and return to market financing. The forecast from the European Commission also predicted that Greek public debt would fall rapidly over the next two years to 170.1% of GDP in 2019 from 179.6 expected this year.
The U.S. Senate Banking Committee has scheduled a confirmation hearing for Jerome Powell, President Trump's candidate for chairman of the Federal Reserve, for Nov. 28. His nomination is expected to receive bipartisan support. Powell has been through the Senate confirmation process before, most recently in 2012 and 2014 when he was nominated to join the Fed board.
Meanwhile, the DOJ is exploring ways to prevent multiple law enforcement and regulatory agencies from slapping corporations with penalties over the same underlying misconduct. Having multiple offices pursue a single company over the same issue can result in a "piling-on problem" that can be unfair to the business, its employees and its shareholders, said Deputy Attorney General Rod Rosenstein.
Stocks
Equifax will publish quarterly results this afternoon, its first earnings release since the September disclosure of a massive data breach that prompted multiple government probes and the departure of its CEO. The credit monitoring firm will then hold a conference call on Friday, giving analysts their first public forum to grill Equifax (NYSE:EFX) about the financial impacts of the cyber attack.
Former Yahoo CEO Marissa Mayer apologized in Senate testimony for the pair of massive data breaches that came to define the end of her tenure as the company was being acquired by Verizon (NYSE:VZ). "Unfortunately, while all our measures helped Yahoo successfully defend against the barrage of attacks by both private and state-sponsored hackers, Russian agents intruded on our systems and stole our users' data."
Wisconsin's economic development agency has approved a $3B incentives package for Foxconn (OTC:FXCOF) if it invests $10B to build a massive liquid-crystal display plant in the state. Governor Scott Walker said the company could ultimately employ 13,000 at the site, but critics have attacked the plan as corporate welfare, rushed and potentially harmful to the environment.
AT&T has "no intention" of selling CNN despite the DOJ's demand the company sell it in order to approve the Time Warner (NYSE:TWX) acquisition, according to AT&T (NYSE:T) CEO Randall Stephenson. "It's important to set the record straight. Throughout this process, I have never offered to sell CNN and have no intention of doing so," he said in a statement.
As part of its fresh programming strategy, Apple (NASDAQ:AAPL) has struck a deal for a new drama starring Reese Witherspoon and Jennifer Aniston. Terms of the deal weren't disclosed, but sources told the WSJ that the cost could reach beyond $10M an episode. Other parties interested in the as-yet-untitled, highly sought after show included Netflix (NASDAQ:NFLX) and CBS's Showtime.
Bitcoin hit a record high just shy of $8,000 on Wednesday after a coalition of developers and investors suspended a software upgrade that would have split the digital currency in two. "We have not built sufficient consensus for a clean block size upgrade at this time," wrote Mike Belshe, one of the leaders of the Segwit2x project. "Continuing on the current path could divide the community and be a setback to Bitcoin's growth.
Deutsche Bank's CEO has suggested that robots could replace half the company's 97,000 employees. "Most big peers have more like half that number," John Cryan told the FT. "Deutsche Bank (NYSE:DB) is too manual, which can make you error-prone and inefficient... There's a lot of machine learning and mechanization that we can do."
Preparing for one of the busiest shopping days of the year, Wal-Mart (NYSE:WMT) said its U.S. stores will feature color-coded sections for different product categories on Black Friday. The new move will allow shoppers to easily find deals. Wal-Mart will kick off online sales at 12:01 a.m. ET on Thanksgiving morning and at 6 p.m. local time in its stores.
Building a new pilot facility in Switzerland, Audi (OTCPK:AUDVF) is expanding production of what it says is a nearly carbon neutral kind of gasoline and diesel made from entirely renewable sources. The process uses electrolysis to split water into hydrogen and oxygen, with the former being combined with carbon dioxide to make hydrocarbons. The key will be if e-fuels could be produced at a higher, more cost-effective rate.
Fiat Chrysler is hoping to receive U.S. government approval as soon as March for emissions fixes to 104,000 diesel cars that pollute far beyond legal limits. The development, which would involve a new software calibration, could move Fiat (NYSE:FCAU) closer to settling widespread litigation and avoid costly buybacks of the affected vehicles.
Looking to secure production of its struggling superjumbo until the middle of the next decade, Airbus (OTCPK:EADSY) is close to a deal worth at least $14B to sell over 30 of its A380 jetliners to Dubai's Emirates. The contract is expected to be announced at the opening of the Dubai Airshow on Sunday, and would give Airbus a much needed boost after severely trailing rival Boeing (BA) in terms of orders YTD.