Thursdays Market Prepper
Reads:
News:
Yesterdays  Unusual Option Action
Premium:
Earnings: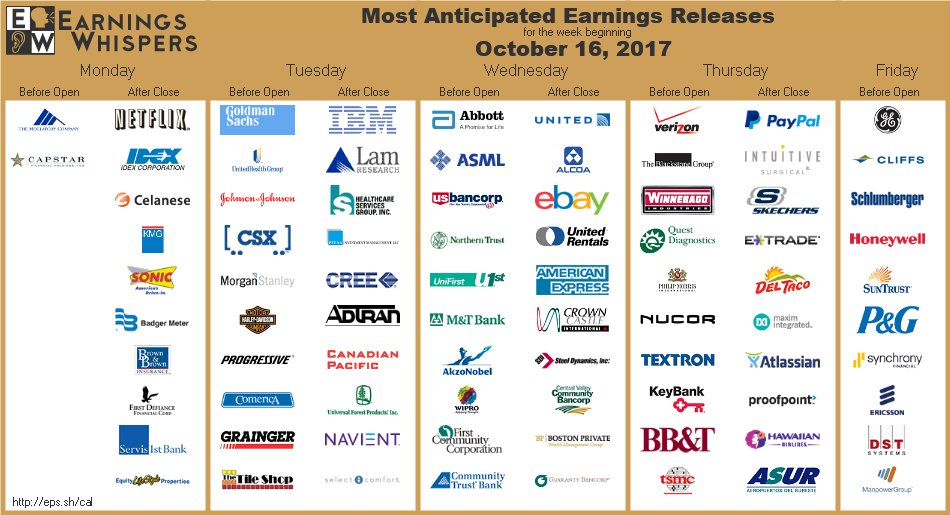 Charts:
Seekingalpha:
Narrowing his search to five finalists, President Trump will meet today with Janet Yellen, whose first term expires in February, in his search for the next Fed Chair. Other candidates include Fed Governor Jerome Powell, former Fed Governor Kevin Warsh, National Economic Council Director Gary Cohn and Stanford University economist John Taylor. Trump is expected to make a decision before his trip to Asia, which begins Nov. 3.
Economy
China's economy grew at 6.8% in the third quarter year-on-year, slightly below the previous period but still above the government's full-year target of "around 6.5%." The figure will likely boost President Xi's effort to consolidate power at a quinquennial Communist party leadership transition, where he will seek to install loyalists in key positions. Shanghai -0.4% to 3,370.
North Korea has upped its war talk once again, warning the United States it faces an "unimaginable strike at an unimaginable time." The comments were made ahead of a drill being held next week by the U.S. and South Korea, which will see Americans in the Korean Peninsula practicing being evacuated in the event of a "nuclear crisis."
The European Council is gathering for a two-day summit in Brussels, where Theresa May is expected to pitch her Brexit strategy to EU peers in another bid to unblock the recent impasse between the two sides. The prime minister will make an appeal ahead of the event, promising not to use "EU citizens living lawfully in the U.K. as bargaining chips" and allowing them "to stay."
The Catalonia crisis reached new heights today as Spain moved forward with the process of suspending governing powers of the area. Spanish stocks and bonds dropped on the news, while the euro climbed 0.3% to $1.1817, as Regional President Carles Puigdemont refused to drop his claim to independence. The government in Madrid will officially trigger Article 155 on Saturday.
President Trump is set to nominate Joseph Simons, an antitrust attorney from a Washington law firm, to head the Federal Trade Commission, which has been without a permanent head for 10 months. Noah Phillips and Rohit Chopra are also expected to be designated as FTC commissioners to fill three empty seats, two Republican and one Democrat or independent.
A bipartisan deal from two senators - Lamar Alexander and Patty Murray - to stabilize Obamacare suffered major setbacks on Wednesday with the White House saying President Trump now opposes it. The agreement would revive billions of dollars of federal subsidies to insurers for two years to help lower-income Americans obtain medical coverage.
The 30th anniversary of the 1987 stock market crash, which saw the Dow lose 22.6% in one day, comes amid investor concerns of steep valuations and correction fears as U.S. stocks continue to score record highs. A repeat of "Black Monday" is unlikely to happen today due to modern trading technology, implementation of circuit breakers and the way investor funds are managed, yet cautious traders refuse to rule it out.
Stocks
European earnings roundup: Unilever (UN, UL) -3.5% premarket blaming recent storms in the U.S. and poor weather for slowing growth. SAP also showed slowing growth due to cloud and license weakness, but was confident about meeting financial targets for the full year. Nestle's (OTCPK:NSRGY) earnings highlighted pressure to boost returns as it struggled in the U.S., where it is trying to sell its confectionery business.
The Wisconsin Economic Development Corp. has delayed a vote on a nearly $3B incentive package for Foxconn (OTC:FXCOF) until November after an unspecified problem was discovered with the deal. Senator Tim Carpenter declined to describe the issue, but characterized it as a "nuclear bomb" that, had it not been addressed, would have resulted in a contract that "would not have protected taxpayers whatsoever."
President Trump has personally intervened to direct EPA Administrator Scott Pruitt to back off any possible changes that would weaken federal biofuel quotas, Bloomberg reports. Two changes that were reportedly under consideration: a reduction in biodiesel requirements and a proposal to allow exported renewable fuel to count toward domestic quotas. Relevant tickers: VLO, PBF, PSX, MPC, HFC, ALJ, CVI, CVRR, ADM, GPRE, PEIX, REGI
Japan's securities watchdog is investigating Toshiba's (OTCPK:TOSYY) accounting practices over losses incurred by Westinghouse, the nuclear power unit which has cost the company billions of dollars. According to the Nikkei, the commission is examining whether the process involved in creating Toshiba's financial report for the 2016-2017 business year is completely legitimate and justifiable.
New General Electric CEO John Flannery is expected to unveil the results of a strategic review next month that includes thousands of corporate-level job cuts, WSJ reports. He'll also reportedly shut research centers in Shanghai, Munich and Rio de Janeiro. GE is under intense pressure to slash costs and end a stock price decline that has erased nearly $80B in market value.
"We're turning over every rock in the company and we're making really good changes not only to fix anything that was broken but also in terms of investing and making a lot of changes in terms of new products and services," Wells Fargo (NYSE:WFC) CEO Tim Sloan told CNBC. "I'm very optimistic and confident that over time we'll achieve the growth that we've seen historically."
Activist investor Bill Ackman's dissident director candidates for board seats at Automatic Data Processing (NASDAQ:ADP) will answer questions about their plans for the company today ahead of November's proxy vote. The event will be streamed live online at 1 p.m. ET. Ackman is pushing to cut bureaucracy, consolidate ADP's real estate holdings and enhance technology.
Gilead Sciences rose 3.7% in after-hours trading after the FDA approved a new cancer therapy for a type of lymphoma developed by Kite Pharma, which Gilead (NASDAQ:GILD) acquired in August for $11.9B. The drug, Yescarta, has been among the most highly anticipated new drugs on Wall Street, as the therapy is projected to total $1.7B in worldwide sales in five years with a price of $373K per patient.
Cryptocurrencies like bitcoin are not the "new gold," Goldman Sachs said in a research note, advising investors that precious metals "remain a relevant asset class in portfolios" and "they are still the best long-term store of value out of the known elements." Many commentators have dubbed bitcoin "digital gold" because of the fact it has a finite supply and has at times seen price rises due to geopolitical tensions.
Crews are putting their final touches on eight possible versions of President Trump's long-promised border wall, as an Oct. 26 deadline to finish the prototypes is just a week away. U.S. Customs and Border Protection awarded eight contracts to six private companies to be tested in San Diego. Four are made of reinforced concrete and another four incorporate additional construction materials.
The A330neo jetliner has taken to the skies, as Airbus (OTCPK:EADSY) showed off an upgraded version from its profitable A330 family and designed to sharpen competition with the Boeing (NYSE:BA) 787 Dreamliner. The maiden flight of the wide-bodied, long-distance jet was watched by top executives from Airbus and Rolls Royce (OTCPK:RYCEY), which supplies the engines.
Wednesday's Key Earnings
Abbott (NYSE:
ABT
) 
+1.3%
 after beating estimates.
American Express (NYSE:
AXP
) 
-1.1%
 AH appointing a new CEO.
eBay (NASDAQ:
EBAY
) 
-5.3%
 AH dinged by light profit guidance.
U.S. Bancorp (NYSE:
USB
) 
-1.1%
 following in-line earnings.
United (NYSE:
UAL
) 
-1.8%
 AH hurt by hurricane disruptions.