And here we are... just percentage points away from another new all time record high for the stock market.  The globally economy is firing on all cylinders... so much so that every central bank in the world is doing everything in its power to provide cheap money to the markets.....  it makes perfect sense doesn't it?  The relentless dip buying continues after the February lows.
Momentum remains to the upside but the move is starting to look tired.  And while I thought the action would continue to mimic that of last year, which it had remarkably done so the last 6+ weeks, prices have now scaled above the pattern.
The morning dips continue to get bought.  While it is tough to look at the $SPY up $25+ since last month and say... "I want to buy this".. .clearly that is exactly what is happening.
In a world where those in control of the biggest banks in the galaxy are telling you its not alright to save your money, that money is flowing into risky assets.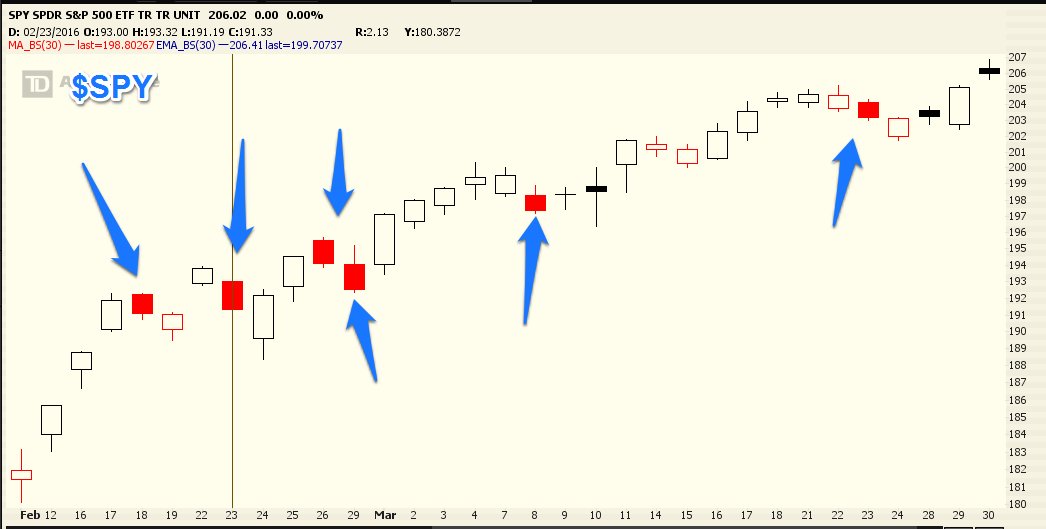 The $SPY has moved from $180 to almost $207 in a short period of time. If it keeps up the pace from the last 8 weeks, will be over $300 by Christmas.
I'd say the brunt of the rally is over.  The question now is what lies ahead.  Complacency is back at lows.  The market continues to shrug off any negative news.  Negative is the new positive in 2016.  Uncertain is the new certain.
As much as we want to look at the big picture, all that matters is price.  Is the market moving higher or lower?  Right now its moving higher.  I'll be watching key levels in S&P500 futures and small caps for a possible turning point.
We are also nearing one of those great sell signals that have worked to near perfection over the last few years.
For now I remain selective for stocks.  I think there is more risk trading for upside than preparing for the inevitable pull back.   There are many chances to catch upside and downside in this market despite the rally.
See you in the chat room.