The market is closed tomorrow, for all intents and purposes today is really Friday, just like negative interest rates are really a positive.  Welcome to 2016 where the stock market goes from a bear market to a new bull market in one months time.
The pattern from last year is playing out almost to perfection this year.  Earlier this week I mused that that pattern was running out of gas.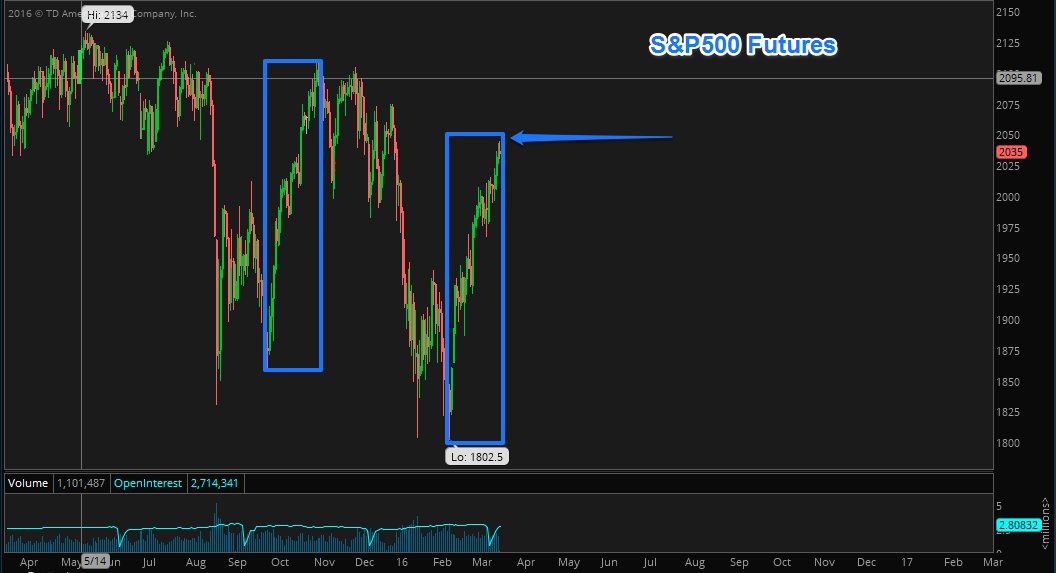 The markets are indeed starting to pull back.  If the pattern continues to play out prices could see a fairly sharp move lower.
I entered some PUTs on $JPM and $AMZN yesterday in anticipation.  I also bought some $SPY and $PVH April puts for a medium term trade for downside.
Since the lows in February the bearish bias that was exceedingly strong, has flipped to bullish.   A rather stark change in sentiment is such a short period of time.
The question now is how far will the markets pull back?  And is this just another dip that is going to get bought?  Or is there something more sinister to this selling....
Shorter term we have to look at 2000 on S&P500 futures to offer support.
Longer term, I think the markets are coming back to the February lows and will ultimately break through them.  Timing of course will be vital.
If we are to mimic the move from 2015 this is what it would look like
Continue to watch the small caps and the $VXX.
Small caps started the move lower before the S&P500.
and small caps continue to make lower highs after hitting record highs in 2015.
Crude oil is also still in a downtrend.  The recent rally has turned a lot of bears into bulls.  If crude loses its momentum we could easily see another 10-15% move to the downside.  That would not be favorable for equities.
S&P500 futures at 2000 will be the key level to watch.  Below that figure I will get a lot more comfortable positioning for further downside.
See you in the chat room.