Thursday Morning Reads, News, Options, Charts
Reads:
News:
Futures:
 Open Interest Changes:
Charts:
Unusual Option Action 
Earnings This Week: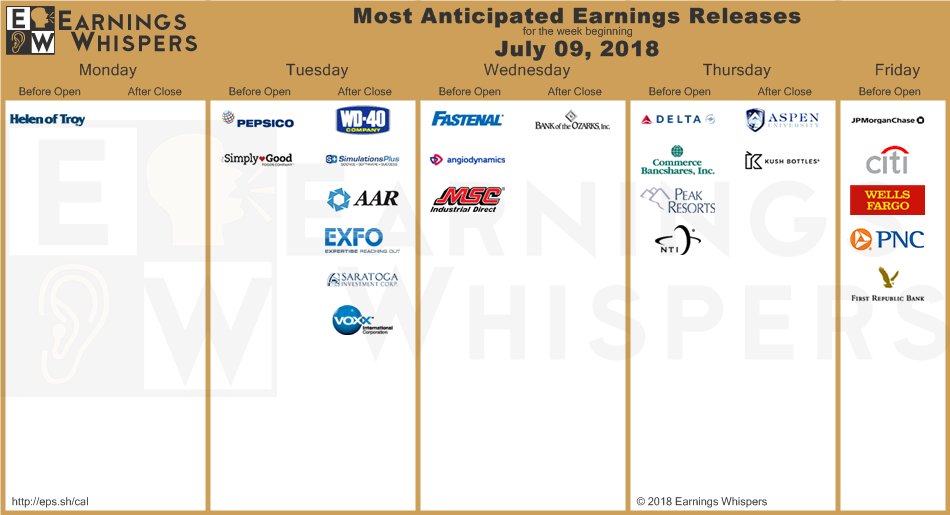 Seekingalpha:
World leaders gathered at the NATO summit have agreed to substantially up their commitment to defense following a flurry of public diatribes by President Trump. An emergency session was convened after he warned allies that if they didn't immediately meet the 2% goal, "I'll do my own thing." "NATO is now a fine tuned machine," Trump said, reiterating the importance of "burden sharing" among the 29-nation bloc. Related tickers: BA, NOC, GD, LMT, RTN, HII, HON, UTX, ITT, TXT, LLL, COL, KTOS, ITA, PPA, XAR
Economy
In the next leg of his journey, President Trump will be on his way to Britain later today for a two-day working visit. He's scheduled to meet with the Queen, as well as Prime Minister Theresa May, as she pushes for a post-Brexit trade deal with the U.S. The visit has sparked threats of mass protests with tens of thousands of people expected to demonstrate across the country.
A new U.S. government anti-fraud task force is being created to coordinate investigations and avoid "piling on," where multiple agencies probe the same alleged misconduct. It will bring together the Federal Trade Commission, Consumer Financial Protection Bureau and Securities and Exchange Commission to probe issues like securities and commodities fraud, digital currency fraud and money laundering.
China has guided the yuan to its largest one-day drop against the U.S. dollar in a year and a half, setting the greenback's reference rate at 6.6726 yuan and weakening the latter currency by 0.7% compared to Wednesday. Earlier this year, "the PBOC wanted to use the currency…as a gesture to show the U.S. that they didn't want to have a trade war," said Tracy Chen, a portfolio manager at Brandywine Global, but the decline since mid-June is a "sign that the PBOC threw in the towel."
Chinese and U.S. officials have also raised the prospect of resuming trade talks after the Trump administration announced a new round of potential tariffs. "When we have a trade problem, we should talk about it," China's Vice Minister of Commerce Wang Shouwen told Bloomberg, while the White House said it "remains open to further discussions." A third round of formal negotiations ended with scant signs of agreement in early June. Shanghai +2%; Shenzhen +2.8%; ChinNext +3.3%.
Turkey's central bank will be effective "like never before" under Recep Tayyip Erdogan's new administration, the country's new treasury and finance minister declared after the lira plunged to a new record low. Berat Albayrak, who is Erdogan's son-in-law, also hit out at "unacceptable" speculation about the central bank's independence and promised to bring soaring inflation down into the single digits.
After tanking 5% and nearing the sub-$70 level on Wednesday amid concerns about returning Libyan supply, crude is now attempting a rebound. "Rising production from Middle East Gulf countries and Russia, welcome though it is, comes at the expense of the world's spare capacity cushion, which might be stretched to the limit," the IEA wrote in its monthly report. "This vulnerability currently underpins oil prices and seems likely to continue doing so."
Stocks
Papa John's founder John Schnatter has resigned as chairman of the board after admitting and apologizing for using the N-word during a May conference call. His position will be filled "in the coming weeks." The purpose of the call was to address the backlash after suggesting the NFL national-anthem demonstrations drove down Papa John's (NASDAQ:PZZA) sales in 2017.
Walmart has decided to sell Japanese supermarket chain Seiyu for around ¥300B-¥500B, according to the Nikkei, and has already approached major retailers and private equity funds. A sale would be the latest exit by Walmart (NYSE:WMT) from a lower-growth market as it looks to shake up its overseas business and invest in places like China and India.
The U.S. Commerce Department has signed an agreement with ZTE (OTCPK:ZTCOY) that will resume operations after a nearly three-month old ban on doing business with American suppliers. The penalty on China's No. 2 telecom equipment maker, instituted after the company conducted business with Iran and North Korea, will be removed once it deposits $400M in an escrow account of a U.S. bank.
Embraer is counting on the votes of public sector Brazilian shareholders to outweigh any potential investor objections to its tie-up with Boeing (NYSE:BA), sources told Reuters. Doubts about the valuation of Embraer's (NYSE:ERJ) commercial jet unit (in the proposed $4.75B joint venture) sent Embraer shares down nearly 15% in a single day last week, but shares are still up 32% since the deal was first reported.
Elbit Systems has unveiled a 1.6 ton Hermes 900 StarLiner unmanned aircraft vehicle designed to fly in airspace currently reserved for piloted civilian planes. The Elbit (NASDAQ:ESLT) UAV can reach 30K feet, the altitude of some commercial jets. Arms firms have been shifting defense efforts from far-away conflicts to homeland security, a technology that could also pave the way for self-flying civilian airliners.
More layoffs have taken place at the corporate offices of Sears Holdings (NASDAQ:SHLD) in Hoffman Estates, Illinois, with about 200 employees let go. "We all know that we must return the company to profitability in order to retain the confidence of our constituents. This means continuing to look at ways to streamline our operations," read a note from CEO Eddie Lampert.
Facebook is giving a newly formed group of academics "full access" to data on its 2.2B users for the purpose of identifying areas of research about the effects of social media on elections and democracy. Social Science One said it has put safeguards in place to prevent future abuses or leaks as Facebook (NASDAQ:FB) grapples with fallout from the Cambridge Analytica scandal.
Comcast took less than a day to respond to Fox's (NASDAQ:FOX) increased bid for the rest of Sky (OTCQX:SKYAY), raising its own bid to an implied £26B (about $34B). The company said the new offer is recommended by Sky's independent directors. Comcast (NASDAQ:CMCSA) has already gotten regulatory approvals in "the EU, Austria, Germany, Italy, and Jersey" and expects to close the deal by the end of October.
Signaling a heavy shift to enterprise software, Broadcom (NASDAQ:AVGO) has sealed an $18.9B deal to acquire CA Technologies (NASDAQ:CA). "Software is a natural extension when you think about the ecosystem we're playing in," CFO Tom Krause said in an interview. The takeover is a strategic move for Broadcom, coming months after its $117B-plus hostile bid for Qualcomm (NASDAQ:QCOM) was blocked by the Trump administration. CA +18.4% premarket.