Thursday Morning Reads, Charts, and News
Reads:
News:
Charts:
Premium:
Yesterdays Unusual Option Action
Earnings This Week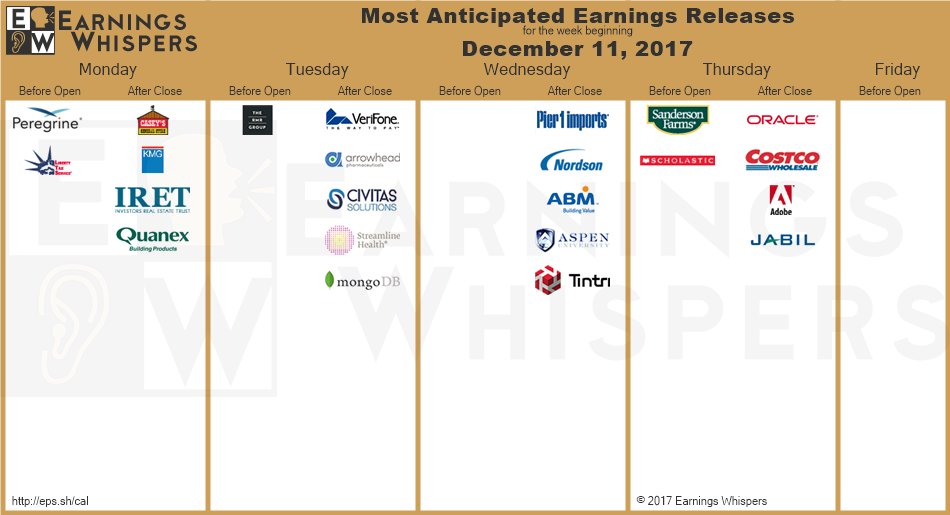 Seekingalpha:
Walt Disney's deal to buy assets from Twenty-First Century Fox (NASDAQ:FOXA) will value the latter at over $40 per share, or $75B, Reuters reports. The all-stock transaction expected to come today will include Twentieth Century Fox movie and TV studio, cable networks and international operations, as well as assets focused on news and sports. None of the Murdochs are expected to be given board seats at Disney (NYSE:DIS). FOXA +1.5% premarket.
Economy
Theresa May returns to another European summit today after lawmakers voted Wednesday evening to change her government's planned Brexit legislation. The House of Commons will now have the power to veto Britain's withdrawal treaty if they don't like the terms. Meanwhile, the Bank of England is set to hold rates at a monetary policy meeting today following its first hike in a decade.
Investors will also be eyeing the ECB and a press conference from Mario Draghi. While the central bank is almost certain to keep its policy stance unchanged and reaffirm its October decision to halve asset buys from next year, it will also unveil fresh economic outlooks, including initial forecasts for 2020. How quick will the ECB follow the Fed on the path toward higher rates?
The PBOC unveiled a five basis-point boost to some reverse-repurchase rates overnight, minutes before the country's release of economic data for November. The indicators suggested little change in the growth rate, with industrial output, retail sales and fixed investment figures close to economists' estimates. Equities declined modestly on the news, with the Shanghai Composite falling 0.3%.
Looking to get relations back on track, South Korean President Moon Jae-in will meet Chinese President Xi Jinping today after a year-long standoff over the deployment the U.S. THAAD system. Curbing Pyongyang's nuclear ambitions will top the agenda, while the two leaders will sign an MOU on restarting negotiations to further open China's service and investment sectors to South Korea companies.
The WTO failed to reach any new agreements at its biennial ministerial conference in Buenos Aires amid stinging U.S. criticism of the group and vetoes from other countries. The stalemate dashed hopes for new deals on e-commerce and curbs on illegal fishing, raising questions about the body's ability to govern increasingly disputed global trade.
President Trump is promising a "giant tax cut for Christmas" as House and Senate Republicans reached a deal that would likely lower the top individual rate to 37% and set the corporate rate to 21% . "We are also simplifying our broken [tax] system... the plan will bring trillions of dollars back into the U.S." Republicans hope to vote on the bill in the next week - before Alabama's Doug Jones is seated - as they could still afford two defections by GOP Senators.
"We see that 2018 might not be quite so happy for OPEC producers," the IEA said in its latest monthly report, as the group cuts back on its output. Amid a recovering oil price, U.S. crude producers are staging a comeback that has allowed many of them to restart operations. "In the first half the surplus could be 200K bpd before reverting to a deficit of about 200K bpd in the second half, leaving 2018 as a whole showing a closely balanced market."
Stocks
The FCC is set to repeal net neutrality rules today requiring internet providers to treat all traffic on the web equally and is also expected to remove the Internet's classification as a utility. Chairman Ajit Pai maintains that current rules went too far in imposing potentially stifling regulatory burdens on broadband providers, while consumer advocates and tech companies feel they protect Internet users and website owners.
IBM has teamed up with major companies including Samsung (OTC:SSNLF), Honda (NYSE:HMC), JPMorgan (NYSE:JPM) and Barclays (NYSE:BCS) to develop quantum computing for commercial use. IBM most recently tested a prototype of a 50-qubit quantum computer, which is approaching a threshold known as "quantum supremacy," or can perform calculations that are beyond the reach of a classical supercomputer
Following a similar deal with Verizon (NYSE:VZ), Ericsson (NASDAQ:ERIC) has been selected by Deutsche Telekom (OTCQX:DTEGY) to provide "5G-ready" network infrastructure across half of Germany. The contract has been hailed as a coup for the struggling Swedish company, which has lost half of its value since the start of 2015, and has pinned its hopes on securing a large portion of the upcoming 5G market.
Target is paying $550M to acquire grocery delivery startup Shipt, moving to match services that have been rolled out by rivals like Amazon (NASDAQ:AMZN) and Wal-Mart (NYSE:WMT). The acquisition is expected to "significantly accelerate" Target's (NYSE:TGT) digital fulfillment efforts, including bringing same-day delivery services to customers at approximately half of its stores by early 2018.
Wells Fargo has laid off about 60 employees in its mortgage division, WSJreports, as the bank continues to reshuffle parts of its business. The cuts follow disclosures by the bank that it charged some customers improper fees to extend interest-rate commitments they received from Wells Fargo (NYSE:WFC) on their mortgage applications.
"It's a criminal investigation," confirmed the DOJ, regarding its probe into UBER. The suit is over autonomous car technology that Waymo (GOOG, GOOGL) accuses an ex-Uber employee of stealing and using in the company's self-driving effort. Uber is already reportedly facing inquiries into possible violations of the Foreign Corrupt Practices Act.
Ford has told suppliers it plans to shift production of midsize Fusion and Mondeo sedans out of Mexico and Spain in 2020 and move it to China, Reuters reports. But the automaker confirmed it won't ship those cars from China to the U.S. and Europe. The move is part of Ford (NYSE:F) CEO Jim Hackett's ongoing effort to reduce inefficiency and trim costs.
Catching up? Delta Air Lines (NYSE:DAL) is looking to place an order for 100 A321neo jets in a boost for Airbus (OTCPK:EADSY) as it tries to narrow a 2017 order gap against Boeing (NYSE:BA). The deal, first reported by CNN, would be worth $12.7B at list prices, but would typically involve steep discounts.
Airbus will also hold a board meeting today that could determine the future direction of the planemaker as it prepares for hefty fines stemming from bribery allegations. Some are also talking about Tom Enders leaving when his contract expires in 2019, perhaps accompanied by other managers, but the Airbus (OTCPK:EADSY) CEO made clear yesterday that he hasn't taken a position.