Thursday Morning Reads
Reads:
News:
Futures:
 Earnings: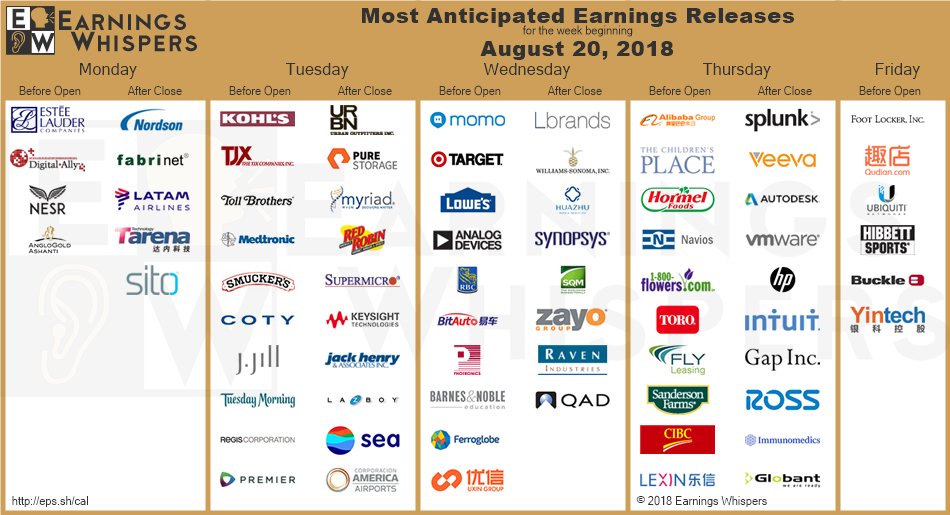 Charts:
A fresh round of U.S. tariffs on $16B worth of Chinese imports kicked in at midnight, prompting Beijing to retaliate with its own levies on American goods worth the same amount. The world's two largest economies, which are in the midst of trade talks, have now slapped tit-for-tat duties on a combined $100B of products since early July, with more in the pipeline. Economists reckon that every $100B of imports hit by tariffs would reduce global trade by around 0.5%.
Economy
Wall Street was pretty unfazed yesterday by the recent turmoil in Washington, showing how investors have become accustomed to political turbulence as long as it doesn't threaten the strong American economy. In the latest, President Trump said the hush-money payments made by Michael Cohen to multiple women ahead of the 2016 presidential election weren't taken out of campaign finance and didn't rule out the possibility of pardoning Paul Manafort.
Major Hurricane Lane is forecast to close in on Hawaii and threaten lives and property due to pounding surf, flash flooding, mudslides and strong winds. "Lane has the potential of serious and perhaps record damage," according to AccuWeather. The category 4 storm could slam into the islands Thursday with winds exceeding 100 mph, making it the most powerful storm to hit the state since Hurricane Iniki in 1992.
The U.K. government will publish the first batch of technical notices today advising citizens and businesses on how to prepare for a no-deal Brexit. In a speech to coincide with the publication, Brexit secretary Dominic Raab is expected to stress confidence that "a good deal is within our sights... but, we must be ready to consider the alternative and every eventuality."
Chancellor Angela Merkel won't push for a German to be the next president of the ECB and will focus on more significant appointments in Brussels like European Commission president, according to Handelsblatt. Many analysts have suggested that Merkel would support Jens Weidmann, the current central bank governor in Germany, known for his hawkish views, but that now doesn't seem so straightforward.
South Africa's rand stretched losses overnight to 1.8% against the dollar after President Trump raised concerns about Pretoria's land reform plans. He instructed Secretary of State Mike Pompeo to look at the changes proposed by the ruling ANC, as well as the "expropriations and large-scale killing of farmers." The move has unnerved some investors already concerned about the country's weak economic growth, ballooning public debt and policy missteps.
Australian Prime Minister Malcolm Turnbull is clinging to power despite senior ministers deserting him, saying he would only hold a second leadership vote on Friday if he received a letter signed by the majority of the ruling party. Former home affairs minister Peter Dutton has declared he would again contest a Liberal party leadership vote, while reports suggest the country's treasurer and foreign minister may also be candidates.
Stocks
On top of the more than 200 closures it announced this year, Sears Holdings (NASDAQ:SHLD) has identified another 46 locations, consisting of 13 Kmarts and 33 Sears outlets, that it will shut in November. "We continue to evaluate our network of stores, and will make further adjustments as needed," the company said, adding that liquidation sales will begin as soon as next week. SHLD +2.5% premarket.
Barring a massive crash in the coming trading session, Apple (NASDAQ:AAPL) CEO Tim Cook stands to earn a total of 560K shares on Friday as part of his annual compensation plan. That's about $120M worth of Apple stock, based on its current price. Half of those shares are tied to the company's performance compared with the rest of the S&P 500, a modification Cook requested a few years back.
Facebook has pulled its Onavo data security app from Apple's (AAPL) app store after the iPhone maker ruled that the service violated its data collection policies, sources told WSJ. The decision widens the schism between the two tech giants over privacy and is a blow to Facebook (NASDAQ:FB), which has used data gathered through the app to track rivals and scope out new product categories
Souring relations between China and Australia have seen Huawei and ZTE (OTCPK:ZTCOY) banned from providing 5G technology equipment Down Under. "The government considers that the involvement of vendors who are likely to be subject to extrajudicial directions from a foreign government that conflict with Australian law, may risk failure by the carrier to adequately protect a 5G network from unauthorized access or interference," according to a statement from Australia's Department of Communications.
Seeking to make up lost ground against Sony (NYSE:SNE) in the professional photography market, Nikon (OTCPK:NINOY) has unveiled its first full-frame mirrorless cameras that excel at capturing sharp images of fast-moving objects. Although smartphones have decimated digital camera sales, Canon (NYSE:CAJ) has also said it's considering its own mirrorless model, setting the stage for a battle for professionals and enthusiasts.
Volkswagen is investing €3.5B by 2025 to build digital businesses and products including a cloud computing-based platform to connect vehicles and customers to offer services such as car sharing. The new VW (OTCPK:VLKAY) automobiles will also have a completely new electronic architecture designed to help facilitate autonomous driving functions using the new proprietary software operating system.
Shooting down rumors that the kingdom scrapped Aramco's (ARMCO) IPO plans, Saudi Arabia said it "remains committed" to list shares of the state-owned energy giant. "This timing will depend on multiple factors, including favorable market conditions, and a downstream acquisition which the company will pursue in the next few months," Energy Minister Khalid al-Falih declared. The IPO now appears less urgent because oil prices have rebounded above $70/bbl.
Mexican President-elect Andrés Manuel López Obrador will hold off auctioning any new oil blocks for at least two years and plans to amend laws to bolster the dominant role of state oil company Petróleos Mexicanos, WSJreports. The incoming administration won't propose changes to Mexico's Constitution, which was amended in 2013 to allow for private investment in oil and gas, but will use its majority in Congress to tweak the hydrocarbons law.
The SEC has once again thwarted an attempt to build a bitcoin ETF, rejecting applications for nine separate bitcoin-based exchange-traded funds. Cboe Global Markets (NASDAQ:CBOE) and NYSE Arca (NYSE:ICE) would have listed the products. The commission leaned on the same reasoning as for the earlier rejections, mainly that there aren't enough protections against fraud and market manipulations.