Thursday Morning Reads
Reads:
News:
 Futures:
 Open Interest Changes:
Yesterdays UOA:
Charts: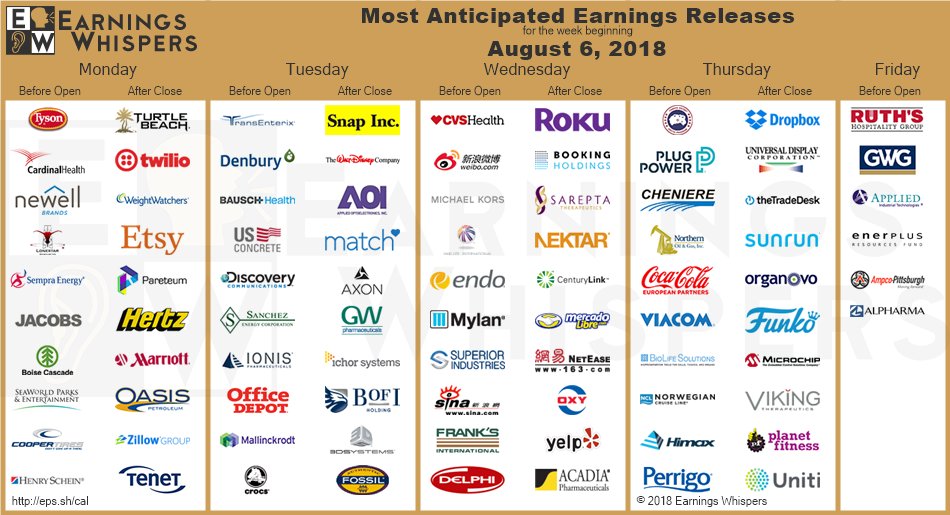 SeekingAlpha:
While the negotiations could face a bumpy road, Japan and the U.S. are headed for a new round of trade talks today in Washington. Economic Revitalization Minister Toshimitsu Motegi will try to avert steep tariffs on car exports and stress the significance of multilateral free trade, with an eye on persuading the U.S. to return to the TPP. The world's third-largest economy will also face demands from U.S. Trade Representative Robert Lighthizer, including a trade deficit reduction and the further opening of Japan's automobile and agriculture markets.
Economy
It's the first official reading on the impact of prices from China's retaliatory tariffs - on $34B of U.S. goods - that went into effect on July 6. Consumer inflation in July rose slightly to 2.1%, giving room for further monetary easing, while industrial inflation, a main driver of profit growth, moderated to about 4.6%. Beijing late Wednesday said it would slap additional tariffs of 25% on $16B worth of U.S. imports.
Following a 6.9 magnitude earthquake on Sunday that killed at least 131 people on Indonesia's Lombok, another strong 6.2 temblor struck the island overnight, causing some buildings to collapse. The tremors could not have come at a worse time for President Joko Widodo, who declared last month that Southeast Asia's largest economy "needs dollars now" and launched a tourism drive to narrow its current account gap and shore up its currency.
Firefighters said for the first time they have made good progress battling California's largest-ever wildfire but didn't expect to have it fully under control until September. The blaze has grown to the size of Los Angeles since it started two weeks ago, fueled by dry vegetation, high winds and rugged terrain that made it too dangerous for firefighters to directly attack the flames now spanning 470 square miles.
Puerto Rico has reached an agreement with creditors to restructure bonds backed by a portion of its sales tax known as Cofinas, solidifying a planned restructuring of roughly $18B in debt. The agreement, which requires court approval, would mark the biggest consensual debt settlement negotiated with creditors since the island entered a court-supervised bankruptcy last year.
In currency markets, the Russian ruble slid to its lowest level since late 2016 after the Trump administration approved fresh sanctions on the country related to the Skripal nerve-agent poisoning case. The pound skidded the most against the greenback in almost a year as fears grew about the possibility of "no Brexit deal," while Turkey's lira tumbled 3% as the dispute between Ankara and Washington continued despite high-level meetings.
As the U.S. seeks to rein in their nuclear programs, Iranian President Hassan Rouhani told North Korea's foreign minister that the Americans cannot be trusted, adding that Tehran and Pyongyang have "always had close views" on many issues. Supreme Leader Ayatollah Ali Khamenei also said the Islamic Republic had nothing to be concerned about "at all," and that "nobody can do anything."
Stocks
The SEC is making inquiries into the recent tweets of Elon Musk, which announced plans to take Tesla (NASDAQ:TSLA) private for $420 per share. Several securities attorneys told Reuters that Musk could face investor lawsuits if it was proven he didn't have secure financing at the time of his tweet, and could be in hot water if the statement was aimed at goosing his company's share price.
Accused of conducting improper fuel economy and emissions tests, Mazda (OTCPK:MZDAY) and Suzuki Motor (OTCPK:SZKMY) are the latest automakers to join the emissions cheaters club, according to Nikkei. The findings were the results of internal investigations ordered at Japanese automakers by the nation's transport ministry after improper testing at Subaru (OTCPK:FUJHY) and Nissan (OTCPK:NSANY).
Bending to demands from China's aviation regulator, airlines including Delta (NYSE:DAL), United (NYSE:UAL), American (NASDAQ:AAL) and Hawaiian (NASDAQ:HA) have amended their systems to list only Taipei's airport code and city, but not the name Taiwan. They also changed references for Hong Kong and Macau, former European colonies that are now part of China but are run largely autonomously.
NYC has passed regulations on companies like UBER and LYFT, capping the number of cars on the road for one year and imposing a minimum wage for drivers as it studies the effects of ride-hail services in the city. Supporters of a cap have said the regulations will protect drivers, fairly regulate the industry and reduce congestion, but opponents say they could result in longer wait times and higher prices for ride-hail services.
Pouring money into Chinese online delivery, Walmart (NYSE:WMT) and JD.com (NASDAQ:JD) are investing $500M in Dada-JD Daojia, which delivers goods from local supermarkets and other partners via smartphone app. Dada-JD Daojia, which has about 20M monthly active users, was formed from the merger of JD.com's online-to-offline business and Dada Nexus, a large crowd-sourcing delivery platform in China with operations in more than 400 major cities.
On the cusp of a shareholder vote on the transaction, Rite Aid (NYSE:RAD) and Albertsons said they are terminating their $24B merger (without a breakup fee). The announcement is a blow to both the pharmacy and the grocer, which are both facing mightier competitors in their respective industries, but were unable to structure a deal that sufficiently appealed to investors.
Perrigo -9% premarket after completing a strategic review of its portfolio and approving plans to separate its Prescription Pharmaceuticals (Rx) business. The board will explore all value-enhancing options, including a possible tax-efficient separation to shareholders, a sale or a merger. Perrigo's (NASDAQ:PRGO) Rx business serves patients and health systems with topical medicines at more affordable prices.
Intel sold $1B of artificial intelligence processor chips in 2017, the first time the world's second-largest chipmaker disclosed revenue from the fast-growing computing segment. As PC sales stagnate, Intel (NASDAQ:INTC) has increasingly been depending on its sales to data centers, which provide computing power for mobile and web-based apps. Those programs, in turn, rely on AI for features like photo and speech recognition.
Tronc spiked 17% on Wednesday after the Chicago Tribune reported its parent is considering divesting the rest of its newspaper holdings to a private equity firm. A bid of $19-$20/share is on the table, a one-third premium. After a contentious ownership tenure, Tronc (NASDAQ:TRNC) earlier this year sold the Los Angeles Times and San Diego Union-Tribune to investor Patrick Soon-Shiong.
Shari Redstone, the controlling shareholder of CBS, is quietly looking for a potential replacement for CEO Leslie Moonves as he grapples with sexual misconduct allegations, NBC News reports. The two have squared off in recent years - with Redstone seeking the merger of CBS and Viacom (VIA, VIAB) - adding to expectations that Moonves will be replaced. The potential combination may also be discussed today as Viacom reports Q2 results.
Wednesday's Key Earnings
CenturyLink (NYSE:
CTL
) 
+2.5%
 AH raising its outlook.
CVS Health (NYSE:
CVS
) 
+4.2%
 fueled by prescription drugs.
Energy Transfer (NYSE:
ETP
) 
-1.5%
 missing estimates.
Michael Kors (NYSE:
KORS
) 
+6.7%
 following strong earnings.
Monster Beverage (NASDAQ:
MNST
) 
-0.2%
 AH on in-line revenues.
Mylan (NASDAQ:
MYL
) 
+1.8%
 rebounding after slashing guidance.
Occidental Petroleum (NYSE:
OXY
) 
-2.7%
 AH raising capex to $5B.
Roku (NASDAQ:
ROKU
) 
+9%
 AH adding more subscribers.
Southern Co. (NYSE:
SO
) 
-4.5%
 amid soaring costs.
Twenty-First Century Fox (NASDAQ:
FOXA
) 
+0.2%
 upping cable revenues.
Yelp (NYSE:
YELP
) 
+15.1%
 AH following a rosier outlook.