Thursday Morning Reads - Option - Charts - News
Reads:
News:
Futures:
 Open Interest Changes:
Charts:
Earnings This Week: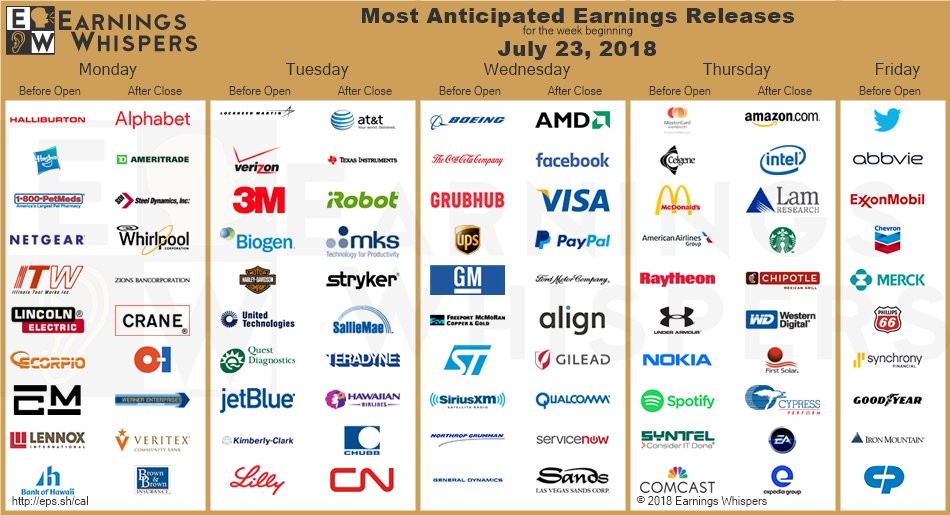 SeekingAlpha:
The tech-heavy Nasdaq is set for a big down day after Facebook (NASDAQ:FB) published quarterly results that underwhelmed investors and sent the social media giant hurtling toward its biggest share price decline ever (see below). Collateral damage was spread quickly after-hours as investors fled the sector. Apple (NASDAQ:AAPL) lost close to 1%, while Facebook's "FANG" brethren, including Amazon (NASDAQ:AMZN), Netflix (NASDAQ:NFLX) and Google (GOOG, GOOGL) shed about 2%-3%.
Economy
"We agreed today to work together towards zero tariffs, zero non-tariff barriers and zero subsidies for the non-auto industrial goods," President Trump announced at a press conference yesterday with the EU's Jean-Claude Juncker. The U.S. secured further trade concessions, including the import of more soybeans and possibly some liquefied natural gas, while potential auto tariffs will be sidelined as the two sides launch negotiations to cut other trade barriers.
"Canada very much believes in NAFTA as a trilateral agreement, and that is simply a statement of the reality," Canadian Foreign Minister Chrystia Freeland declared alongside Mexican Economy Minister Ildefonso Guajardo, explaining that bilateral meetings between the different members are part of the negotiating process. Guajardo will now travel to Washington to discuss recent developments with U.S. Trade Representative Robert Lighthizer.
After outlining plans last month to end its stimulus program, the ECB is expected to hold rates steady today at its latest monetary policy meeting. Mario Draghi is also likely to face questions at a press conference regarding President Trump's allegations that the EU engages in currency manipulation and the central bank's plans for reinvesting the proceeds of maturing bonds.
Early results from Pakistan's election suggest ex-cricket star Imran Khan is on course to become prime minister. A victory for the Pakistan Movement for Justice would break the country's two-party system and become a new force in national politics. Khan has promised to clean up corruption and provide better education, health and other public services.
A person detonated a small bomb just outside the U.S. Embassy in Beijing overnight, leaving the bomber injured but no others. The explosion occurred near the area where people line up to enter the consular section for visa services, but the area is near other diplomatic compounds and hotels. Police identified the bomber as a 26-year-old man surnamed Jiang from the Inner Mongolia region.
North Korea is continuing to produce fuel for nuclear bombs in spite of its pledge to denuclearize, according to U.S. Secretary of State Mike Pompeo, and while the U.S. is engaged in "patient diplomacy," it will not let the process "drag out to no end." Reports also suggest Pyongyang will return some remains of U.S. service members killed in the Korean War on Friday, coinciding with the 65th anniversary of the Korean Armistice Agreement.
Stocks
So what went wrong at Facebook? The company posted weaker-than-expected daily active users for last quarter and said revenue growth would decline sequentially in the second half of this year. The news sent FB stock down over 20%, wiping out more than $125B in market value. Top executives further delivered a few warnings on an earnings call that touched on weaker margins and the effects of privacy changes.
Flagging plans to initiate a share buyback for months, Royal Dutch Shell (RDS.A, RDS.B) has officially launched a $25B repurchase program, though shares slipped about 2% in premarket trade. The oil major's adjusted net income of $4.69B in Q2 fell short of even the lowest analyst estimate. Meanwhile, French rival Total (NYSE:TOT) reported a sharp rise in Q2 net profit at $3.72B and raised its production target for the second time this year. TOT +0.8% premarket.
More European earnings: Nokia (NYSE:NOK) -9.4% premarket after issuing a dim outlook on customer spending on 5G. AB InBev (NYSE:BUD) -0.7%streamlining its global management structure after marketing spending on the World Cup hurt profit growth. Airbus (OTCPK:EADSY) delivered bumper Q2 earnings and reaffirmed its 2018 targets, while gains were seen at Nestle (OTCPK:NSRGY) as its U.S. and Chinese markets bounced back. AstraZeneca (NYSE:AZN) also dipped 0.5% premarket as patent expiries weighed on its portfolio.
Pinduoduo has priced its U.S. IPO at $19 per American depositary share, raising $1.63B in the second-largest U.S. float by a Chinese firm in 2018. The online group discounter is the latest to tap international capital markets to bolster coffers amid ever-intensifying competition with domestic rivals Alibaba (NYSE:BABA) and JD.com (NASDAQ:JD). Pinduoduo will begin trading on the Nasdaq today under ticker symbol "PDD."
China's commerce ministry has declined to comment on whether or not Qualcomm's (NASDAQ:QCOM) deal to buy NXP Semiconductors (NASDAQ:NXPI) had been approved after a deadline for clearing the tie-up passed without an announcement. The ministry noted, however, that the matter was an anti-monopoly issue and not related to U.S.-China trade frictions. If the deal is terminated, Qualcomm will pay a $2B breakup fee to NXP no later than 9:00 a.m. ET.
Just weeks after the last Babies R Us stores went dark, Walmart (NYSE:WMT) is making a bigger push in the baby business. Starting today, shoppers will see a revamped landing page on Walmart.com for baby items - everything from cribs and car seats to baby food and diapers. Buy Buy Baby owner Bed Bath & Beyond (NASDAQ:BBBY) has also been stumbling of late, with more and more parents ditching brick-and-mortar stores.
Arconic is weighing takeover approaches from at least two private equity groups, including Blackstone (NYSE:BX) and Carlyle (NASDAQ:CG), which have indicated a willingness to pay a price in the mid-$20s for the aerospace parts company. According to the WSJ, Arconic's (NYSE:ARNC) board plans to discuss the possibility of a sale - one of the biggest recent leveraged buyouts - at a meeting later today. ARNC +9% premarket.
Toyota is doubling down on its investment in hydrogen fuel cell vehicles, planning a range of SUVs, pick-ups and commercial trucks around 2025 and proving wrong those who have dismissed such plans as commercially unviable. "We're going to shift to mass production, reduce the amount of expensive materials like platinum used in FCV components, and make the system more compact and powerful," said Yoshikazu Tanaka, chief engineer of the Toyota (NYSE:TM) Mirai.
Following a call to his employer by Tesla's (NASDAQ:TSLA) Elon Musk, who threatened to engage counsel and sue Seeking Alpha's Montana Skeptic, the long-time contributor has been forced to stop submitting articles to the website. "We want to state clearly that we are more committed than ever to providing the soapbox for bulls and bears on this, and every, stock," declared George Moriarty, VP Content at Seeking Alpha. "This turn of events could make it tempting to rethink our approach... That will not happen." TSLA -1.2%premarket.
Wednesday's Key Earnings
AMD (NASDAQ:
AMD
) 
+5.9%
 AH on Computing and Graphics growth.
Boeing (NYSE:
BA
) 
-0.7%
 following a tanker writedown.
Coca-Cola (NYSE:
KO
) 
+1.8%
 boosted by organic sales.
Facebook (
FB
) 
-20.2%
 AH giving a grim forecast.
Fiat Chrysler (NYSE:
FCAU
) 
-11.8%
 reporting soft earnings.
Ford (NYSE:
F
) 
-3.6%
 AH cutting its profit guidance.
Freeport-McMoRan (NYSE:
FCX
) 
-1.3%
 lowering its cash flow outlook.
General Motors (NYSE:
GM
) 
-4.6%
 amid tariff pain.
Gilead Sciences (NASDAQ:
GILD
) 
-1.5%
 AH as its CEO stepped down.
Mondelez (NASDAQ:
MDLZ
) 
+4.8%
 AH on strong consumer appetite.
PayPal (NASDAQ:
PYPL
) 
-5.3%
 AH narrowly beating estimates.
Qualcomm (
QCOM
) 
+6.6%
 AH pursuing a major stock repurchase.
UPS (NYSE:
UPS
) 
+6.9%
 with rising online demand.
Visa (NYSE:
V
) 
-0.8%
 AH taking a litigation provision.