Thursday Morning Reads
Reads:
News:
Futures:
 Open Interest Changes:
Charts:
Unusual Option Action 
Earnings This Week: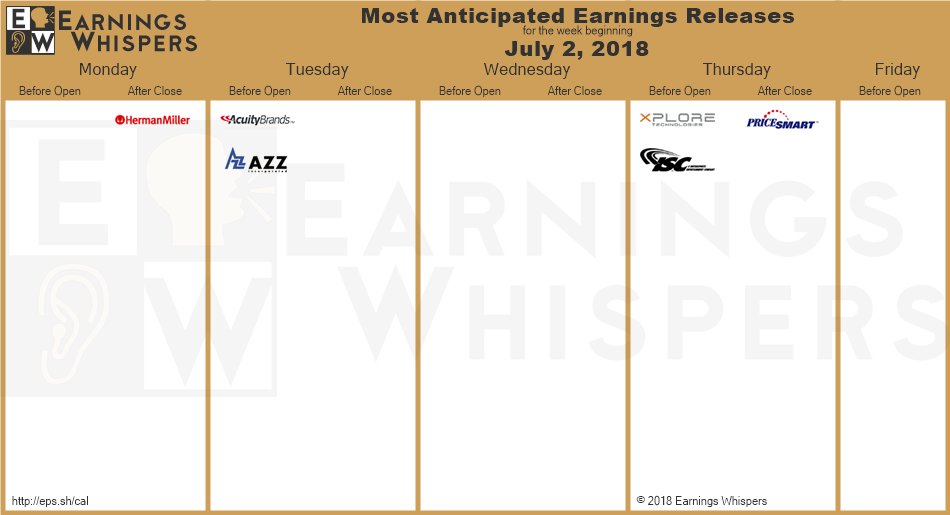 Seekingalpha:
China insists it will not fire the first shot, but retaliatory tariffs will go into effect "immediately" if the U.S. follows through with plans tomorrow to levy 25% duties on $34B of Chinese imports. However, since Beijing is 12 time zones ahead of Washington, the country will likely put its tariffs into effect at 12:01 a.m. Friday in Beijing, which is noon Thursday in Washington. Trade war? If it retaliates, President Trump has threatened further tariffs on as much as $450B worth of Chinese goods.
Economy
The Chinese yuan surged 1% against the dollar on Wednesday, continuing a recovery that began the previous afternoon. The PBOC is "closely monitoring" recent fluctuations in the currency market, declared central bank chief Yi Gang, and will use its "ample" monetary tools to keep the yuan "basically stable."
Minutes of the Federal Reserve's June meeting will be released this afternoon. While the details are expected to show little support for suggestions that the central bank will pause from hiking interest rates, economists will be looking to see how much pushback there might have been from doves. There may also be clues about what it could take the Fed to deviate from its current pace of lifting rates each quarter.
Over 216M Americans were expected to have observed Independence Day this year, spending $6.9B on food for cookouts and picnics, according to the National Retail Federation. It's the second-highest amount in the history of the Fourth of July survey, but down from last year's record $7.1B. Reasons for the decline include higher gas prices and the holiday falling in the middle of the week.
Germany's big three automakers - BMW (OTCPK:BAMXF), Volkswagen (OTCPK:VLKAF) and Mercedes-parent Daimler (OTCPK:DDAIF) - met with U.S. Ambassador to Germany Richard Grenell on Wednesday, stating they would support the elimination of EU tariffs on imported American cars provided the U.S. did the same. While EU tariffs on passenger cars are 10%, versus 2.5% in the U.S., the latter imposes import duties of 25% on European vans and pick-up trucks.
The pound is on watch as Theresa May struggles to contain Tory divisions over Brexit ahead of a crunch meeting tomorrow. The gathering will decide the final economic plan for Brexit, including tinderbox topics like single market access and the customs union. A softer stance may assuage market concerns, but a leadership contest may be brought by Brexiteers if she fails to agree on a clean break from Brussels after 2019.
Italy's new government will have both tax cuts and a universal basic income in its very first budget to show financial markets the coalition isn't backing down from its agenda, according to Finance Minister Giovanni Tria. The economic program is aimed at convincing investors that the administration is serious about its mission, even after its formation initially rocked Italian bond markets.
Turkey has issued a decree transferring some powers to the president, in line with its move to an executive presidential system. The office of prime minister will be abolished, and Erdogan will be able to form and regulate ministries without parliamentary approval. The government has also been issuing decrees, bypassing parliament, since a state of emergency imposed following an attempted military coup in July 2016.
Linking U.S. foreign policy to oil prices? "The OPEC Monopoly must remember that gas prices are up & they are doing little to help. If anything, they are driving prices higher as the U.S. defends many of their members for very little $'s. This must be a two way street. REDUCE PRICING NOW!" President Trump wrote on Twitter. Meanwhile, Iranian Revolutionary Guards commander Ismail Kowsari said that Tehran will block oil shipments through the Strait of Hormuz in the Gulf if the U.S. bans Iranian oil sales.
Stocks
More corporate Brexit warnings... Britain's largest carmaker, Jaguar Land Rover (NYSE:TTM), has warned that a hard Brexit would cost £1.2B a year, curtailing its future operations in the U.K. "I don't want to threaten anybody," said CEO Ralf Speth, "but we urgently need greater certainty to continue to safeguard our suppliers, customers and 40,000 British-based employees."
Uber is in preliminary talks with rival Careem to combine their Middle Eastern ride-hailing services, hoping to resolve a costly rivalry as it prepares for an IPO next year, Bloomberg reports. Several potential deal structures have been discussed, including having Careem's current leaders manage the new combined business and retaining one or both of the companies' local brands, while another would have UBER acquire Careem outright.
In a World Cup brimming with upsets, Nike (NYSE:NKE) looks on track to defeat soccer juggernaut and archrival Adidas (OTCQX:ADDYY) in the closely watched jersey sponsorship battle. The Swoosh decorates the outfits of Brazil, France and England, the sides most favored in the quarter-finals, plus Croatia. "Certainly any market share that Nike can pick up in a nontraditional U.S. sport can only bode well for the stock price and brand," said Jake Dollarhide, CEO of Longbow Asset Management.
Politicization of retail? Walmart (NYSE:WMT) has pulled anti-Trump "Impeach 45" apparel from its website after receiving harsh feedback online amid a #BoycottWalmart trend on Twitter. "These items were sold by third party sellers on our open marketplace, and were not offered directly by Walmart," according to a spokesperson. "We're removing these types of items pending review of our marketplace policies."
ZTE has named a new slate of top executives as the Chinese telecom equipment firm works toward lifting a U.S. supplier ban. Among them is CEO is Xu Ziyang, the former head of the company's business in Germany, as well as a new CFO, CTO and CHRO. The fresh leadership were appointed less than a week after ZTE's (OTCPK:ZTCOY) board of directors resigned and shareholders voted to install a new eight-person board.
Brazil police have arrested the head of General Electric (NYSE:GE) in Latin America, along with 21 others caught up in an alleged medical equipment fraud case in the state of Rio de Janeiro. "The allegations refer to a time period when Mr Speranzini worked for [Philips Medical Systems (NYSE:PHG)]," GE said in a statement. "We trust that the facts will be clarified through the course of a full investigation."
Recasting itself as a pipeline utility, Enbridge (NYSE:ENB) is selling its Canadian natural gas gathering and processing business to Brookfield Infrastructure Partners (NYSE:BIP) for C$4.31B. The business includes 19 natural gas processing plants and liquids handling facilities and is spread across Montney, Peace River Arch, Horn River and Liard basins in British Columbia and Alberta.
Kinder Morgan Canada will restart construction in August on the Trans Mountain pipeline's expansion after halting work in the spring due to opposition from environmentalists and other groups. Canada, in late May, agreed to buy the pipeline to save Kinder's (OTCPK:KMLGF) project. The expansion would nearly triple its capacity, giving Canadian producers greater access to Asia and other world markets.
Becoming the latest U.S. energy major to scale back in the region, Chevron (NYSE:CVX) has kicked off a process to sell a significant number of its oil and gas assets in the North Sea. The move, which is part of a review of Chevron's European assets as the industry emerges from a prolonged downturn, will see at least six fields offered to prospective buyers.
Praxair has sold nearly $6B worth of European assets to Japanese rival Taiyo Nippon Sanso in a bid to gain regulatory approval for its mega merger with Germany's Linde (OTCPK:LNEGY). More disposals are also planned in order to secure clearance from the European Commission. Praxair's (NYSE:PX) $80B deal is expected to create the world's largest supplier of industrial gases.
Embraer is in final stages of talks to combine operations with Boeing (NYSE:BA), CEO Paulo Souza e Silva told Valor Economico. He declined to elaborate on details, but described the negotiation as "complex." An agreement would likely see the creation of a new company focused on commercial aviation controlled by Boeing, while Embraer (NYSE:ERJ) would keep its defense division and possibly its business jet unit.