Thursday Morning Reads, News, Options
Reads:
News:
Futures:
 Open Interest Changes:
Charts:
Unusual Option Action 
Earnings This Week: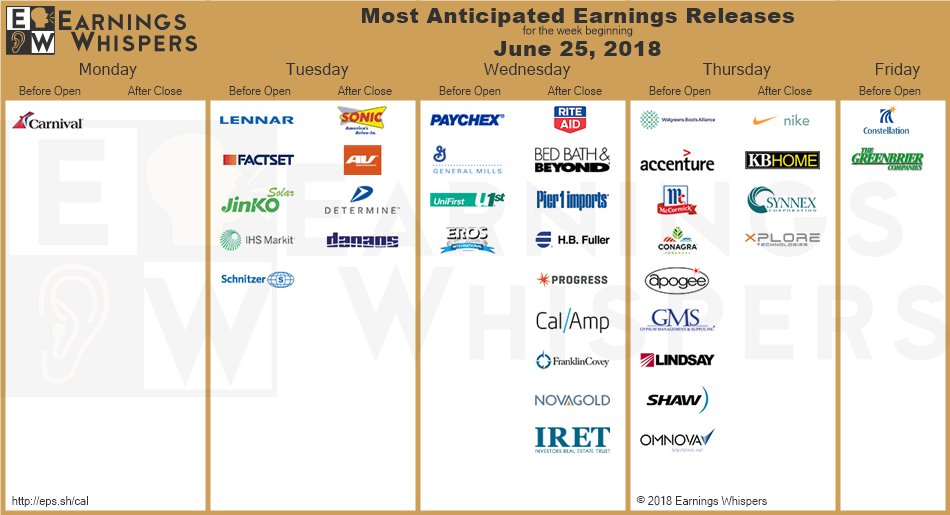 Seekingalpha:
Today is part two of the Fed's annual bank stress tests, when lenders will learn whether they can boost buybacks and dividends to shareholders. Goldman Sachs (NYSE:GS) and Morgan Stanley (NYSE:MS) barely squeaked by on the first part last week and some are further concerned about Wells Fargo (NYSE:WFC) and Deutsche Bank (NYSE:DB). The results come as the S&P 500 Financials Index fell for a 13th straight day on Wednesday - the longest losing streak on record - amid trade war worries and rising interest rates.
Economy
The U.S. Commerce Department will publish its third estimate for Q1 GDP this morning, which is expected to show output growing at a 2.2% annualized rate as reported last month. However, after a surprising drop in the U.S. trade deficit in May, a number of Wall Street firms have jacked up their estimates for Q2. Most notably, Macroeconomic Advisers raised its forecast to 5.3% from 4.5%, which would mark the first time the GDP figure smashed the 5% mark since 2003.
The debt load for U.S. corporations has reached a record $6.3T, according to S&P Global, as Wall Street investors brace for a stricter rate environment even as cash hoarding reaches a peak. The good news is that U.S. companies have a record $2.1T in cash to service that debt, however most of that cash is in the hands of a few giant corporations.
U.S. Supreme Court Justice Anthony Kennedy has announced his retirement, setting the stage for a monumental battle over the nation's constitutional direction. President Trump said his next choice would come from a previously released list of 25 candidates, including suspected frontrunners Judges Thomas Hardiman and William Pryor. The decision will have huge implications ahead of November's midterm elections.
"I said it from Day One: Getting along with Russia and China and with everybody is a very good thing," President Trump declared, announcing he will "most likely" meet with Vladimir Putin in Europe next month. The summit would offer Putin a chance to persuade Washington to lift some sanctions imposed over the annexation of Crimea, interference in Ukraine's separatist fighting and alleged meddling in the 2016 U.S. presidential election.
"Europe faces many challenges, but that of migration could become the make-or-break one for the EU," Angela Merkel told the German parliament. "Either we manage it, so others in Africa believe that we are guided by values and believe in multilateralism, not unilateralism, or nobody will believe any longer in the system of values that has made us strong."
Stocks
The California legislature is set to vote today on the California Consumer Privacy Act of 2018, an online privacy law that could bring sweeping change to how tech giants gather and monetize consumer data. While the law would only apply to Californians, the cost and difficulty of maintaining different sets of privacy protections for them and for the rest of the country means tech companies could change their policies nationwide.
While settlement terms were not disclosed, Apple (NASDAQ:AAPL) and Samsung Electronics (OTC:SSNLF) have settled a seven-year patent dispute over allegations that the latter violated patents by "slavishly" copying the design of the iPhone. Apple is also reportedly close to landing a second supplier for the OLED screens used in high-end iPhones, a key step toward reducing its dependence on Samsung.
Instagram Lite has quietly appeared on the Google Play Store as Facebook (NASDAQ:FB) looks at ways to get more people on board after crossing the one billion user mark this year. The size of the app is just 574 kilobytes, instead of 32MB like the main app. It allows users to post pictures, and create and watch stories that disappear after 24 hours, aimed at users in developing markets.
Walmart is introducing a 3D virtual shopping experience on its website as it pours billions of dollars into beefing up its e-commerce business. The new feature will take customers through a curated apartment showcasing about 70 items from national brands and private label offerings. Walmart's (NYSE:WMT) technology incubator, Store No 8, bought virtual reality startup Spatialand in February to build VR products.
BJ's Wholesale Club has priced its IPO at $17 per share, the upper end of a previously indicated $15-$17 range. While the company said it sold 37.5M shares, raising net proceeds of $637.5M, with 126.3M shares outstanding, the warehouse club chain is valued at $2.15B. BJ's, which competes against Costco (NASDAQ:COST) and Walmart (WMT), will begin trading on the NYSE today under ticker symbol "BJ."
Revamping its marketing under CEO Brian Niccol, Chipotle (NYSE:CMG) is shuttering up to 65 underperforming restaurants, while taking $115M-$135M in non-recurring charges for their closures. The burrito chain also held a conference call to discuss other changes, including additions to its dining menu, a marketing push to raise awareness of mobile ordering and the launch of a customer loyalty program.
Tokyo has passed an ordinance that essentially bans smoking inside 84% of the city's bars and restaurants, which would come into force in April 2020, ahead of the Summer Olympic Games. While the regulations may dent overall tobacco demand, over the medium term they may boost the market for heat-not-burn tobacco products, which would still be permitted in eating and drinking outlets.
While talks are at an early stage, Athene Holding (NYSE:ATH) has expressed interest in acquiring all or parts of General Electric's (NYSE:GE) long-term care insurance business, FT reports. In announcing plans for a partial breakup of GE, CEO John Flannery said on Tuesday the company is "aggressively working on actions and alternatives to mitigate, reduce or eliminate our exposure to long-term care insurance."
Equifax has avoided fines in a deal with eight states' banking regulators over its data breach in September 2017 that compromised sensitive data of more than 145M people. Equifax (NYSE:EFX) must perform a detailed assessment of cyber threats, boost board oversight of cyber security and improve processes for patching known vulnerabilities, according to the terms of the agreement.
With plans to shift some of its production to Europe, Harley-Davidson (NYSE:HOG) is defending its actions against the tweets of President Trump. "We'd rather not make investments to address these regulatory hurdles and take the profit hit, but we are doing so to protect European riders and our dealers." Retail sales of Hogs in Europe, the Middle East and Africa rose 7% in Q1, while U.S. sales sank 12%.
Waymo will need "a large number" of cars to expand its robo-taxi service to Europe, according to the head of Alphabet's (GOOG, GOOGL) self-driving unit, but will likely partner "with a European car brand." In the coming months, the company is set to launch its ride-hailing service in Phoenix, Arizona, with Fiat Chrysler (NASDAQ:FCA) supplying up to 62,000 cars, as well as new vehicles from Jaguar Land Rover (NYSE:TTM).
After scrapping its deal for Woolworths' gas station business in Australia, BPis upping its bet on an electric car future. The oil major is buying Chargemaster, a British company that operates over 6,000 charging points across the U.K. BP expects autonomous electric vehicles to become available in the early 2020s and forecasts a 100-fold growth in EVs by 2040.
Amazon is building out its own last-mile delivery service, pushing further onto the turf of shipping partners UPS and FedEx (NYSE:FDX). The new program, called Delivery Service Partners, will let entrepreneurs run their own local delivery networks of up to 40 delivery vans emblazoned with Prime logos. "This is all about scaling cost effectively," said Dave Clark, SVP of Amazon Worldwide Operations (NASDAQ:AMZN).