Thursday Morning Reads
Reads:
News:
Charts:
Premium:
Futures:
Options:
UOA:
Earnings: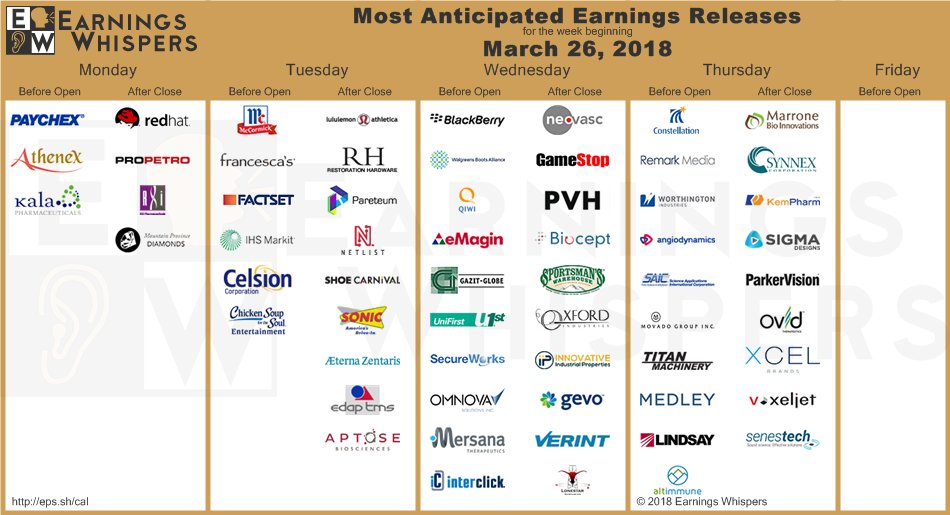 SeekingAlpha:
The countdown until Brexit Day has begun, with only a year until the U.K. leaves the EU on March 29, 2019. European leaders have agreed to a transition deal, which extends Britain's de-facto membership until the end of 2020, but there are still several outstanding difficulties. Those include how the U.K. can leave the single market and customs union, but maintain full economic access, frictionless trade and no physical border in Ireland.
Economy
"My Administration stands in solidarity with the brave citizens in Orange County defending their rights against California's illegal and unconstitutional Sanctuary policies," according to a tweet from President Trump. The DOJ has previously tried a mix of political and financial pressure against sanctuary cities, threatening to cut off grants or remove ICE agents unless they agree to identify and hold suspected immigration offenders.
"They intend to dictate public policy," Puerto Rico Governor Ricardo Rossello declared, upping the fight over the island's proposed fiscal plan with the federally appointed oversight board. "I cannot allow the board to award itself powers that it does not have, much less when they intend to use this power to impose measures that negatively affect the quality of life of our people."
North and South Korea will hold their first summit in more than a decade on April 27 after Kim Jong-un pledged his commitment to denuclearization. The meeting will take place on the southern side of the Demilitarized Zone. Japan has also sounded out the North Korean government about a bilateral summit, while Kim is scheduled to meet President Trump some time in May.
"The malicious practices of the U.S. are like opening Pandora's Box, and there is a danger of triggering a chain reaction that will spread the virus of trade protectionism across the globe," according to China's commerce ministry. The official China Daily newspaper further said overnight that the country could target U.S. businesses ranging from agriculture and aircraft to autos and semiconductors.
Saudi Arabia has earned secondary emerging market status from FTSE Russell, a designation that will introduce more money to the country and help diversify its oil-dependent economy. The Arab world's largest stock market, with a capitalization of about $500B, will join FTSE's secondary emerging market index (ETF: VWO) in several stages starting in March 2019.
Stocks
The latest tech world drama... President Trump is reportedly "obsessed" on regulating Amazon (NASDAQ:AMZN), sending shares of the tech giant down 4.5% on Wednesday. Apple's (NASDAQ:AAPL) Tim Cook issued a harsh rebuke about Mark Zuckerberg and Facebook's (NASDAQ:FB) business model, while Airbnb (Private:AIRB) said it will start sharing Chinese host information with the government to comply with regulations.
DocuSign has filed paperwork for an IPO of up to $100M on the Nasdaq under symbol "DOCU." Financials: Revenue totaled $250.5M in the year ending January 31, 2016 and $381.5M the following year, a 52% growth Y/Y. The electronic signature software company's net loss fell from $122.6M to $115.4M in the same period.
Getting a deal done could prove very difficult, but Renault (OTCPK:RNLSY) and Nissan (OTCPK:NSANY) are in talks to merge and create a new automaker that trades as a single stock, Bloomberg reports. Carlos Ghosn, the chairman of both companies, is driving the negotiations. Renault currently owns 43% of Nissan while the Japanese carmaker has a 15% stake in its French counterpart.
Germany has agreed to offer car buyers subsidies for Tesla (NASDAQ:TSLA) vehicles again. It had taken the cars off the list in December, citing the reason that customers could not order the Model S base version without extra features that pushed the car above the €60,000 price limit. Tesla's stock is up 1.7% premarket after getting hammered in recent days on bond and Autopilot concerns.
The family of the woman killed by an UBER self-driving vehicle in Arizona has reached a settlement with the ride services company, ending a potential legal battle over the first fatality caused by an autonomous vehicle. It comes after Lior Ron, the co-founder of Uber's self-driving truck company, left the company. Otto was bought in 2016 for a reported 1% of Uber's stock, or $680M.
General Motors' South Korean unit plans to ask its U.S. headquarters to roll over debt of 980B won ($922M) due in April, sources told Reuters. The division also expects to ask GM to cut interest rates on loans extended to the South Korean operation and both plans were approved by GM Korea's board late Wednesday.
With President Xi Jinping vowing to slash pollution and prioritize living standards, Walmart (NYSE:WMT) has committed to cutting 50M metric tons of carbon emissions from its Chinese operations by 2030. That's the equivalent of annual electricity consumption for 40M Chinese households. The plan involves retrofitting factories with energy-efficient facilities and lighting, and working with suppliers to switch to renewable energy.
Three firms that bought crude last year from U.S. emergency stockpiles, including Shell (RDS.A, RDS.B), Macquarie Group and PetroChina International America (NYSE:PTR), have raised concerns about dangerous levels of poisonous chemical hydrogen sulfide in the oil. The reserve is the world's largest government stockpile, currently holding 665M barrels.
Creating a cross-border trading powerhouse, U.S. exchange operator CME Group (NASDAQ:CME) has agreed to buy U.K.-based NEX Group (OTC:NEXGY) for about £3.9B. The deal would be CME's largest since it bought Nymex for $11B in 2008, and would mark the first time the same company owned the dominant markets for fixed income, foreign exchange futures and their underlying securities.
AMC Entertainment is working with Citi on an initial public offering of Britain's Odeon cinemas group, Reuters reports. Keen to take advantage of higher valuations in European markets, AMC said in November it may pursue a London IPO of Odeon, which now includes Nordic Cinema, the largest cinema chain in the Nordic and Baltic regions, by the middle of 2019. AMC +1.5%premarket.
Boeing has "detected a limited intrusion of malware" that affected "a small number of systems," but said certain media reports on the disruptions were "overstated and inaccurate." The Seattle Times originally reported that Boeing (NYSE:BA) was hit by the WannaCry computer virus, prompting fears the attack could cripple vital airline production equipment.
U.S. Judge Richard Leon is warning attorneys for the DOJ and AT&T (NYSE:T) to speed up the trial over its proposed merger with Time Warner (NYSE:TWX) or risk missing the June 21 deadline to complete the transaction. The U.S. government opposes the $85B deal, arguing that it would hurt consumers because AT&T (owner of DirecTV) would have more leverage to raise prices by owning Time Warner's Turner networks.
Listen on the go! A daily podcast of Wall Street Breakfast will be available by 8:30 a.m. on iTunes, Stitcher and SoundCloud (click the highlighted links).