Thursday Morning Reads
Reads:
News:
Charts:
Premium:
Futures:
 Option Action:
UOA
Earnings: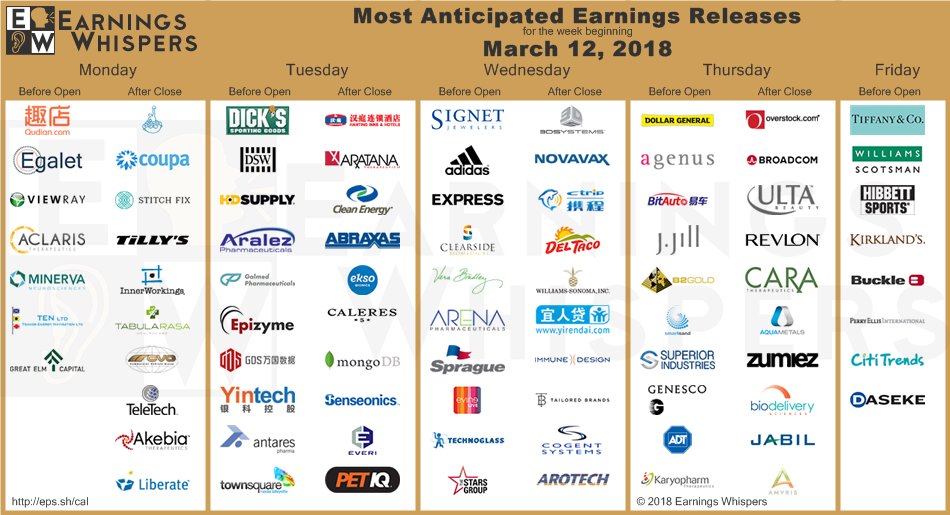 SeekingAlpha:
Unilever is consolidating its headquarters in the Netherlands, abandoning a U.K. base it has maintained for nearly a century. While it looks like a Brexit blow to Theresa May, the move reflects "the fact that the Dutch NV represents 55% of the group's overall share capital and that the shares listed in the Netherlands are more liquid." Unilever (UL, UN) shares will still continue to be listed in London and New York.
Economy
The U.S. Senate has voted 67 to 31 to ease bank rules, bringing Congress a step closer to passing the first rewrite of the Dodd-Frank reform law enacted after the financial crisis. The bill spikes the asset level at which a bank becomes "systemically important" from $50B to $250B and exempts banks with less than $10B in assets from rules banning proprietary trading.
Inputting the numbers from yesterday's soft retail sales print for February, the Atlanta Fed tracker now sees just 1.9% Q1 GDP growth. That's down from 2.5% a few days ago, about 4% a month ago, and above 5% six weeks ago. Had the original forecast stuck, it would have been the best quarter since the Great Recession ended in mid-2009.
Larry Kudlow has agreed to take the job of top economic advisor to President Trump, replacing Gary Cohn. "We don't agree on everything, but in this case I think that's good," Trump said earlier this week. "I want to have different opinions. We agree on most. He now has come around to believing in tariffs as a negotiating point."
The U.S. solar industry installed 10.6 gigawatts of new photovoltaic capacity in 2017, according to the U.S. Solar Market Insight Report, put together by GTM Research and the SEIA. The number, while still considerable, represents a 30% fall year-on-year from 2016. The study also predicts installations between 2018 and 2022 to be 13% lower than originally forecast due to U.S. tariffs on panel imports and new federal tax laws.
"Gas demand is set to rise again from the end of the week across north-western Europe," according to a report from S&P Platts. "Russian gas supplies are considered the only swing source of gas under current conditions. Domestic production and other import sources are effectively maxed out." Worries for the U.K.? Russia has already called the expulsion of 23 diplomats "shortsighted" and said "response measures will not be long in coming."
Global oil demand is expected to pick up more quickly this year, but supply is still growing at a faster pace leading to a rise in inventories in Q1 of 2018, according to the IEA's latest monthly report. Crisis-hit Venezuela could soon tip the crude market "decisively into deficit," added the Paris-based organization, while warning that a trade war would have "strong consequences" for oil demand.
Stocks
Sign of the times? The biggest radio broadcaster in the U.S. - with almost 850 stations - has filed for bankruptcy protection amid competition from on-demand streaming services and stagnating ad revenue. The agreement with holders of more than $10B of its outstanding debt and financial sponsors will see iHeartMedia (OTCPK:IHRT) continue daily operations during its restructuring process.
Shakeup in the Mouse House! Walt Disney (NYSE:DIS) is reorganizing itself into four segments to focus its businesses on internet streaming services and merchandising. It comes as the media firm prepares to ingest most of 21st Century Fox (NASDAQ:FOXA) and will spark fresh questions about who will succeed CEO Bob Iger if he leaves after his newly extended contract ends in 2021.
"Prime Originals" appear to be paying off. Amazon's (NASDAQ:AMZN) top television shows drew more than 5M people worldwide to its Prime shopping club by early 2017, according to company documents reviewed by Reuters. They also revealed Amazon's total U.S. audience. Customers for all video programming on Prime, including films and TV shows it licenses from other companies, were about 26M.
Meanwhile, Amazon Japan has been raided by the country's antitrust regulator on allegations of asking vendors for a percentage of their sales revenue, or "cooperation payments," starting in 2017. The online retailer is also being investigated for asking suppliers to shoulder part of the cost incurred from selling their products at a discount on Amazon Japan (AMZN).
U.S. regulators are preparing to sanction Wells Fargo (NYSE:WFC) for receiving commissions on auto insurance policies it helped force on more than half a million drivers. That will form the backbone of fresh penalties against the bank, sources told Reuters. Wells is investigating the auto insurance abuses back to 2005 and estimates it will need to refund $145M to borrowers, and adjust account balances by another $37M.
The next in line to be CIO at Equifax (NYSE:EFX), Jun Ying, exercised all of his vested stock options and then sold the shares after learning of the company's massive data breach. According to the SEC, that led him to reap proceeds of nearly $1M, while avoiding losses of more than $117K by selling prior to the disclosure. Late last year, a special committee of the board cleared four executives of trading on insider knowledge.
The SEC has also charged Elizabeth Holmes, founder of flameout Theranos (Private:THERA), and former President Ramesh Balwani with "massive fraud." The pair is said to have exaggerated the amount of money the company was going to generate in 2014 by a factor of 1,000. Holmes must now return her 18.9M shares, pay a $500K fine and cannot serve as an officer or director of a public company for 10 years.
Tesla is manufacturing a surprisingly high ratio of flawed parts and vehicles, several current and former employees told CNBC, leading to more rework and repairs than can be contained at its factory in Fremont, California. The result has been a delay to the Model 3 production timeline. Tesla (NASDAQ:TSLA) shares closed down 4.5% on Wednesday following the news.
General Electric has begun flight trials of the world's largest jet engine after several delays caused by technical problems. The GE9X will power the Boeing (NYSE:BA) 777-9 and 777-8, which are scheduled to enter service in 2020 and 2022, respectively. Despite the problems, GE feels "very confident" it will meet a 2019 target date for safety certification.
Reports are suggesting blown engines as two naval aviators have been declared dead after their F/A-18 Super Hornet crashed off the coast of Key West, Florida. "The cause of the mishap is currently under investigation," according to the U.S. Navy. During a visit to a Boeing (BA) facility on Wednesday, President Trump called the fighter plane a work of "art," and said that he's working with Congress to fund 24 new jets.