Thursday Morning Reads
Reads:
News:
Charts:
Premium:
Futures:
 Option Action:
 UOA
Earnings: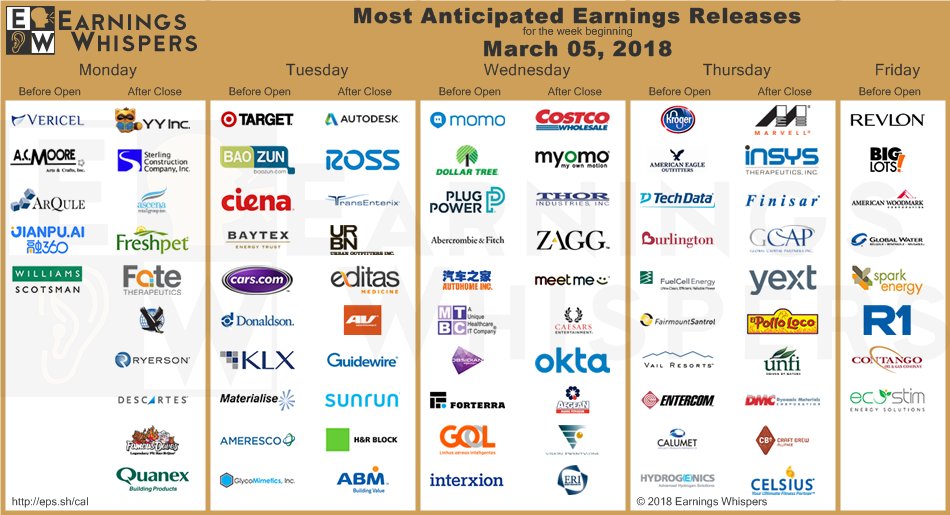 Seekingalpha:
Attention today will focus on the ECB's monetary policy announcement and press conference from Mario Draghi. Some expect the central bank to drop a pledge to accelerate its bond purchases again if the economy deteriorates, while others believe the ECB will delay any such move until April amid volatile financial markets, slipping inflation and fears of a pending trade war. Purchases are currently due to run at €30B a month at least through September.
Economy
More than 100 House Republicans have signed a letter to President Trump objecting to proposed tariffs on steel and aluminum imports as the White House prepares to formalize the measures this afternoon. Press Secretary Sarah Sander also announced there may be "potential carveouts" for Mexico, Canada and possibly other countries, which all will be based on "national security."
China will respond "as necessary" in the event of a trade war with the U.S., according to Foreign Minister Wang Yi, cautioning that such a battle would harm all sides. The warning comes as China released its latest trade data, with exports up 44.5% and imports growing 6.3% in February. That left the country with a trade surplus of $33.74B, and a January-February trade surplus with the U.S. of $42.92B.
Eleven nations are set to sign a final Trans-Pacific Partnership trade deal in Santiago, Chile, which will reduce tariffs in countries that together amount to more than 13% of the global economy - a total of $10T. More members? "Once TPP becomes effective then we can start discussions on accession," said Kazuyoshi Umemoto, Japan's chief TPP negotiator.
French companies will now have three years to erase their gender pay gaps or face possible fines. Under the plans, companies with more than 50 employees will be required to install special software hooked up directly to their payroll systems to monitor unjustified wage discrepancies. Unions will also have internal access to job role and seniority data.
The second major storm in less than a week is moving up the East Coast, dumping heavy snow and knocking out power to hundreds of thousands of homes and businesses from Pennsylvania to New England. Thousands of flights across the region were also canceled. Today, the worst of the storm will affect much of Maine, New Hampshire and part of Vermont.
Stocks
Cigna has agreed to acquire Express Scripts (NASDAQ:ESRX) in a cash and stock transaction valued at $67B. In 2015, Cigna (NYSE:CI) agreed to combine with Anthem (NYSE:ANTM), in a deal that was scuttled by regulators, while late last year Anthem said it would launch its own PBM, dealing a blow to Express Scripts, which is a partner of the health insurer. ESRX +14.4%premarket.
Federal Judge Dan Polster's push for a quick resolution of hundreds of lawsuits filed against drugmakers and distributors over their alleged role in the opioid crisis has hit a roadblock. With both sides opting to seek more information to help value a global settlement, the cases have now proceeded on a "limited litigation track," setting up the possibility for test-case trials in the coming year. Related tickers: ENDP, TEVA, ABC, MCK
Moving in on Brazil, Amazon (NASDAQ:AMZN) has met with local manufacturers to discuss plans to stock and sell products from electronics to perfume in the country, Reuters reports. The step would take the e-commerce giant beyond its current role in Brazil as a marketplace for third-party sellers, a major advance into the biggest retail market in Latin America.
Bitcoin has extended its fall below $10,000 amid fears of a regulatory clampdown in Japan and the U.S., the world's most active markets for digital assets. Japan's Financial Services Agency punished seven cryptocurrency exchanges, ordering two of them to suspend business, just hours after a warning from the SEC that many online trading platforms must register with the agency.
After months of patience and private lobbying, Goldman Sachs (NYSE:GS) has reportedly put more than a dozen U.K.-based banking, sales and trading staff on notice to move to Frankfurt within weeks. The bank decided it can no longer wait for clarity from lawmakers on how its business might be impacted by Brexit and is taking steps to minimize the disruption.
Another round of layoffs is coming to Snap (NYSE:SNAP). The social media company is expected to cut 10% of its engineers, marking the third and largest round of layoffs since the firm, which currently employs about 3,000 people, went public in 2017. Snap's user growth has slowed significantly in the past two years, although its most recent quarter was a bright spot.
General Motors is calling on Congress to expand a consumer tax credit for electric vehicles as the company said it would boost production of its Chevrolet Bolt in response to strong demand. GM has sold more than 160,000 plug-in and EVs eligible for the $7,500 tax credit, which will phase out over a 12-month-period soon after an automaker hits the 200,000 mark.
There are no plans to change the cross-shareholding ratios in the Renault-Nissan-Mitsubishi alliance (OTCPK:RNLSY, OTCPK:NSANY, OTC:MMTOY), according to Nissan. France's finance ministry echoed similar views on Wednesday. The news follows reports suggesting the Japanese carmaker would acquire the bulk of the French government's 15% holding in Renault, a proposal attributed to alliance boss Carlos Ghosn.
The Pentagon estimates it will cost nearly $16B to modernize the fleet of Lockheed Martin (NYSE:LMT) F-35 jets through 2024, including $10.8B for software development and $5.4B for deploying the updates. The F-35 has been previously criticized for being too expensive, including by President Trump and other U.S. officials, who have also pointed to numerous production delays and cost overruns.
The Florida House has passed a school safety bill in response to the shootings at a Parkland high school that left 17 dead, sending the measure to Governor Rick Scott for his signature. It would raise the minimum age to buy rifles from 18 to 21, create a waiting period on sales of the weapons, and provide additional funding for armed school resource officers and mental health services. Related tickers: AOBC, RGR