Thursday Morning Reads
Reads:
News:
Charts:
Premium:
Futures:
Earnings: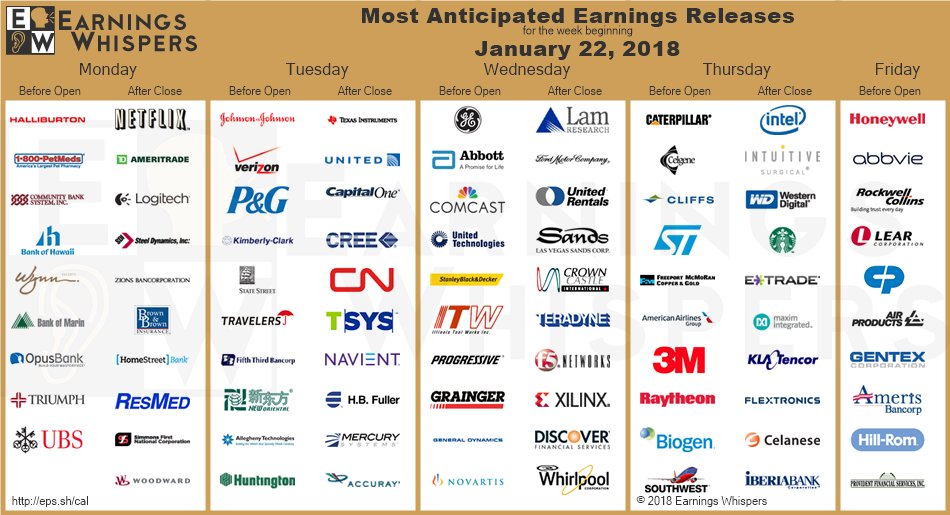 Unusual Option Action:
Seekingalpha:
The dollar index stretched overnight losses to plumb 88.89, marking three-year lows, after U.S. Treasury Secretary Steven Mnuchin suggested a weak greenback would be good for the U.S. That's a departure from decades of traditional U.S. policy, though Mnuchin clarified that the U.S. administration was not concerned about the level of the dollar in the short term. Ahead of the ECB's policy decision today, the euro is heading in the opposite direction, extending its overnight rally to $1.2428, its strongest level since December 2014.
Economy
"Will soon be heading to Davos, Switzerland, to tell the world how great America is and is doing. Our economy is now booming and with all I am doing, will only get better... Our country is finally WINNING again!" President Trump tweeted before boarding Air Force One. "America first is not America alone," confirmed White House senior economic adviser Gary Cohn, who is traveling with Trump.
With a possible Feb. 8 government shutdown on the horizon, President Trump will release a "legislative framework" on immigration issues Monday that "represents a compromise that members of both parties can support." It includes "four agreed upon pillars," like "securing the border and closing legal loopholes, ending extended family chain migration, canceling the visa lottery and providing a permanent solution on DACA."
Despite the U.S. pressing Turkey and its Kurdish forces to pull back from a deepening military conflict in Syria, Borsa Istanbul keeps hitting new all-time record highs. The government has emphasized the local market's resilience against all shocks, adding that the ongoing Operation Olive Branch would have a limited impact on the economy.
Taking a swipe at the International Energy Agency, Saudi Energy Minister Khalid Al-Falih accused the body of overhyping the impact of U.S. shale growth on the oil market. "I was not disputing the amazing revolution of shale. [But] in the overall global supply demand picture it's not going to wreck the train. That's the core job of the IEA, not to take it out of context." Crude futures +0.8% to $66.10/bbl.
The Trump administration supports bipartisan bills in Congress to toughen U.S. foreign investment rules amid growing concern about Chinese efforts to buy U.S. high-tech companies, the White House said in a statement. The legislation would expand CFIUS' reach to allow it to review, and potentially reject, smaller investments and add new national security factors for the committee to consider.
South Korea's GDP saw a quarterly contraction in the final three months of 2017, falling by a seasonally adjusted 0.2%. The dip is partly attributable to a base effect from outstanding growth in Q3, as well as the 10-day Chuseok autumn holiday that hit industrial output. Meanwhile, North Korea sent a rare announcement overnight addressed to "all Koreans at home and abroad," saying they should make a "breakthrough" for unification without the help of other countries.
Stocks
That didn't take long. LG Electronics (OTC:LGEAF) announced that prices on its washing machines are going up due to President Trump's decision to implement steep taxes on the South Korean company's appliances. Consumers should be prepared for prices to go up by 15% to 20%, said Dinesh Kithany, an appliances analyst with IHS Markit. That could translate to washing machines that are $70 to $100 more expensive.
Kroger may have found a way to counter Amazon (NASDAQ:AMZN) after the latter scooped up Whole Foods and unveiled its Amazon Go store. The country's No. 1 supermarket chain is exploring an alliance with Alibaba (NYSE:BABA), according to the New York Post, with executives from both companies meeting last month in China. KR +2.4% premarket.
Previously rumored as the next UBER CEO before the spot was given to Dara Khosrowshahi, Hewlett Packard Enterprise's (NYSE:HPE) Meg Whitman will become chief executive of Jeffrey Katzenberg's mobile media firm NewTV. The move will place her back in the "startup" sector, much like when she took over eBay (NASDAQ:EBAY) in its early stages and turned it into a multi-billion dollar business.
Another graduate of the X incubation unit... Alphabet (GOOG, GOOGL) has unveiled a new business that will sell cyber security software to Fortune 500 companies. Chronicle combines machine learning with large amounts of computing power and storage to help security teams find potential threats more quickly within the organization's existing security and IT systems.
The game that launched Nintendo's foray into the App Store and Google Play is dying. On May 9, the company will pull the plug on Miitomo, an app launched two years ago that offered quirky ways to communicate with friends. It comes as Nintendo (OTCPK:NTDOY) shifts its focus to its other popular titles in mobile gaming and the success of its Switch console.
Qualcomm has signed memorandums of understanding for sales worth at least $2B with Lenovo (OTCPK:LNVGY), Guangdong OPPO Mobile Telecommunications, vivo Communication Technology and Xiaomi Communications. The non-binding deal will be subject to further agreements and covers technology related to RF Front-End component. QCOM +0.4%premarket.
Jamie Dimon has revived fears of a mass exodus of JPMorgan (NYSE:JPM) bankers under a so-called "hard Brexit." "If they determine you can't have reciprocal trade practices, reciprocal regulations... It would be more than 4,000," he told the BBC. That's more than a quarter of JPMorgan's staff in the U.K.
After months of negotiations that started with a hostile takeover bid, two of Canada's major marijuana producers have agreed to the biggest deal in the country's booming pot sector. Aurora Cannabis (OTCQX:ACBFF) will buy smaller rival CanniMed Therapeutics (OTC:CMMDF) for C$1.1B ($852M), as companies jostle to benefit from the country's legalization of recreational marijuana use later this year.
Philip Morris has told an FDA advisory panel that it expects around 6M U.S. smokers to switch completely to its iQOS electronic tobacco device if the company is allowed to claim it's less risky than cigarettes. The product contains fewer harmful chemicals and reduces the risk of smoking-related diseases, according to Philip Morris (NYSE:PM), because it heats tobacco but does not burn it.
Once the largest drilling rig operator by market value, Seadrill (NYSE:SDRL) has again postponed an initial hearing on its restructuring plan, this time by six days to Feb. 7. A U.S. bankruptcy court in Texas had been scheduled to hold a preliminary hearing on Jan. 10, but it was initially postponed to Feb. 1 after bondholders posted a near $100M cash deposit to back their plan.
Following a deal with environmental groups, Six Flags Great Adventure (NYSE:SIX) has announced that construction will soon begin to make its New Jersey property the world's first solar-powered theme park. The 23.5-megawatt project, which will include solar carports over select parking lots and 40 acres of ground-mounted solar panels, aims to be fully operational by the end of 2019.
The National Highway Traffic Safety Administration is sending investigators to examine Monday's crash of a Tesla (NASDAQ:TSLA) Model S that may have been operating in Autopilot mode, echoing a similar move by the National Transportation Safety Board. The NTSB can make safety recommendations, but only the NHTSA can order automakers to recall unsafe vehicles or fine companies if they fail to remedy safety defects.
Wednesday's Key Earnings
Abbott Laboratories (NYSE:
ABT
) 
+4.2%
 topping expectations.
Baker Hughes (NYSE:
BHGE
) 
-5.7%
 posting a Q4 loss.
Comcast (NASDAQ:
CMCSA
) 
+1.3%
 boosted by a dividend hike.
Ford (NYSE:
F
) 
-0.8%
 AH as commodities hurt results.
General Electric (NYSE:
GE
) 
-2.7%
 announcing an SEC probe.
Las Vegas Sands (NYSE:
LVS
) 
+0.3%
 AH as net income doubled.
Novartis (NYSE:
NVS
) 
+4.9%
 after beating estimates.
United Technologies (NYSE:
UTX
) 
-0.3%
 dented by a tax charge.