Thursday Morning Reads
Reads:
News:
Charts:
Premium:
Futures:
Earnings: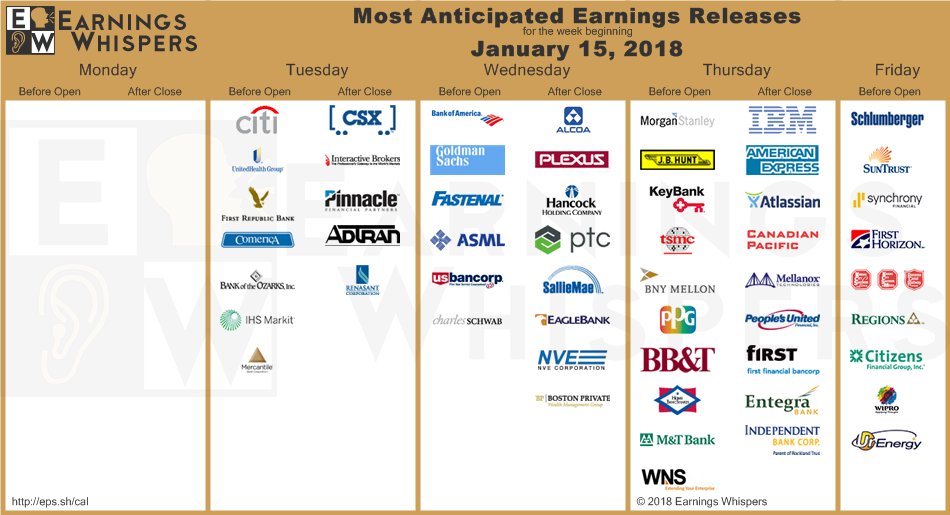 Unusual Option Action:
Seekingalpha:
China's economy grew at 6.9% in 2017, the first growth expansion in seven years and overshooting the government's original full-year target of "around 6.5%." Despite the strong headline performance, many economists expect the slowdown to resume as a sustained campaign by Beijing to curb risky lending bites into investment in buildings, infrastructure and factory goods. Shanghai +0.9% to 3,474.
Economy
Will a U.S. government shutdown this weekend interrupt the market's march higher? President Trump on Wednesday aligned himself with conservative Republicans, calling a proposed bipartisan deal on border security "horrible" and "very, very weak" on immigration reforms. According to data from LPL Financial, markets have shown modest weakness during shutdowns, with the S&P 500 falling an average of 0.6% over the period of the closure.
U.S. government debt yields are heading higher, with the 10-year Treasury note at 2.605% amid the latest news in the auctions space. Bond traders will be watching as the U.S. Treasury auctions $13B in 10-year TIPS, plus the size of three individual notes and one floating rate notes auction. Pressure has also been rising on speculation that the tax reforms passed late last year will accelerate economic growth and inflation.
Terminating NAFTA would result in the "best deal" to revamp the 24-year-old pact, "but people would like to see me not do that," President Trump told Reuters in an interview. His comments come less than a week before trade negotiators from the U.S., Canada and Mexico meet in Montreal for the sixth of seven scheduled rounds of negotiations to update the trade agreement.
Retaliatory trade actions? The U.S. is considering a major "fine" as part of a probe into China's alleged theft of intellectual property. "We're talking about big damages," President Trump told Reuters. "We're talking about numbers that you haven't even thought about." American businesses claim to have lost billions of dollars to Chinese firms that force them to turn over intellectual property as part of the price of doing business in the country.
Russia is helping North Korea get supplies in violation of international sanctions, according to President Trump, and Pyongyang is getting "closer every day" to being able to deliver a long-range missile to the U.S. The news comes amid thawing relations between the two Koreas. The North and South have agreed to form their first joint Olympic team and will march together under a unified flag during the opening ceremony.
Stocks
Seeking to emphasize its contributions to the American economy, Apple (NASDAQ:AAPL) is paying a one-time tax of $38B on its overseas cash holdings and will hire an additional 20K U.S. workers. The tech giant is further investing $30B in capital spending in the U.S., which includes a new campus, $10B toward data centers across the country and an increase to the size of its Advanced Manufacturing Fund.
Apple is also releasing a software update that will allow users to control whether or not their iPhones (AAPL) are automatically slowed down. "At the heart of any decision we make is the user, and we felt it would be better to take something off of the performance to prevent [iPhones from restarting]," CEO Tim Cook declared. "We deeply apologize for anybody who thinks we have some other kind of motivation."
Not only are Intel's older chips having trouble with the patches for the Spectre and Meltdown security flaws, but data center computers with its newer chips are also experiencing "higher-than-expected reboot rates." The company will send out initial versions of fixes for the buggy patches to customers by next week, said Navin Shenoy, general manager of Intel's (NASDAQ:INTC) data center group.
Shari Redstone is advocating for new blood on the board of CBS as she renews her push to merge the company with Viacom (VIA, VIAB), WSJreports. She'll propose replacing several of its board members at its annual meeting in May. Redstone is also apparently dissatisfied with current succession and long-range strategic plans at CBS.
President Trump's "Fake News Awards" were announced Wednesday night via an article posted to the website of the Republican National Committee. Six media outlets were criticized, including The New York Times(NYSE:NYT), The Washington Post, CNN (NYSE:TWX), Newsweek, TIME(NYSE:TIME) and ABC News (NYSE:DIS). "2017 was a year of unrelenting bias, unfair news coverage, and even downright fake news," according to the announcement.
Bitcoin was back in four-figure territory yesterday following a major crypto selloff, but prices are now up 4% to $11583. Most in traditional media and asset management are congratulating themselves for spotting and avoiding a bubble of massive proportions, but to cryptocurrency veterans, this plunge is nothing out of the ordinary. Who's correct remains to be seen.
Toshiba has clinched an agreement to sell claims in bankrupt Westinghouse Electric for $3.7B, as well as transferring shares of its nuclear unit to Brookfield Business Partners (NYSE:BBU) for $4.6B. The deals could help clear Westinghouse's path out of bankruptcy before Toshiba's (OTCPK:TOSYY) financial year ends in March, while allowing the Japanese firm to resolve its negative net worth and stay listed on the Tokyo Stock Exchange.
Highlighting the country's recovering production and improving security, Libya has reached new deals to sell crude to Royal Dutch Shell (RDS.A, RDS.B) and BP, Bloomberg reports. Libyan production averaged 828K barrels per day last year, the highest annual average in three years, and returned to about 1M bbl/day earlier this month.
Xerox has reviewed a letter from Darwin Deason - urging the company to make its joint venture agreement with Fujifilm (OTCPK:FUJIY) public - but believes the assertions and characterizations are "false and misleading." The shareholder, who cited U.S. securities laws, also asked the firm's board to hire new and independent advisers to prevent a "one-sided value destroying agreement disfavoring Xerox (NYSE:XRX)."
At a hearing with the House space subcommittee on Wednesday, lawmakers grilled SpaceX (Private:SPACE) and Boeing (NYSE:BA) on the safety of their commercial crew capsules amid a NASA contract with companies worth a combined total of up to $6.8B. If all goes according to plan, this year could mark the first time since 2011 that U.S. astronauts will blast off to the International Space Station in an American-made spacecraft.
A380 lifeline... Emirates has placed a $16B order to buy up to 36 more of the superjumbos. The Gulf carrier had previously raised concerns that Airbus (OTCPK:EADSY) would cancel the program, leaving the airline with a steep drop-off in the value of its A380 fleet, as the planemaker suggested that unless it could find more buyers the superjumbo program may have to end.
Peugeot CEO Carlos Tavares plans to use the 2017 acquisition of GM's European Opel and Vauxhall operations as the springboard to re-enter the American market. The automaker exited the U.S. more than 20 years ago, run out by Japanese competition and shifting customer tastes. Adjusting to the latest trends, Peugeot (OTCPK:PEUGF) also plans to offer electrification as an option on all its vehicles by 2025.
Wednesday's Key Earnings
Alcoa (NYSE:
AA
) 
-6.7%
 AH as earnings came up short.
Bank of America (NYSE:
BAC
) 
-0.2%
 hurt by a tax-related charge.
Goldman Sachs (NYSE:
GS
) 
-1.9%
 on weak trading revenues.
Kinder Morgan (NYSE:
KMI
) 
+0.4%
 AH beating expectations.
U.S. Bancorp (NYSE:
USB
) 
-1.5%
 amid sour banking sentiment.