Thursday Morning Reads
Reads:
News:
Charts:
Premium:
Unusual Option Action
Earnings This Week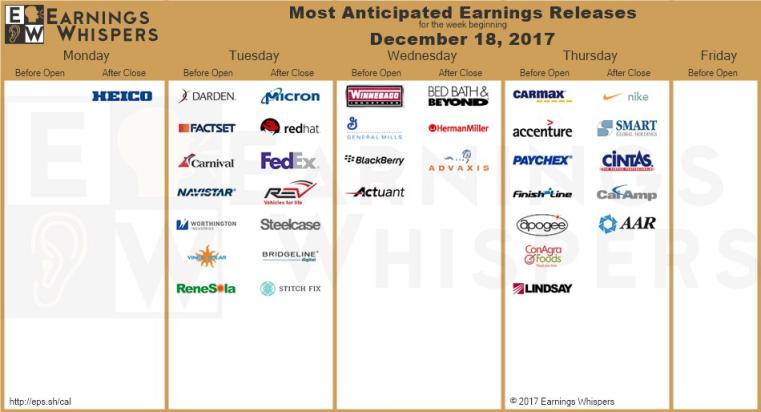 Seekingalpha
The U.S. economy will be front and center today as the Commerce Department unveils its final estimate of third quarter growth. The official GDP report is scheduled for release at 8:30 a.m. ET and is expected to show an unchanged 3.3% annualized rate - the fastest pace of expansion since 2014. Consumer spending provided some lift, but the quarter really depended on an inventory build, strength in non-residential investment and improvement in net exports.
Economy
Following the approval of a long-anticipated U.S. tax overhaul, lawmakers hope to clear a must-pass spending bill today as the clock ticks toward a potential government shutdown this weekend. Despite the perilous situation, House Republican leaders are still struggling to unite the GOP rank-and-file behind a plan that would push most of their remaining work into next year.
The Bank of Japan is sticking to its aggressive monetary easing and offered no indication it was considering policy changes in 2018 at its two-day policy meeting. The BOJ will maintain its short-term interest rate at minus 0.1% and the target for the 10-year government bond yield at around zero as it expects inflation to "likely continue on an uptrend."
Two men were arrested in Australia overnight after their SUV rammed into pedestrians on a busy Melbourne street, leaving 14 people injured in what police believe was an intentional act. In January, four people were killed and more than 20 injured when a man deliberately drove into pedestrians at a spot just a few hundred meters away from today's incident. Police said that event was not terrorism-related.
Catalans are heading to the polls again, this time for parliamentary elections. Surveys show the contest between pro-secessionist and unionist parties is too close to call and could result in a hung parliament. The election comes after a period of quiet following the chaotic and fast-moving scenes in October when the regional government declared independence.
President Trump has threatened to cut off financial aid to countries that vote in favor of a draft UN resolution calling for the U.S. to withdraw its decision to recognize Jerusalem as Israel's capital. "They take hundreds of millions of dollars and even billions of dollars, and then they vote against us. Well, we're watching those votes. We'll save a lot," he told reporters at the White House.
Stocks
Walmart is experimenting with a cashier-less store concept called Project Kepler, which "aims to reimagine the in-store shopping experience with the help of technologies like computer vision," Recode reports. Walmart's (NYSE:WMT) initiative would operate without checkout lines or cashiers - in a similar fashion to the futuristic Amazon Go (NASDAQ:AMZN) store, which was announced a year ago but has yet to open to the public.
Facing questions from tech analysts, Apple (NASDAQ:AAPL) has acknowledged that its latest software curtails the computing power of some iPhone models as they age to prevent unexpected shutdowns. That helps explain why running and switching apps can feel much slower than they once did. Apple recently extended the feature from iPhone 6 devices to the iPhone 7 with its iOS 11.2 software update.
Several American companies, including AT&T (NYSE:T), Comcast (NASDAQ:CMCSA), Wells Fargo (NYSE:WFC), Fifth Third Bancorp (NASDAQ:FITB) and Boeing (NYSE:BA), promised more pay for workers or more investment in training on Wednesday after the biggest overhaul of the U.S. tax code in 30 years. "Good news for workers and the economy!" Senator Shelley Moore Capito of West Virginia wrote on Twitter.
North Korea's fingerprints are on the attack of Seoul-based crypto exchange Youbit, investigators told the WSJ. That state was also behind a hack of this same exchange (then operating under a different name) in April. "Much of the cryptocurrency system is highly vulnerable," said a cybersecurity expert. Bitcoin +0.5% to $16,538.
Joining its rivals, E*Trade (NASDAQ:ETFC) announced it will allow customers to trade bitcoin futures from CBOE Global Markets after monitoring the contracts since their debut earlier this month. TD Ameritrade (NASDAQ:AMTD) and Ally Financial's (NYSE:ALLY) Ally Invest already said they will let users invest in the futures, opening the door for more mainstream adoption of the cryptocurrency.
BNY Mellon has frozen $22B in assets held by Kazakhstan's National Fund over a lawsuit launched by Moldovan businessman Anatol Stati and his companies against the Kazakh government, Reuters reports. The National Bank has in turn filed a lawsuit against BNY Mellon (NYSE:BK). A British court is due to deliver a judgment on that case later today.
The battle to blast the first passengers into space has taken off. Jeff Ashby, director of safety and mission assurance for Jeff Bezos' Blue Origin (Private:BORGN), said the firm is now "a year out" from human flights. Richard Branson claimed in October he will travel to space on his Virgin Galactic craft within six months, while Elon Musk is soon expected to reveal the launch schedule for a manned version of the SpaceX (Private:SPACE) Dragon capsule.
As tensions heat up on the Korean peninsula, Seoul is looking to buy an additional 20 Lockheed Martin (NYSE:LMT) F-35A stealth aircraft from the United States, in addition to 40 jets it agreed to buy in 2014, Joongang Ilboreports. On Nov. 7, President Trump said, after his summit with President Moon Jae-in, that South Korea will be ordering "billions of dollars" of U.S. weapons.
In a win for Boeing (BA), the U.S. Commerce Department has finalized duties of nearly 300% on passenger jets made by Bombardier (OTCQX:BDRAF, OTCQX:BDRBF). The decision escalates the bitter trade dispute between the two aircraft manufacturers in a battle that has ensnared U.S. airlines and strained relations between the U.S. and Canada. Delta (NYSE:DAL) last year agreed to buy at least 75 CSeries jets.
Looking to expand overseas, invest in self-driving vehicles and other AI systems, Didi Chuxing (Private:DIDI) has raised over $4B in its latest funding round. That would likely put the ride-hailing giant's valuation at $56B, which may top UBER's latest round. While the U.S. firm is estimated to be valued at between $68B-$70B, SoftBank's (OTCPK:SFTBY) recent investment came at a reported discount of 30%.
While it's not clear if they will work together, Honda (NYSE:HMC) and Nissan (OTCPK:NSANY) are developing all solid-state batteries for electric vehicles, Kyodo News reports. Tighter global emissions regulations are forcing automakers worldwide to shift to EVs, and some are tying up to share the high costs of developing batteries for them.
Pacific Gas and Electric fell 11% in after-hours trading after suspending its quarterly dividend beginning with Q4, citing "uncertainty related to the extraordinary October 2017 northern California wildfires." PG&E (NYSE:PCG) will also suspend the dividend on its preferred stock, beginning Jan. 31. Edison International (NYSE:EIX), experiencing its own fire-related uncertainties, dropped almost 5% on the news.
Sign of the times? Saudi Arabia is hunting for an energy deal in American shale country, WSJ reports. Aramco (Private:ARMCO) has had initial conversations about taking a stake in Tellurian (NASDAQ:TELL), an LNG developer based in Houston, and has discussed purchasing assets in two giant U.S. oil-and-gas basins, the Permian and Eagle Ford.