Thursday Morning Reads
Reads:
News:
Charts:
Premium:
Yesterdays Unusual Option Action
Earnings this week: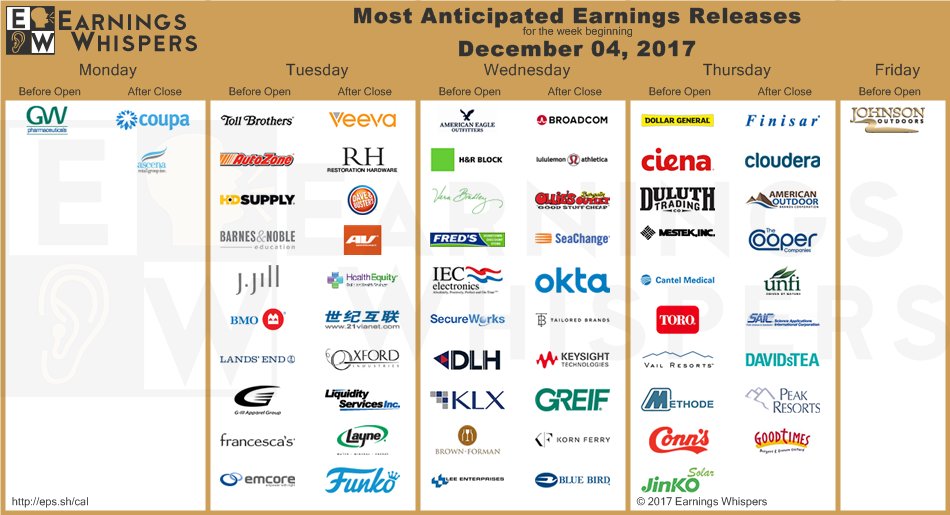 Seekingalpha:
Despite a major hack on crypto-mining service NiceHash, bitcoin rocketed about 9% overnight past the $15,000 level. Almost 4,700 bitcoins - worth roughly $70M at current prices - were lost in the breach, prompting NiceHash to shut down for at least 24 hours. Boost of confidence? ASX (OTCPK:ASXFF), the main exchange operator in Australia, said it will start using blockchain for transactions, while Lightning Network promised to provide a new way to pay with bitcoin.
Economy
President Trump would sign a stop-gap spending measure funding the government through Dec. 22, according to a statement from the White House. Trump and Congress are facing a deadline of Friday at midnight to pass fresh spending legislation. If they cannot agree on the terms, parts of the federal government could shut down.
Wildfires raging across Southern California have closed Interstate 405, wiped out more than $3B of market value for Edison International (NYSE:EIX) and are threatening some of the state's lucrative crops. Snap Inc. (NYSE:SNAP) has also shut operations, as well as a major conference on microcap stocks, while California Resources (NYSEMKT:CRC) halted production at several small oil fields in the region.
An almost two-year-long study by the IMF found three major tensions that could derail the world's second-largest economy. Among them: China's financial system, the "shadow banking" sector and "excessive risk-taking." The PBOC disagreed with some points in the report, but said the fund's recommendations are "highly relevant in the context of deepening financial reforms" in the country.
Large military drills and U.S. threats of a preemptive strike have made the outbreak of war on the Korean peninsula "an established fact," according to North Korea's foreign ministry. "The remaining question now is: when will the war break out?" White House national security adviser H.R. McMaster said at the weekend the possibility of war with North Korea was "increasing every day."
France and Qatar have signed military and transport contracts worth around €12B, sending a signal to the region's Arab neighbors that cut political and trade ties with Doha in June. The deal includes Rafale fighter jets and hundreds of armored vehicles, as well as 50 Airbus (OTCPK:EADSY) A321neo planes and an award for a French rail consortium, comprised of RATP and SNCF.
German industrial production unexpectedly fell in October, likely due to one-off factors like public holidays and long weekends, in a disappointing start to the fourth quarter. Industrial output decreased by 1.4% after falling by a revised 0.9% in September. The two successive declines came after an increase of 2.6% in August, the biggest rise in more than six years.
Stocks
General Electric +0.6% premarket on more reports surrounding job cuts. According to Bloomberg, the company is planning to slash 12,000 positions in its power business, which will mostly affect professional and production employees outside the U.S. The reductions, accounting for about 18% of GEPower's workforce, could be announced as early as today.
Closely watched for indications of future oil and gas production, Chevron (NYSE:CVX) is budgeting $18.3B for capital projects in 2018, about 4% less than this year and lower for a fourth year in a row. International energy company capital budgets have broadly been shrinking since 2014's oil-price collapse, which slashed earnings and left many with high debt loads.
The Hong Kong Stock Exchange is on track to lose out to the New York Stock Exchange (NYSE:ICE) as the venue of choice for companies undertaking IPOs in 2017, after two consecutive years in the top spot. Data from Dealogic shows that the amount raised by companies listing on the NYSE so far this year has exceeded $32.6B, compared with $24.6B on the SEHK.
Bloomberg has corrected its bombshell report that special counsel Robert Mueller had subpoenaed Deutsche Bank (NYSE:DB) records pertaining to President Trump and his family. The corrected article states the bank records "pertain to people affiliated" with Trump, while the original reported that Mueller "zeroed in" on the president.
Despite H&R Block reporting a loss in its most recent quarter, shares of the tax preparer closed up over 10% yesterday after the CEO's comments on the GOP tax reform bill. "No matter what changes were ultimately made [to the bill], I'm convinced the value of H&R Block (NYSE:HRB) remains our ability to help," Jeffrey Jones said on a conference call.
Citigroup would take a $20B upfront hit from the Republican tax bill should it become law, CFO John Gerspach said at a Goldman Sachs banking conference in New York. Citi (NYSE:C) would get whacked from writing off deferred tax assets it has held on its books, roughly $16B-$17B, as well as a $3B-$4B hit from paying taxes on money it had held overseas.
As reported yesterday, Alibaba (NYSE:BABA) has signed a deal with Ford (NYSE:F) to jointly explore areas such as connectivity, cloud computing and artificial intelligence. "The agreement aims to explore new ways to redefine how consumers purchase and own vehicles, as well as how to leverage digital channels to identify new retail opportunities," Alibaba said in a press release.
Just months after Ford cancelled plans to build a plant in Mexico, the automaker is now planning to shift some vehicle production south of the border. The move aims to free up production space at the automaker's plant in Flat Rock, Michigan so it can build its first self-driving vehicle. Ford (F) has also confirmed plans to partner with Alibaba (BABA) on connectivity, cloud computing and AI.
A U.S.-based Volkswagen manager who oversaw emissions issues has been sentenced to seven years in prison and fined $400K by a judge for his role in the company's Dieselgate scandal. The decision will make VW's (OTCPK:VLKAY) Oliver Schmidt the second employee to face jail time in the U.S. related to the conspiracy to deceive customers and government officials.
Awaiting blastoff... Northrop Grumman (NYSE:NOC) has received a another request from the FTC for more information about its $7.8B deal to buy Orbital ATK (NYSE:OA). A second request is often a burden for companies that have to provide extensive information, but such demands in the past have led to concessions so a merger gains government approval.
According to Channel NewsAsia, Singapore Airlines (OTCPK:SINGY) has taken measures to reroute some flights in response to North Korea's missile tests. News of the change followed a crew on board a Cathay Pacific aircraft seeing a North Korean missile blow up over the Sea of Japan last week. Similar sightings were reported on at least three commercial flights of Korean Air.
AB InBev has officially opened its newest brewery in China, showing the significance of the market to the world's largest brewer. The Putian Brewery in China's Fujian Province will have the capacity to produce 1.5M tons of beer a year, according to AB InBev (NYSE:BUD), making it the largest such facility by capacity in Asia Pacific.
More from the rumor mill... After saying the last one was the "last one," Disney (NYSE:DIS) CEO Bob Iger is likely to take another extension of his term as CEO past 2019, WSJ reports. That would facilitate the integration of Fox (NASDAQ:FOXA) assets into the company assuming the multibillion-dollar deal is done. Comcast (NASDAQ:CMCSA), meanwhile, is continuing to pursue a deal with Fox, as well.