Thursday Morning Reads
Reads:
News:
Yesterdays  Unusual Option Action
Premium:
Earnings: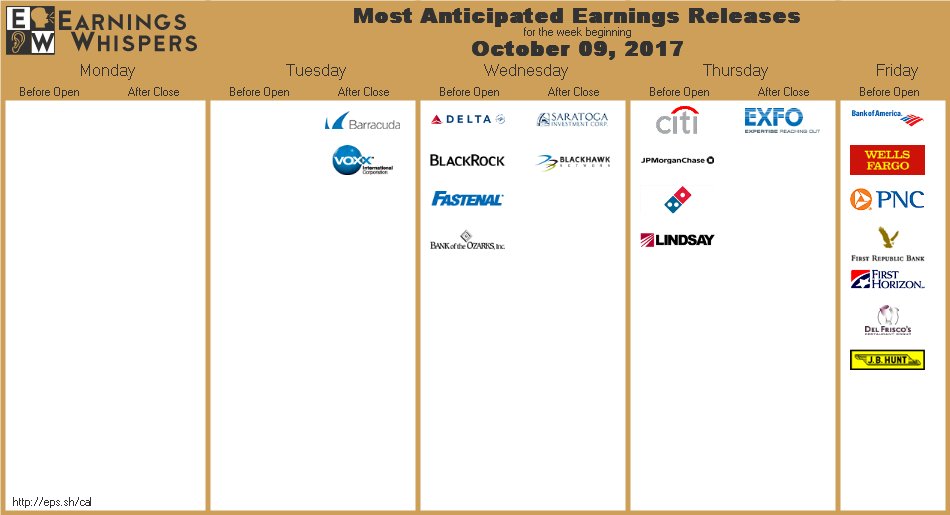 Charts:
Seekingalpha:
Minutes from the FOMC's September meeting gave a little more time to the doves than most had expected, but markets continue to have priced in about a 75% chance of another rate hike before the end of the year. Many at the Fed aren't buying the company line that too-low inflation is due to transitory factors, according to the minutes. They would prefer waiting until the data clearly show the inflation rate moving towards its 2% target before hiking again. Others, however, believe another rate hike this year is appropriate, and markets believe this group - which no doubt includes Janet Yellen - has the upper hand at the FOMC.
Economy
Japan's wholesale prices rose 3% in September, the fastest annual pace in nine years, but the news isn't likely to help the Bank of Japan hit its 2% inflation target, as many firms prefer to absorb input price increases without passing them on to consumers. Core consumer prices rose 0.7% Y/Y in August; the BOJ is now looking to hit its 2% goal by March 2020.
Ten years ago, just as the world was about to enter the financial crisis, Warren Buffett famously bet $1M that the S&P 500 would beat a basket of hedge funds over the next decade. Despite the vicious plunge in markets that shortly followed, the Oracle won the bet by a mile. Buffett recently told CNBC he would be willing to make that bet again - an offer quickly accepted by hedge funder Mark Yusko. However, in an email to Yusko, Buffett says he'll be 97 by the time the wager is decided, and will thus pass. Buffett: "[The] bet proved the point and has stimulated a re-evaluation of professional management ... There's no doubt in my mind, however, that the S&P 500 will do better than the great majority of professional managers achieve for their clients after fees."
The Treasury Secretary is "strongly pushing" for the White House to nominate current Fed Governor Jerome Powell as the central bank's next chairman, reports Politico. Those close to the process says Mnuchin knows Powell and thus feels he can exert at least some influence, though, of course, the Fed is supposed to operate independently from the Executive Branch. Unlike current Fed boss Janet Yellen, Powell is a lawyer by training, not an economist. He has worked in the financial world for most of his career - including a stint in Bush I's Treasury Department, and later as a partner at Carlyle Group. Other candidates on the short list: Yellen, Gary Cohn and Kevin Warsh.
Stalwart bulls on long-dated Treasurys for as long as most can remember, Van Hoisington and Lacy Hunt haven't had their faith shaken by the past month's 30 basis point rise in the 10-year Treasury yield. "The worst economic recovery of the post-war period will continue to be restrained by a consumer sector burdened by paltry income growth, a low and falling saving rate and an increasingly restrictive Federal Reserve policy," they say. Further, the government's deteriorating fiscal condition means any debt-financed tax changes won't likely benefit the economy. Nobody talks about the money supply anymore, but the two note a sharp slowdown in M2 growth this year, and they expect negative growth in 2018 if the Fed continues down its tightening path. Long-term yields, they say, are headed lower.
Stocks
In a scandal that is reverberating through global supply chains, General Motors (NYSE:GM) said it is checking whether any of its cars contain falsely certified aluminum parts or components sourced from Japan's Kobe Steel (OTCPK:KBSTF). Fresh revelations yesterday showed data fabrication at the steelmaker was more widespread than it initially said, as the company joins a list of Japanese manufacturers involved in scandals over product quality control in recent years. Toyota (NYSE:TM), Nissan (OTCPK:NSANY) and Honda (NYSE:HMC) all said that aluminum from Kobe Steel was used in their car hoods and doors, Subaru (OTCPK:FUJHY) and Mazda (OTCPK:MZDAY) said they believed the aluminum could have been used in car hoods, Mitsubishi Motors (OTCPK:MMTOF) said it used Kobe Steel aluminum in the past and was assessing the situation, and Suzuki (OTCPK:SZKMY) said the aluminum was used in its motorcycles; ~200 companies used the metal in their products. Boeing (NYSE:BA) said it is inspecting its supply chain but "nothing in our review to date leads us to conclude that this issue presents a safety concern." No one yet knows the extent of the problem, but Kobe Steel is the largest supplier of aluminum panels for automobiles in Japan, and it has a large share of the global market for forged aluminum pieces used in suspension systems.
China's government regulators are pushing some of the country's biggest tech firms to give the state a stake, and a greater role in making corporate decisions, according to the WSJ. Internet regulators are discussing the prospect of 1% stakes in a number of firms, including Tencent Holdings (OTCPK:TCEHY), Weibo (NASDAQ:WB) and Youku Tudou - now part of Alibaba (NYSE:BABA). The stakes come with the stipulation that investors appoint a government official to company boards and have say in their operations. Even with a heavy hand in existing rulemaking, the regulators are concerned about the growing power of private business. The government has begun its "special management shares" project with two media start-ups, taking stakes of less than 2% in mobile news site Yidian Zixun (NYSE:FENG) and Beijing Tiexue Tech, which operates a "patriotic news site." The report comes ahead of the Communist Party Congress, with the party pressing to take a greater role in Chinese society.
Career staff at the Justice Dept. charged with investigating the impact of a merger between Sprint (NYSE:S) and T-Mobile (NASDAQ:TMUS) are likely to recommend against it, sources tell Reuters. Staffers are likely to push for allowing T-Mobile to keep doing what it's doing: using aggressive promotion to soak up customers from Verizon (NYSE:VZ) and AT&T (NYSE:T), as a stand-alone company. One consideration they'll likely weigh heavily is that a combined Sprint/T-Mobile would have more than half the prepaid market, a factor that could drive up prices for more limited-income consumers that favor prepaid plans. While a fraction of deals end up blocked, T-Mobile and Sprint were headed off from a 2014 merger by regulatory opposition, and observers think there is a good chance that any deal announced this month would head for the same fate. On the other hand, the FCC recently declared the market "competitive," and government stats show wireless phone prices have fallen an impressive 13.2% from August 2016-August 2017.
Five of the six major Hollywood studios have launched Movies Anywhere, their latest effort to give consumers a "digital locker" to store movies bought from various retailers, to be watched on any device. Owned by Disney (NYSE:DIS), the Mouse House is joined by Sony (NYSE:SNE), Fox (FOX, FOXA), Universal (NASDAQ:CMCSA) and Warner Bros. (NYSE:TWX). Out for now: Paramount (VIA, VIAB) and Lions Gate (LGF.A, LGF.B).
Car retailers had a rough session ahead of the Cargurus.com (Pending:CARG) IPO, with some worried the offering might price below expectations. AutoNation (NYSE:AN), Advance Auto (NYSE:AAP), Sonic Automotive (NYSE:SAH), Lithia Motors (NYSE:LAD) and Asbury Automotive (NYSE:ABG) were all down 2% or more. They needn't have worried. CarGurus last night priced its 9.4M share IPO at $16 per share vs. the expected range of $13-15.
The Oculus Go, a $199 untethered VR headset that could redefine the emerging market, was announced by Facebook (NASDAQ:FB). Unlike current untethered headsets, the Go doesn't require the use of a smartphone or special sensors around the room. The headset alone creates the VR experience. Price comparison: Sony's PlayStation VR costs $349.99 for the headset alone and, unlike the Go, the PS VR needs more parts to work. Samsung's Gear VR costs $129 for the headset and a controller, but a user needs a compatible smartphone. The AR/VR market grew 25.5% on the year in Q2 to total 2.1M shipments, according to IDC. Samsung led with 568K units and a 26.7% market share, with Sony in second place, and Facebook coming third with an 11.6% share and 246.9K units. The Oculus Go will ship in early 2018 and could push Facebook to the front of the VR market.
A stunning failure of the U.S. men's national soccer team to make the 2018 World Cup weighed heavily on Fox (FOX, FOXA), with both share classes down more than 2%. The broadcaster paid $425M for U.S. rights to broadcast the FIFA World Cups from 2015-2022; next year, it will do it without the huge draw of the American men. The men's team lost to Trinidad and Tobago 2-1 in what's termed as the most embarrassing defeat in U.S. soccer history. The team was eliminated from World Cup qualifying for the first time since the 1986 cycle. It's still the "greatest sporting event on earth," Fox says. "Last night's World Cup qualifying results do not change Fox Sports' passion for the world's biggest sporting event. While the U.S. was eliminated, the biggest stars in the world from Lionel Messi to Cristiano Ronaldo stamped their tickets to Russia on the same day, and will battle teams ranging from Mexico to England that have massive fan bases in America."