Thursday Morning Reads
Reads
Options: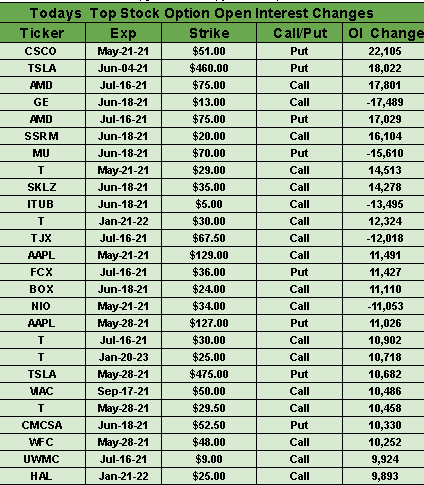 Futures:
Premium:
Prepper:
The crypto community is once again divided on how to digest the latest Bitcoin (BTC-USD) crash, with the digital currency falling as much as 30% at one point on Wednesday to as low as $29,000. Some are attributing the crash to China's crackdown on crypto transactions, Tesla's (TSLA) recent decision to stop vehicle purchases with the crypto and J.P. Morgan citing moves by institutional investors that have swapped their Bitcoin positions for gold. Others in the FUD crowd (fear, uncertainty and doubt) say the finger pointing is not of much use, as the crypto scene is generally a volatile environment, and traders must be prepared to buckle up once there is a shift in sentiment.
The bulls: "For investors that are thinking long term, this is actually a great opportunity to buy at prices you may not see for a while," said Delano Saporu of New Street Advisors. "Seeing these big drops is common," further explained Ganesh Swami, CEO of blockchain data provider Covalent. "The last time we saw a bull run, bitcoin dropped at least half a dozen times by 20-30% before it went to the then all-time high."
The bears: "The high volatility of cryptos makes them an unreliable store of value. Weekly moves of more than 10% in Bitcoin are common. In the week to 14 May, Bitcoin fell 24%, which would be a high level of volatility for a small-cap stock, let alone a currency," wrote Mark Haefele, CIO of UBS Global Wealth Management. "A more than 50% decline from the highs within a month is certainly damaging the outlook for Bitcoin," added Julius de Kempenaer, senior technical analyst at Stockcharts.com.
At the time of writing, Bitcoin is currently holding steady at $39.6K, but it's worth mentioning the crypto's long history of volatility.
2011 - Bitcoin soars from $1 in April to a peak of $32 in June. By November it's worth $2.
2013 - Starting the year at $13, Bitcoin jumps to $220 by April, only to change hands at $70 two weeks later. The crypto then climbs from $123 in October, to $1156 by December, then tumbles to $760 in three days.
2017 - Trading around $1K in January, Bitcoin reaches nearly $20K by the end of the year.
2018 - Prices steadily decline, eventually tracking back to the $3,500 level.
2019 - Bitcoin tops $10K again over the summer, but ends the year at $7K.
2020 - Dropping to a low of $5,200 as the pandemic set in, the crypto goes on to reach $30K.
2021 - Momentum picks up as Bitcoin breaches $40K, $50K and $60K, before the most recent crash.
Also get used to hearing about the Proof-of-Work (PoW) vs. Proof-of-Stake (PoS) debate in coming months. The Cliff's Notes: PoW (think Bitcoin) uses massive amounts of energy, while PoS does not. To Bitcoiners, massive use of energy is a feature not a bug, while PoS collapses the whole idea of decentralization. (9 comments)