Thursday Morning Reads
reads:
futures:
Options: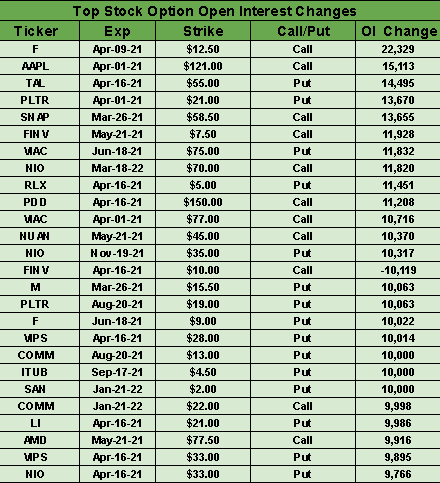 Premium:
Seeking Alpha
Tugs and diggers have so far failed to dislodge the Ever Given, a massive container ship stuck in the Suez Canal after losing the ability to steer amid high winds and a dust storm. The best chance for freeing the ship may not come until Sunday or Monday, when the tide will reach a peak, according to Nick Sloane, the salvage master who refloated cruise ship Costa Concordia in 2012 when it capsized off the coast of Italy. In response, WTI (
CL1:COM
) and Brent (
CO1:COM
) crude prices soared nearly 6% on Wednesday as worries grew over oil shipments.
Broader concerns? Supply chains have already been strained by the coronavirus pandemic, and it's been harder for suppliers to get their hands on well-priced shipping rates. If the situation in Suez continues for a significant amount of time, rates may rise along with oil prices. Multinationals could also begin worrying about disruptions to their supply chains, and any imported goods from Asia to Europe will see delays.
Experts also say that if the blockage is not cleared within the next 24-48 hours, some shipping firms will be forced to re-route vessels around the southern tip of Africa, which would add roughly a week to the journey. About 12% of global trade and roughly 30% of the world's shipping container volume transit through the Suez Canal, making it one of the world's most important waterways. A rough estimate shows the blockage is costing about $400M an hour, based on calculations from Lloyd's List.
Go deeper: Supply chain disruptions have already been seen across the globe due to pandemic factors like pent-up demand for consumer goods and a growing semiconductor shortage. Difficulties in securing raw materials and other inputs have recently worsened and prompted the Biden administration to mandate a 100-day review of critical product supply chains in the U.S. The executive action issued in February is focused on semiconductors, key minerals and materials, active pharmaceutical ingredients and advanced batteries like the ones used in electric vehicles.
What's going on with the stock market?
Something strange is happening in the equity market. Many have recently pointed to a Treasury yield hostage situation, where stocks have largely moved in response to their fixed-income counterparts. When bond yields moved up, high-growth names sold off, but even as the rates came down over the past three days, the tech sector was still under pressure. Some are even pointing to worries about the Fed hiking rates in far-off 2023, while others are mentioning frothy valuations and a rotation into industrial names, though trading volumes in the sector have also been softer in recent weeks.
Bigger picture: NYSE volumes have been 80% of the 30-day average, while Nasdaq activity has been 90% of its average, remarkably low given the declines in certain sectors. Another example: WSB/Reddit darling GameStop (GME) stumbled 34% after earnings on Wednesday, while only 23M shares changed hands, well short of the 30-day average of 34M shares. "It seems to show that the retail customer has walked away," said Matt Maley from Miller Tabak. "The question is, why? Is it higher rates? Concerns about lockdowns? Or are they betting on March Madness?"
Bitcoin (BTC-USD) also fell for a fifth day against the dollar, down 6.5% to $52,819, marking its longest losing run since December. The many industry forecasts that government stimulus checks would be spent on crypto appear to be fading, while derivatives expiries are adding to volatility. All of this is on top of the record GDP growth predicted for 2021 (Yellen and Powell reiterated that on Wednesday), though there are still pandemic risks and COVID-19 hasn't gone away.
Bottom line: Could traders be waiting on the sidelines for better pricing? Are there pockets of the market that are still bubbly? Possibly, especially given the extreme intraday volatility seen over the past couple of weeks. U.S. stock index futures are meanwhile ahead by 0.2% ahead of the open, but a lot can change from now until then. On the economic front, investors will pore over the Labor Department's latest report on jobless claims this morning, with another 730K Americans likely filing for unemployment. That's a drop from the 770K figure seen last week, but still a high number compared to pre-pandemic levels.
Dual-listed Chinese companies are extending losses in the premarket session, including shares of Alibaba (BABA), Baidu (NASDAQ:BIDU), JD.com (NASDAQ:JD) and NetEase (NASDAQ:NTES), after the SEC adopted the Holding Foreign Companies Accountable Act. The measure was signed into law by then-President Trump in December, before it was evident how the Biden administration would handle relations with Beijing. It now appears to be taking a similar stance against China following a tense meeting in Alaska, expanded sanctions on Chinese officials and keeping the tariffs imposed during the Trump presidency.
What's the Holding Foreign Companies Accountable Act? The measure would kick foreign companies off American stock exchanges if they fail to comply with U.S. auditing standards for three years in a row. The rules also require firms prove to the SEC they are not owned or controlled by an entity of a foreign government and to name any board members who are Chinese Communist Party officials.
The move by the SEC adds to the unprecedented regulatory crackdown in China on domestic tech firms. Recent reports suggest that Beijing has even proposed a state-backed joint venture to oversee data collection from e-commerce and digital payment companies. The concerns quoted were that the industry built enough market power to stifle competition, but likely signals further tightening of government control over the tech sector.
Outlook: "It is quite difficult for China to open the accounting of all U.S.-listed companies to U.S. regulatory agencies, especially for some listed companies that involve national security or national data," said Everbright Sun Hung Kai strategist Kenny Ng. "After the introduction of the final amendments, it is expected that China and the United States will continue to negotiate for a period of time, and the uncertainty during this period will continue to affect the share performance of U.S.-listing Chinese companies."
For some working in essential services or consumer-facing businesses, the return to work happened long ago, but for many in those industries, hardship remains. Other parts of the economy are meanwhile debating when to return to the office, which could in turn help out other sectors like restaurants, transportation and small business. The deliberation can be clearly seen in San Francisco and Santa Clara counties, which began allowing offices to reopen in a limited capacity this week.
Backdrop: For more than a year now, the offices in Silicon Valley have been largely empty as techies settled into a new normal of working from home. But as the economy slowly reopens, tech titans are figuring out next steps. At play are models of remote work, a return to the office or a hybrid of the two, though many companies are not rushing to reopen their workplaces.
Cisco (NASDAQ:CSCO), Dropbox (NASDAQ:DBX) and Facebook (NASDAQ:FB) have said their mandatory work from home policies will remain in effect until June, while Pinterest (NYSE:PINS) is not even eyeing a significant reopening until at least August. The reopening at Box (NYSE:BOX) and Google (GOOG, GOOGL) is still scheduled for September, but DocuSign (NASDAQ:DOCU) is waiting until at least October. Meanwhile, Adobe (NASDAQ:ADBE), PayPal (NASDAQ:PYPL), Twilio (NYSE:TWLO), Twitter (NYSE:TWTR), Yelp (NYSE:YELP) and Zoom Video (NASDAQ:ZM) are staying closed, though SAP (NYSE:SAP) is strongly considering partially reopening its Bay Area offices within weeks, while Slack Technologies (NYSE:WORK) is weighing a date to invite back some workers.
What it means: Employers are weighing two important forces - the need for in-person creativity and connections, as well as the flexibility and efficiency in working from home. The future may point to a combined schedule that would see employees work some days from the office and others where they desire. Interestingly enough, employees may be feeling the same. A survey late last year of 9,000 knowledge workers - commissioned by Slack - found 20% wanted to work remotely, 17% in the office, while 63% chose a mix of the two.