Thursday Morning Reads
Reads:
News:
Premium:
Open Interest Changes
 Earnings: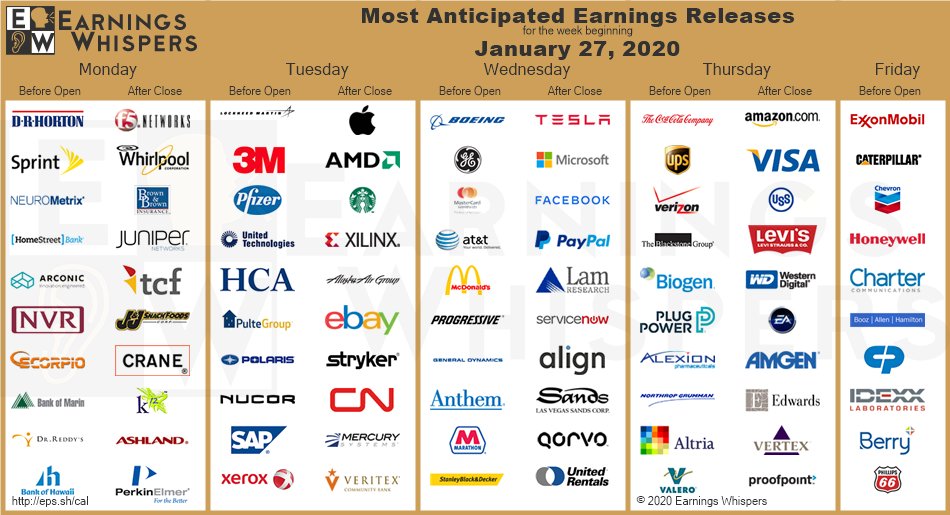 Futures
Seekingalpha:
Coronavirus anxiety and another 2.6% plunge from the Hang Seng Index overshadowed upbeat earnings from Tesla (NASDAQ:TSLA) and Microsoft (NASDAQ:MSFT) as U.S. stock index futures point to declines of 0.7% at the open. Meanwhile, the 10-year Treasury yield fell to its lowest level since early October, while crude futures declined 1.7% to $52.41/bbl. More than 7,700 people have so far been infected by the disease, with at least 170 dead, while WHO officials announced the spread of the virus outside of China is of "grave concern." The outbreak could cause China's real GDP growth to shrink to below 4% from the 6% pace in the fourth quarter, with worse impact than SARS in 2003, according to Nomura economists led by Lu Ting.
Go deeper: Check out the 'FOMO Turns Into Fear' podcast on Alpha Trader.
Economists expect U.S. fourth quarter growth to be about the same as the third quarter, at 2.1%, reflecting softer spending and a surprise widening in the trade gap in December. The figure comes after the Fed's meeting on Wednesday provided little new insight into policy, but did make it clear that it sees a more moderate consumer, which should show up in a weaker consumption number for GDP. All 10 members of the central bank's rate-setting committee voted to hold the benchmark Federal Funds rate in a range of 1.5% to 1.75%.
Amazon's (NASDAQ:AMZN) investment in one-day delivery may cut into profits when the U.S. e-commerce giant reports earnings this afternoon, though things could also turn around given customers shopped at "record" levels during the holidays. Rising costs have weighed on Amazon's share price of late with the stock only up 17% over the past 12 months, trailing the S&P 500 and other mega-cap tech names. Investors will additionally be focusing on cloud unit AWS - Amazon's biggest source of profit.
Go deeper: 'Microsoft Vs. Amazon: Valuing The Cloud' by Louis Stevens.
Revenue from Microsoft's (MSFT) commercial cloud unit Azure soared 62% in Q4, pushing up shares 4% AH, amid a pitched battle with Amazon's (AMZN) AWS. Continuing a meteoric rise, Tesla shares advanced 12% AH as the EV maker blasted past earnings estimates and said it would "comfortably" deliver more than half a million cars in 2020. Things were not as rosy at Facebook (NASDAQ:FB), which fell 7% AH. The social network giant topped bottom and top line forecasts, though it was FB's smallest-ever quarterly earnings beat (slowing growth?) amid an increase in expenses.
Victoria's Secret may be on the block
L Brands (NYSE:LB) shares soared nearly 13% on Wednesday on reports that CEO Leslie Wexner was discussing plans to step aside from the company he has led since 1963. The deliberations are also said to include the unloading of Victoria's Secret in a full or partial sale (to PE firm Sycamore Partners). Wexner, 82 years old, built Abercrombie & Fitch (NYSE:ANF), The Limited and Victoria's Secret into national chains over his career, and is the longest-serving CEO of an S&P 500 company.
UPS aims for driverless, electric future
Following in the footsteps of Amazon (AMZN), which recently inked a deal for 100,000 electric vehicles from Rivian, UPS (NYSE:UPS) has placed an order for 10,000 electric vans (with an option for 10,000 more) from U.K.-based Arrival. The contract, worth "hundreds of millions of euros," will also see UPS take a minority stake in the startup. Besides joining the EV revolution, UPS has driverless dreams. A six-month test will begin with Alphabet's (GOOG, GOOGL) Waymo next month, using the latter's autonomous Chrysler Pacifica minivans to shuttle packages from Phoenix UPS stores to a nearby sorting center.
News Corp. unveils news aggregation service
Looking to break away from the tech platforms that dominate digital media, News Corp. (NASDAQ:NWS) has unveiled an online news aggregation service called Knewz. The idea, which won't be "relegated in the rankings," is to help publishers claw back some of the control and ad dollars they've lost to Google and Facebook. The site includes content from more than 400 large and small publishers in the U.S. and worldwide, from The Washington Post and Fox News to Daily Kos and Washington Examiner.
A European Commission proposal seen by Reuters reveals an upcoming plan to create a "single EU market for data" aimed at challenging the dominance of Facebook (FB), Google (GOOG, GOOGL) and Amazon (AMZN). "Currently a small number of big tech firms hold a large part of the world's data. This is a major weakness for data-driven businesses to emerge, grow and innovate today, including in Europe, but huge opportunities lie ahead," according to the paper. New rules to achieve the goal would cover cross-border data use, data interoperability and standards related to manufacturing, climate change, healthcare, financial services and energy.
Today's Markets
In Asia
, Japan 
-1.7%
. Hong Kong 
-2.6%
. China closed. India 
-0.7%
.
In Europe
, at midday, London 
-0.6%
. Paris 
-1.2%
. Frankfurt 
-0.8%
.
Futures at 6:20
, Dow 
-0.7%
. S&P 
-0.7%
. Nasdaq 
-0.7%
. Crude 
-1.7%
 to $52.41. Gold 
+0.9%
 to $1584.60. Bitcoin 
-0.4%
 to $9314.
Ten-year Treasury Yield
 -3 bps to 1.55%
Today's Economic Calendar
8:30 Initial Jobless Claims
8:30 GDP Q4
10:30 EIA Natural Gas Inventory
4:30 PM Money Supply
4:30 PM Fed Balance Sheet