Thursday Morning Market Prepper
Reads:
News:
Charts:
Premium:
Yesterdays Unusual Option Action
Earnings this week: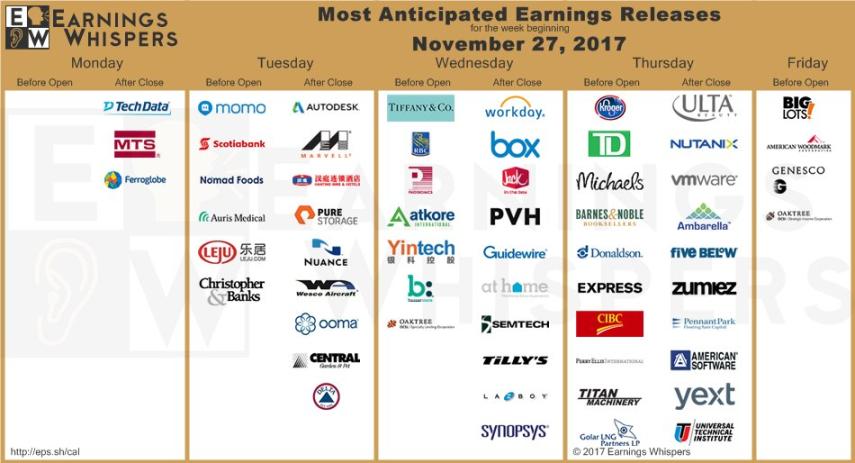 Seekingalpha:
OPEC oil producers and Russia appear set to extend output cuts until the end of 2018 as the group gathers in Vienna to finish rebalancing an oversupplied crude market. "My preference is to go for nine months," Saudi Energy Minister Khalid Al-Falih told reporters. "We will meet again in June and we look at not only how we have done in first half of the year, but also our outlook for third and fourth quarters of 2018 and act accordingly."
Economy
The U.S. is calling on all countries to suspend diplomatic ties with North Korea and has asked China to stop crude trade with Pyongyang or it will "take the oil situation into our own hands." The regime's action "brings the world closer to war, not further from it," Ambassador Nikki Haley said at a U.N. Security Council meeting. "If war comes, the North Korean regime will be utterly destroyed."
Big turning point... South Korea has become the first major Asian economy to raise its main policy rate since the Fed started increasing U.S. rates two years ago, the latest sign of a global move away from crisis-era stimulus. Boosted by an export boom, the Monetary Policy Board increased the benchmark rate to 1.5% from a record low of 1.25%, ending an easing cycle that began in 2011.
China's factory activity expanded at a quicker pace in November, with the official manufacturing PMI coming in at 51.8, while the services PMI accelerated to 54.8. That momentum has helped the country's GDP grow close to 7% in the first nine months of 2017. The Caixin/Markit manufacturing PMI is expected to be published tomorrow, with the services sector PMI reading coming next Tuesday.
The Trump administration has meanwhile condemned China's bid for recognition as a market economy in the WTO, citing decades of legal precedent and signs the country is moving in the opposite direction under Xi Jinping. The step by the U.S. came in a legal submission filed last week and is due to be released publicly today in a case brought by Beijing against the EU.
Eurozone inflation increased in November largely due to higher energy prices, according to flash data from Eurostat. Consumer prices advanced 1.5%, following October's 1.4% increase, but weaker than the 1.6% reading economists had expected. Inflation also still continues to stay well below the ECB's target of "below, but close to 2%."
Coastal communities from Maine to California have been put on notice by Moody's (NYSE:MCO): Start preparing for climate change or face downgrades. Six indicators will be used "to assess the exposure and overall susceptibility," including the share of economic activity that comes from coastal areas, hurricane and extreme-weather damage, as well as flood pain.
President Trump has nominated Marvin Goodfriend, a professor at Carnegie Mellon University and a former research director at the Richmond Fed, to be a member of the Fed's Board of Governors. It's his third nomination to fill several vacancies on the powerful seven-seat panel. Earlier this month, Trump picked Jerome Powell to replace Janet Yellen, while Randal Quarles was sworn into office in October as vice chairman of supervision.
Stocks
General Motors will demonstrate its growing fleet of self-driving Chevy Bolts in San Francisco today to investment analysts who are eager to evaluate the test vehicles. "Everything we are doing is geared to speed," said GMPresident Daniel Ammann, outlining that the cars would be ready for consumer applications in "quarters, not years."
It's one of the main attractions at the International Robot Exhibition in Tokyo. Toyota (NYSE:TM) has showcased a humanoid robot that can mirror its user's movements, a product it says has uses as varied as elderly care and disaster response. The T-HR3 can be controlled by a wearable system that allows users to operate the entire robot in real time by simply moving their own limbs.
SpaceX has been approved to send cargo to the ISS in December using a Falcon 9 rocket that had already flown to space. It marks the first time SpaceX (Private:SPACE) will launch a used rocket for NASA, further validating the company's reusable rocket technology. Other space news... Moon Express, the first private firm to get U.S. government clearance to go to the moon, has confirmed plans for its first mission in 2018.
Shopping for discounts? SoftBank (OTCPK:SFTBY) has offered to buy an undisclosed number of shares in Indian e-commerce giant Flipkart (Private:FPKT) at a reduced valuation of $9B-$10B, according to the Mint daily. The price range is lower than the pre-money valuation Flipkart clinched in two funding rounds of $1.4B each, one from SoftBank in August and the other from eBay (NASDAQ:EBAY), Microsoft (NASDAQ:MSFT) and Tencent (OTCPK:TCEHY) in April.
Alibaba's newly minted bonds rallied overnight after its $7B multi-tranche sale attracted a blowout response. "The tech sector (for bonds) is small in Asia and this sets a precedent for others to follow," said CreditSights analyst Sandra Chow. Flush with $22B in reserves, Alibaba's (NYSE:BABA) new cash could provide more firepower for acquisitions.
Amazon's Alexa is being sent to the office as the company hopes to spark a surge in voice computing in the workplace. With a planned launch at today's re:Invent conference, "Alexa for Business" could well come in handy for connecting into teleconferences or adding data to sales programs. The news comes after Amazon (NASDAQ:AMZN) pledged up to $100M in funding for voice technology.
Other tech news: Nokia (NYSE:NOK) has denied it's in talks to buy Juniper Networks (NYSE:JNPR), following a CNBC report that it was preparing a deal. Apple (NASDAQ:AAPL) is scrambling to fix a serious glitch within its latest Mac operating system, and AT&T (NYSE:T) said its proposed ban on programming blackouts of some Time Warner (NYSE:TWX) content shows it is willing to settle its DOJ fight.
Euronext is expanding to Ireland by acquiring the nation's stock exchange for €137M. The ISE "is ideally positioned to benefit from market opportunities in a post-Brexit environment," CEO Stephane Boujnah said in a statement. The purchase means Ireland will become Euronext's (OTCPK:EUXTF) sixth core European country, alongside France, Netherlands, Belgium, Portugal and the U.K.
New Mexico Attorney General Hector Balderas is demanding damages from Wells Fargo (NYSE:WFC) after an investigation showed the bank created nearly 19,000 unauthorized accounts in the state as part of its fake account scandal. If a resolution can't be reached, he'll pursue litigation. Wells Fargo is the largest bank in New Mexico with 93 branches and approximately $9B of business.
Ukrainian shipping firm Varamar will start accepting payment in bitcoin in an early sign that the cryptocurrency could be used for international commodity trading. It will make it easier to do business with customers in countries affected by sanctions, and means less paperwork than traditional bank deals. Other shippers are also looking at using bitcoin, as some clients aren't able to easily transact in dollars.