The top is in! ....until the market makes another top... and another one... and another one.   First the market has to shake this bout of fear.  Just a few weeks ago fear had never been so low, at least measured by the VIX.   Despite all the drama and even aggressive comments and actions from North Korea, the VIX hit 8.84.
Here were are a few weeks later and the same rhetoric is coming from North Korea.  The only difference is the market is using it as an excuse as to why stock prices are lower.  I said it many moons ago.  Long before North Korea was duct taping radioactive material to its bottle rockets.
As long as these pull backs have names we shouldn't be worried about a prolonged decline:
The name for the August 2017 pull back is North Korea.   Remember the August pull back and subsequent flash crash in 2015?  That was China.  Later that year it was Ebola.  The list goes on and on.  Greece?  Remember how they were going to take the Eurozone down?     Now the World is facing a nuclear crisis?
A great tweet from @McClellanOsc   Tom McClellan this morning puts it all into persepective: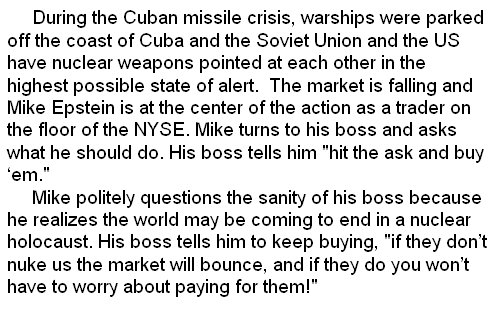 Heading into this week momentum was starting to wane.  I wrote about it.
The tough part about calling for downside in this market is having any conviction trading for it.  With every dip inevitably just a cheaper price for frenzied buyers, downside action doesn't last very long.
Some 8+ years into this massive, historic, post financial crisis rally, going long has been a lot easier than  trading for downside.
Actually these sharp moves to the downside have preceded a strong recovery rally to new record highs.  Will this time be different?
Each fear induced pull back feels like that final death knell for this market, and each time its comes back even better than before.
This VIX spiked to new highs for 2017, and its highest levels since the election in 2016.
Every single spike higher, since the dawn of man, has been reversed.
Maybe it wil be different this time and we see a long term move higher in the VIX.     Or maybe, the market will do what its done since the lows in March 2009.  Head to new record highs.
I know its hard to believe, but the S&P500 hit a new all time record high on Tuesday.  Yes  just a few days ago.
This mornings recovery rally could just be that.  A quick recovery rally before more selling.   Perhaps it is different this time.  It will be a lot easier to know for sure after the fact.  But judging from every other market pull back over the years, and VIX spikes, this North Korean fear induced pull back, will just be another name to add to the excuses to sell list.  And every other named excuse to sell has turned out to be a tremendous buying opportunity.