Stocks had an impressive rally today which means, of course, that stock options had an even better day.  You didn't have to be long late Friday to participate in this rally either... although it didn't hurt to already be positioned for upside.
Two trades I posted in the om private twitter feed this morning moved over 100% each before the day was done.
$TWTR spiked higher out of the gate this morning and continued to rally into the close moving over $2.50 from Friday's lows.  A tremendously impressive move for a stock that finally had enough of all the selling and negativity.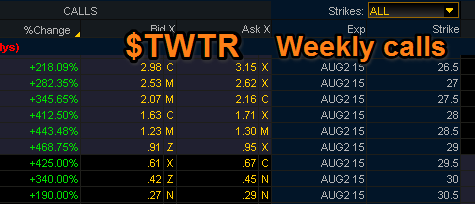 There were a host of other huge swings in the option market, as well as some very unusual action.  For instance 
Keep Reading