It's a holiday shortened trading week coming up.  We have a jobs report coming on Friday, more U.S. Canada trade talks, and more earnings reports.
Earnings have been better than good....
80% of $SPX companies have beaten EPS estimates for Q2 to date, the highest percentage of companies reporting positive EPS surprises since we began tracking this data in 2008. https://t.co/mywCwPAYAb pic.twitter.com/CqqZW2aen0

— FactSet (@FactSet) August 31, 2018
72% of $SPX companies have beaten sales estimates to date for Q2, well above the 5-year average (58%). https://t.co/mywCwPAYAb pic.twitter.com/sHoncR41oh

— FactSet (@FactSet) September 2, 2018
we've seen $LULU type spikes as well as significant pull backs... think $NFLX and $FB.   And no.. the Facebook collapse did not signal the end to this bull market as the Nasdaq, S&P500 and Russell 2000 all hit new all time record highs last week!
How about that!  It was the Tuesday after Memorial day when futures were getting clocked!   Down over 1.5% was the S&P500 at one point that session.
The $SPY was at $269 at the close that day... Italy was going to end the bull market once and for all..........
and then we had Turkey taking markets down a few weeks ago.    The $SPY was trading just over $280, and the bears were willing to bet that the bulls were going to get turned into ham sandwiches.........
It turns out  the Italy and Turkey pull backs were buy the dip opportunities... go figure.....
On Friday the $SPY closed the week higher than its ever closed a week before... over $290.
The named sell offs continue to offer great buy the dip opportunities....amazing....
of course its something I've been saying for 5+ years now...
A great read this weekend on all the doom and gloom:
You can go through every year and find most of those gloom and doomers talking about how ripe the market is for a crash.  At some point they will get it right.
My thoughts are, when this market is ready for the drop, there will be time to trade for it.   One of the signs that the market is about to see a prolonged move lower would be this:
Trading for that eventual move lower, that 20-50% correction that the doom and gloomers keep calling for....  its fighting the current.  It's fighting the trend.  The trend remains up.
With that said, here are some stocks I'm watching into this week.  Many are names I continue to hold positions in.  Note that I've been going out a little longer in time this year as these intra-day tweets have killed many a nice call option.  Look no further than this past week when Trade Talks tweets and China $200 billion news took the market back down.
$TXMD
$TXMD closed higher Friday for the 10th consecutive session!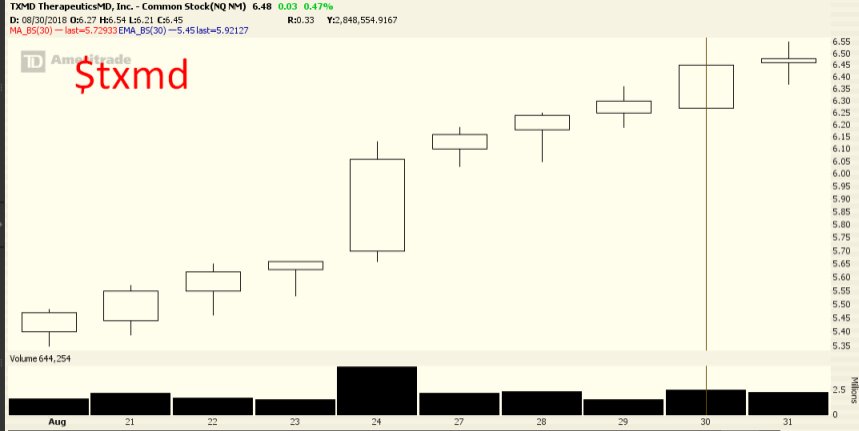 $TXMD just began selling Imvexxy... and is set for FDA approval of another product at the end of October.  This week the company will be at a Wells Fargo health conference  September 5-6, 2018 in Boston.
Over 40% of the float is short with over 10 million of those shorts already underwater.  If the stock breaks out like I think it will this year, all the shorts will be underwater.  However I am not long this stock because I think the shorts are wrong.  I am long the stock because I think I'm right.  The shorts had it right for a while.  A company that had nothing to show for years of dilution.   This year the company already has 2 of 3 products getting FDA approval.  Octobers FDA decision would make it 3!   That is rather incredible.  And to think the price per share is right around where it's been when the company had ZERO FDA approvals, I felt like I was cutting the line when I went long:
https://www.optionmillionaires.com/txmd-cutting-line/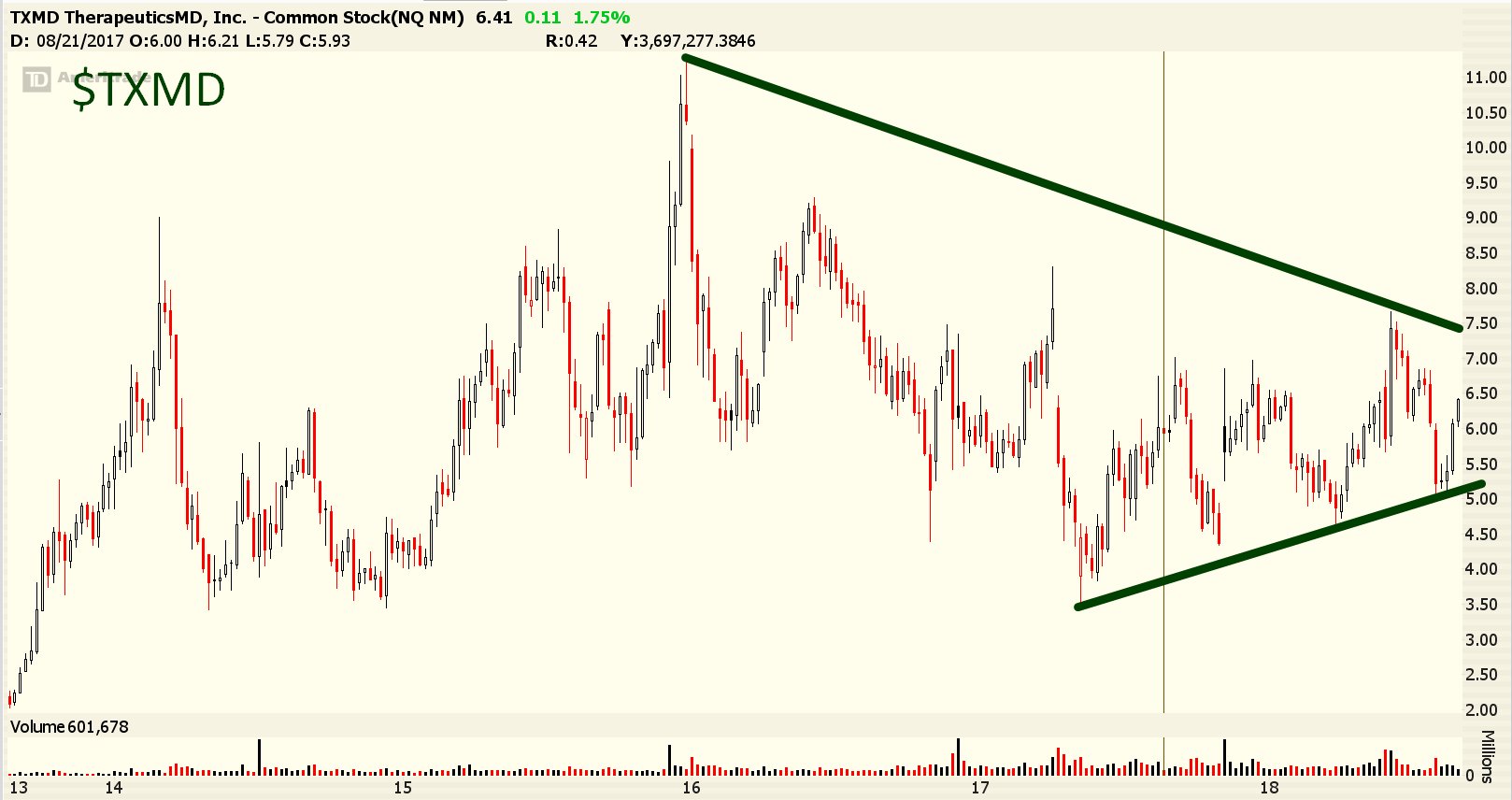 $MOS
$MOS recently broke out of a long term point of resistance.  The stock, I think, is setting up for a move over $40 and beyond.  I entered December calls recently and locked in some already for a 100% gain.  I am holding the rest for the potential upside I see coming into years end.
$VSI
I remain long via November calls from before the earnings move.  I think the  stock will ultimately fill that second earnings gap.
$SWCH
I like this stock to break through the $12 level, which is current resistance, and to close that earnings gap.
There was a nice ownership document filed late last week showing a new 14% stake in the company.  🙂
$GME 
The wedge break was impressive with the stock soaring to over $17 a share.  And then.. it broke, with the stock suffering a nasty decline last week.  I am holding calls into this weeks earnings report.  I still think its heading higher.  There has been some wildly choppy moves for this stock over the last 12-18 months.  I think its going to rocket back up this week and into the fall.
The next headline could be Canada.  After hitting record highs last week it felt like the market was using the China $200 billion tariff and the  Trade Talk headlines as an excuse to sell off.  We know how these excused sell-offs end up.... at new record highs.
I actually wrote this Five years ago this weekend.
https://www.optionmillionaires.com/as-long-as-these-pullbacks-have-a-name-stocks-head-higher/
Which was almost 5 years after the financial crisis started coming to a head.
It's amazing how quickly time has passed.   However the story the last 8 year remains the same.  Named sell-off = buying opportunity and new record highs.
I don't think we rallied to $292 not to hit $300.   $SPY $300 is coming over the next 4 months.   Just my thoughts.
And history is behind more gains.
https://twitter.com/ukarlewitz/status/1034812591275573248
as does the Monthly $SPY chart
This is a trend.
Even more frightening.... what if the action is early 2018 was nothing more than another shake of the tree before the stock market breaks out yet again....
Have a great long weekend!  See you in the chat room early Tuesday Morning