What else can you say after a day like today? This morning in the chat room I stated how perfect it would be to see my big $IWM $120 figure before the close.   That was my key support/resistance line I have been talking about for all of 2015.  Last nights recap was titled "Till Support Do Us Part" for a reason.
Once we broke support it was a time to part from the bullish stance.  But with today's action, the support is there, and the bullish perspective is still here to live another day.   While I was talking via live audio  prices were in the gutter - down some 1.3%.  Upward price action was the last thing on anyone's mind.  It was more of a 'how much lower can we fall' type morning.  And then it all turned around.    The markt we've come to love/hate did it again.  That $IWM $120 support level came back into focus and at the close today $IWM was at $119.99.  Are you kidding me?
On top of that the market reversed the entire pull back and returned to last evenings levels.  Forget the V bottoms, buy the dip, off the lows, buy the all time highs, today was boomerang day.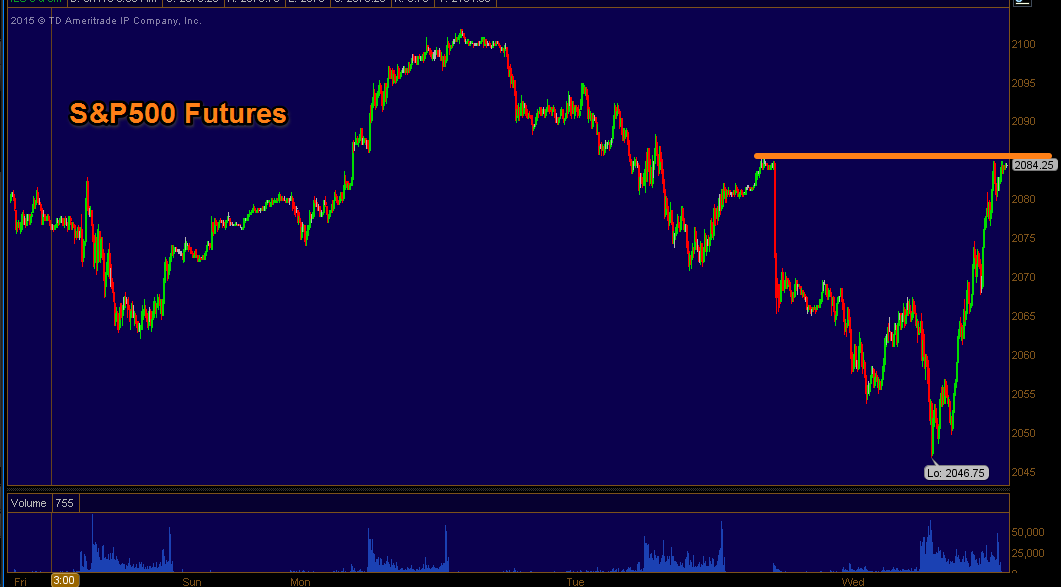 $IWM - yep I can post the same daily chart I posted yesterday.  On thing to note is the series of lower highs.  We need to break this RUT.  Will the next move be just a bounce or something more constructive?
The VIX.
If the VIX has parents they would be in the principals office right now asking who is bullying their kid.  The VIX is hanging from a gym locker from its underwear.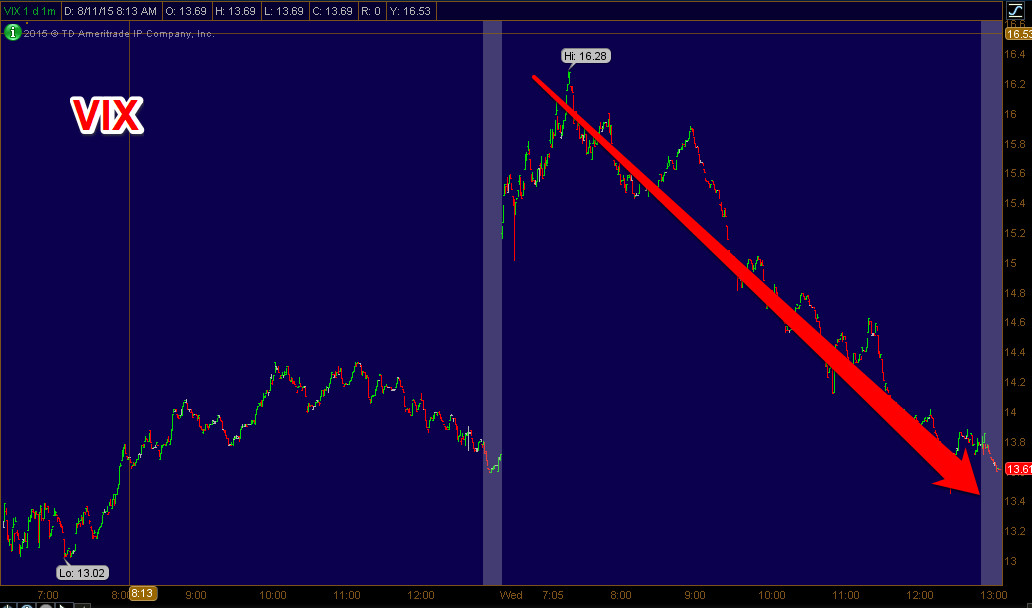 $AAPL?  Yesterday's recap, written hours before China, served a bag of broken fortune cookies to the market, covered the impending wipeout that was coming this morning.  The dip went all the way under $110.  The rip blasted the stock some $6 higher.  There has been some tremendous action in $AAPL recently and as the week comes to a close these moves are going to make some rather big moves in the option market.
Will tomorrow see follow through on today's action?  Will the market boomerang the stock back to Mondays $119.99 price?
I think there is some gas left in the tank.  The market clearly is liking the dips, but how long will that last?  Or have the sellers finally been shaken out of the Apple tree, setting the stock up for a move back into the $120's and then the $130's?
It isn't just stocks that are getting clobbered.  The US dollar index continues to fall which has helped breathe life back into gold and gold miners.  While everyone seems focused on China devaluing their currency, so far its done the same for the US Dollar.
and gold miners are on a tear the last few sessions.   Today $GDX posted a massive 7.8% day as gold rallied some 1.5%.
You don't hear anyone talking about the US Dollar pulling back.  That was a key element in recent earning reports.  How the US Dollar strength headwind.  It refreshing to see it easing back from recent highs.
I am not in an positions relating to gold or gold miners, but I could see this rally continuing.  The gold bearishness hit a nadir recently and a swift rally will likely change sentiment.  When all those bandwagon bears have jumped back on the gold wagon, we could see a resumption of the slide in precious metals.
What lies ahead?  In a few hours we'll see if stock futures don't get pummeled again.  That would throw another wrench into the market.
Today's strong reversal off the lows and subsequent move back over many levels of support, coupled with the extreme bearishness that persists over China, Interest Rates, Earnings, makes me think that this market remains the resilient market we've seen since 2009.  Had we not recovered today's losses like we did, I'd be hard pressed to go long this market.  Absent another overnight crash I'll be looking for some names to buy on the recent dip.  I'll cover some of those later.  You can check back for those as well as the daily option action recap.
One reason I like today's strong reversal and think it will lead to at least a short term move higher for the stock market, is that every other time in 2015 where the market has recovered from rather large losses, it has gone on to post a solid rally.    Let's call them big wicks.  Many of them are wonderful Hammer candles, which more often than not market a turning point for stocks.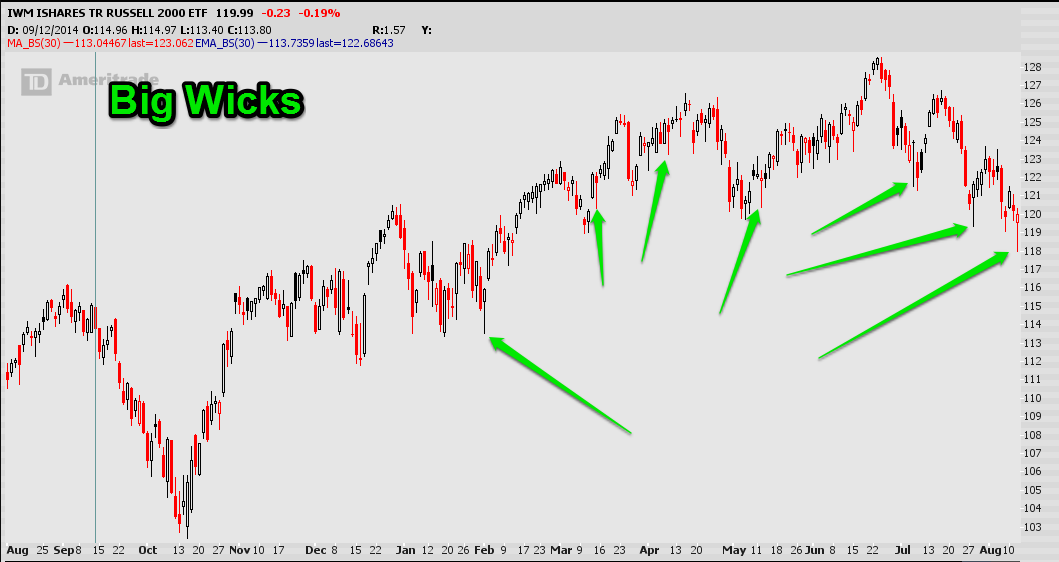 For the bulls, a quiet overnight session would do wonders for market sentiment.  For the bears another China devaluation will put a nail in the coffin for this market.  I think it's that close.  The market is still walking that tight rope.
Today it regained its balance.  Tomorrow?  I think it continues to move forward.
$CSCO is soaring after the bell on strong earnings.
Cisco (CSCO) advanced in extended trading after the maker of IP-based networking products reported higher-than-estimated revenue and profit in its fiscal fourth quarter, and guided for fiscal first-quarter results in line with Wall Street's view.
Shares of the San Jose, California-based company rose as much as 3% after losing $0.4% to $27.90 at the close of regular trading on Wednesday. The stock has rallied 11% over the past twelve months.
GAAP net income rose to $2.3 billion, or $0.45 per diluted share, in the three months ended July 25, from $2.2 billion, or $0.43 per diluted share, a year earlier.
Non-GAAP EPS was $0.59, topping the $0.56 average estimate of 34 analysts polled by Capital IQ.
Q4 revenue increased 4% to $12.8 billion year-over-year. That beat the Wall Street consensus of $12.65 billion.
Looking ahead, the company projects Q1 revenue growth of 2% to 4% and non-GAAP EPS in the range of $0.55 to $0.57. Analysts are modeling EPS of $0.56 and revenue of $12.55 billion.