First off those in the path of the Hurricane be safe, smart, and hopefully it swings as far out to sea as possible.  Like a Hurricane, the market is unpredictable and requires caution as well as preparation.  It also cares little about you, and fighting it is hazardous to your investment portfolio.
With all the external drama,m the market sits a percentage point away from new record highs.  A hurricane likes to feed off the warm waters, while the market has been feeding on the endless negativity and relentless headlines.
War, Terrorism, Ebola, Nuclear Threats, Investigations, Government Shutdowns, Debt Rating Downgrade, the list goes on and on.  FIll in the blank.
While the headlines change, one thing remains the same... the dip buyers continue to win.  And while eventually the Bad News Bears win a game, it doesn't have to be that way.    Sure it is especially  satisfying winning a game after losing 70 in a row.  But if the only requirement for changing teams was to change your perspective of the market, why not start today?
More telling today than ever before is the stable stock market in the face of relentless storms.  Where would the market be without all the negativity?  It's healthy.  And after the recent action and sharp moves lower we hear very little about that 'complacency' that was dogging the market the last few months.
The VIX was up over 30% earlier this week.  You can quit saying there is no fear in the market now.... at least until we hit 8.84 again.
Today Draghi is speaking.   Draghi the Great.  The ECB has been buying bonds of all shapes and sizes, including corporate bonds.  The equity market has been happy, and will likely continue to head higher, despite talks of the ECB taking their foot off the gas pedal.
The action this week remains clear.  Early weakness, afternoon strength.  Rinse, repeat.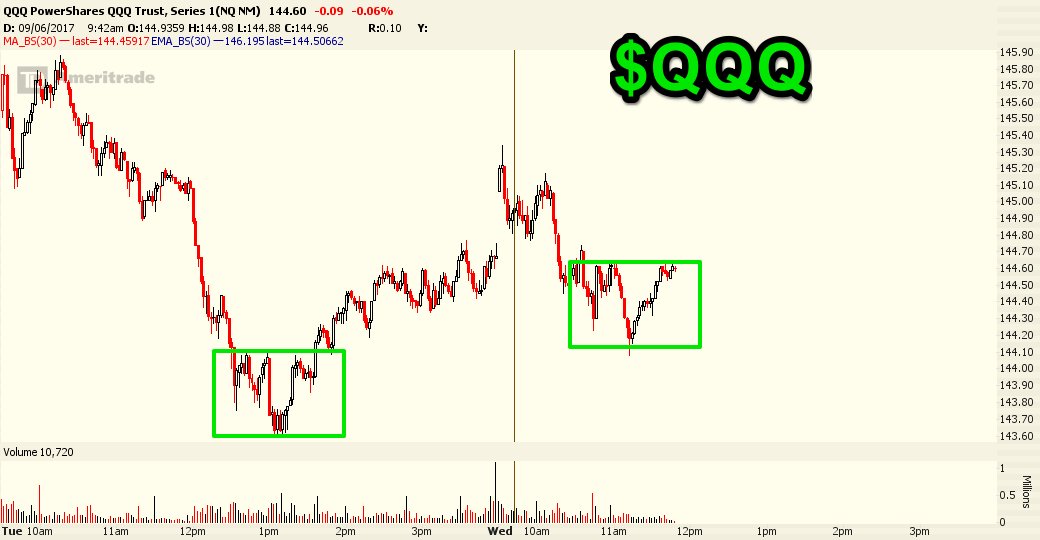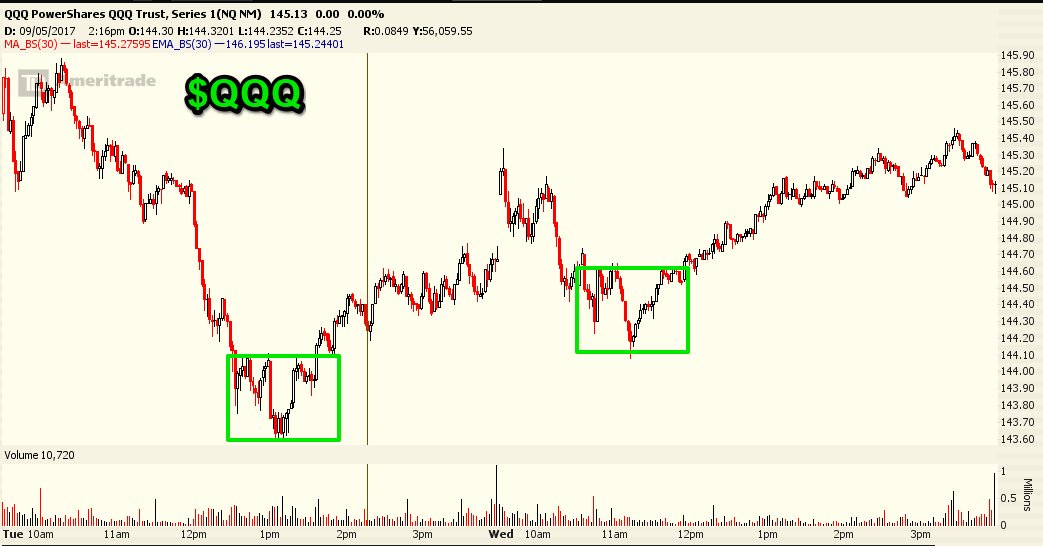 With futures slightly higher today, there isnt much of a morning gap to fill.     Perhaps today the grind will take the market higher and keep it there.
I still like calls in this market.  Don't get me wrong.  Sharp corrections are excellent trading opportunities.  The market is always stairs up, express elevator down.  The recent action tells us we are still in the stairs up of this bull market.  Until that changes, no hurricane or hydrogen bomb test will hold it back for long.