$NFLX call options rocketed higher on Friday as the stock soared almost 6% hitting a high of $97.
Friday's pop higher capped a strong rally for the stock off Monday's sub $85 close.  It was a great week to be in $NFLX call options.  Holders of call options awoke to tremendous gains on Friday, 2,000%+ on many of the weekly strikes.
Thursday after the bell, after consolidating for most the the regular session, $NFLX spiked $2 than $3 than $4, than $5 higher for no discernible reason.
Perhaps NFLX was prepping to leave the Eurozone?  Seeing the market reaction to Brexit this week, that would certainly spark a rally in shares?  🙂
There were many excuses from a new deal, to analysts becoming more bullish.  When you own calls on a stock and it goes up, price is all that matters.  Many times you see upgrades and a stock goes down.  A deal is struck and the stock goes the other way.  Earnings looks great but the stock falls.  Price wins every time.   It was a great way to close out a pretty awesome week.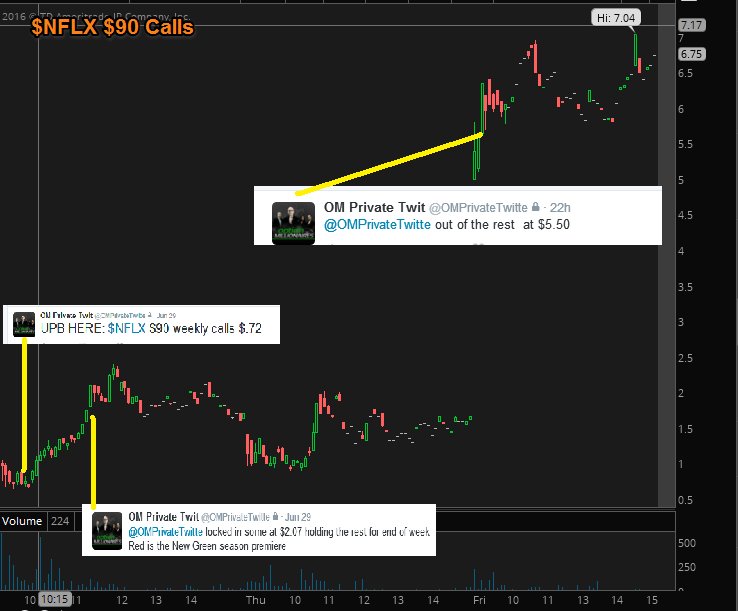 Entry into calls this week was based upon strong support.  It held and acted as a launch point.  My tweet earlier this past week with the stock under $90 a share.
and the action came close to kissing trendline resistance.  Keep a close eye on this next week.  A break above resistance could ignite a sharp rally back over $110 for $NFLX.