It seems just yesterday when every dip was met with a frenzied buying spree. BTD  Buy the dip.  Buy the f'ing dip BTFD.   As dips became launch points for higher prices another acronym was born: Buy the All Time Highs BTATH.
It's 2016, a New Year, will it set itself apart from the previosu 6+ years?  Has the stock market run out of dip buyers?  Is 2016 when Sell the Rip STR starts to take hold?
One thing is for certain, the action is getting quite bumpy the last few weeks.  The VIX - a frequently referenced gauge of volatility, has seen its value gap violently the last few weeks.
Today's opening will provide another gap for the VIX as stock futures have fallen over 1.5% since yesterdays closing bell.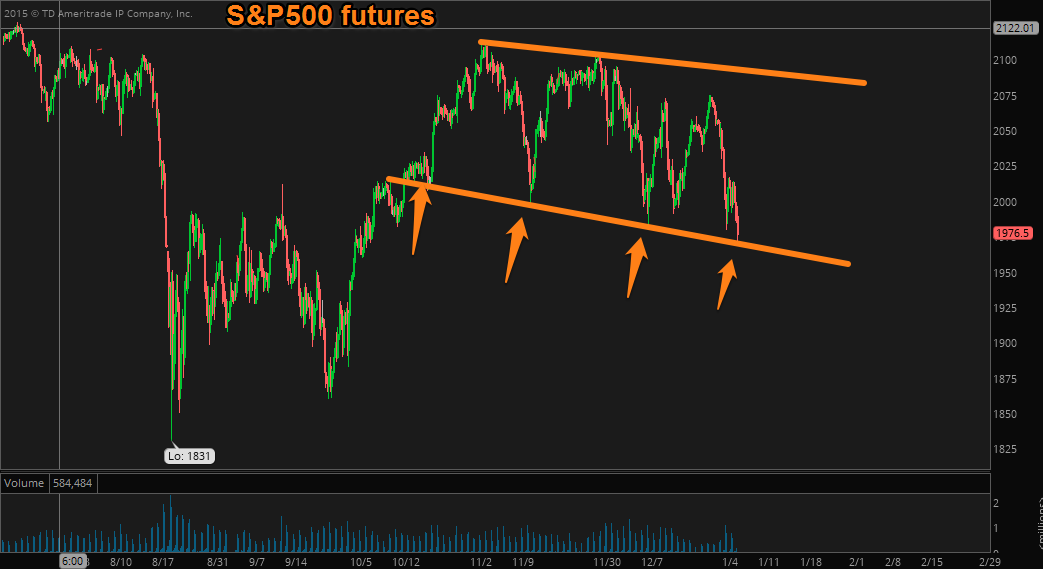 The overnight and early morning action have brought us to trend line support.  The rubber meets the road here.
Heading into 2016 I was bearish on the market and looked for a move back to the August lows.
But that doesn't mean the market won't have counter rallies along the way.  Today's support level, if it holds, will set the market up for a strong rally and to new highs for 2016.
That doesn't change what I think of the market in 2016.  In actuality its something I'd rather see than a break right here.
Crude oil continues to sell off.  This is also remains something to watch in 2016, just as it was in 2015, and 2014.  But...... this year it is different for crude.  This is the year the market comes to grips with the normalization of crude oil prices.  All that debt issued and put to use based upon high crude oil prices.... its going to come to roost in 2016.
Crude is down to fresh lows this morning, this will also send $XLE under key support levels.
How about them Apples.  $AAPL broke under $100 this morning.  Monday's relief rally brought the stock up to kiss $105 one more time before it said goodbye.  What a sweet thing to do.  Despite the calls for higher prices, $AAPL seems destined for one of those pullbacks that out the growth story of the whole company into question... much like in May 2013.   At some point we will hit that once in a 3 year buy point, and $AAPL will embark on its next leg to record highs.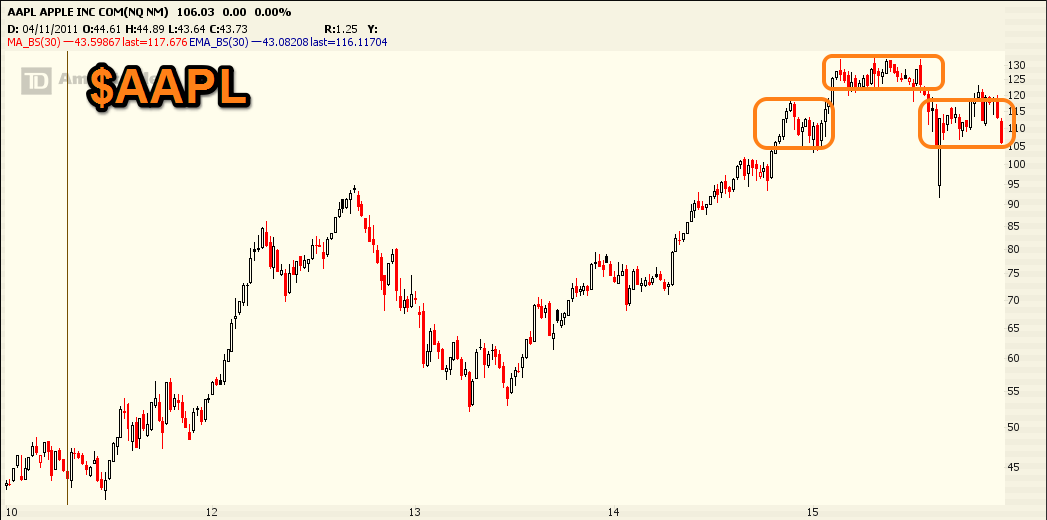 $AMZN has put in a 10% fade already from recent record highs.  It didn't get off on the right foot in 2015 either.  But the rest of the year was quite a run for the stock.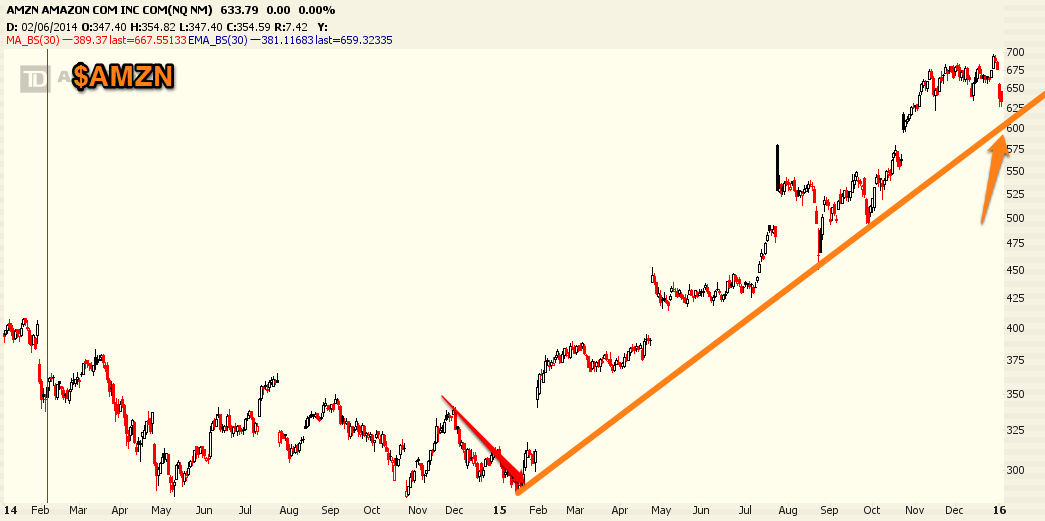 $NFLX also, like its FANG brothers and sisters, has taken it on the chin early in 2016.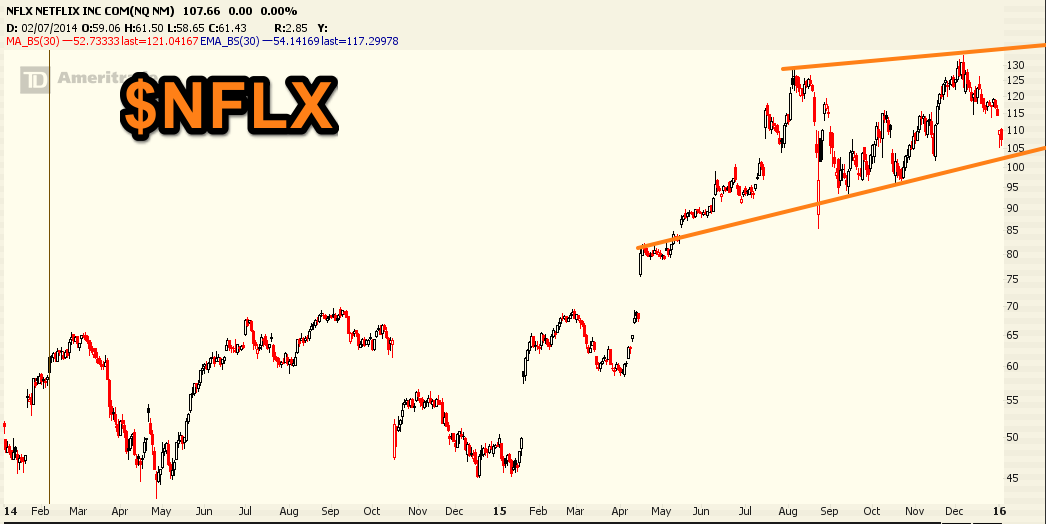 Closing Thoughts:
The opening bell approaches.  The sell-off this morning has been quite dramatic.  It's back to China, not H-Bombs, not Rate hikes.... at least not yet.
The market started off 2015 on a weak note as well.  I'm a little more concerned this time around.  My outlook on this week was a rally into today and a pull back into Friday.  That has been the trend the last three weeks.  Last nights collapse ended that theme in a hurry.  I'll be watching the key support levels in $SPY, S&P500 futures, and some of the FANGs.  If they hold we could get a nice relief rally into the end of the week.  Also 2016 welcomed back the 3:30pm buy team.  Today could be another day where they resurface in a big way.
See you in the chat room.