The market yet again roped in the dopes with a massive rally off the morning lows.  The buy the dip crowd over the last 7 years usually arrives an hour into the session and yesterday was no different.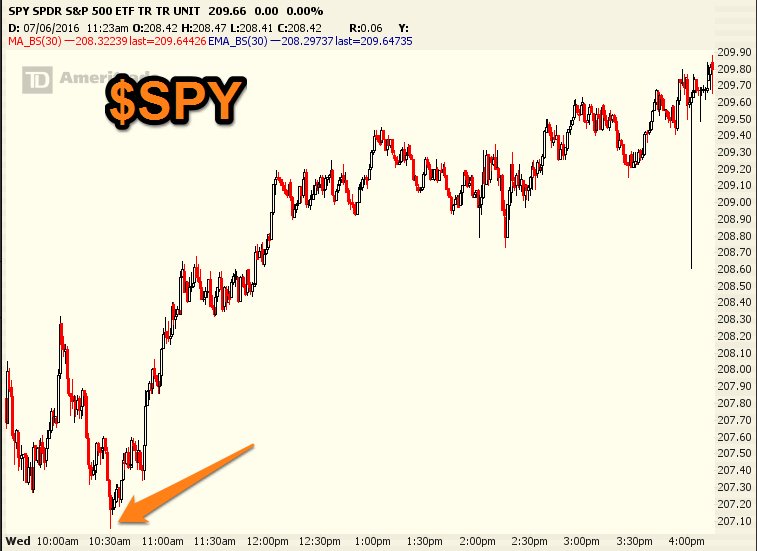 The $SPY earlier this morning breached $210 to make the move off yesterdays lows a $3 one.  Currently futures are off their highs and the market is set to open flat.  Which is in stark contrast to the action we've seen over the last week and a half.  Beneath this calm exterior lies the usual  assortment of uncertainty.
Brexit and all the other 'exit possibilities (Frexit, Grexit....)
The Italian Banks.  Yet other banks in Europe are in worse shape?  $DB?
We learned yesterday after the FED minutes from their last meeting was released that their concerns about Brexit and more is likely to keep them away from a rate hike for a longer than expected time.
In the US, Fed officials have since made it clear that they are now in a wait-and-see mode as they scan for signs of negative aftershocks hitting the US economy.

As recently as April a number of Fed policymakers were signaling that they saw a case for the central bank to lift rates again in June following the December 2015 quarter-point increase. However the financial and economic picture has shifted significantly since then. Futures markets suggest traders are expecting no move by the Fed well beyond the end of 2016.

Even before the UK vote Fed policymakers had flagged up concerns about a possible slowdown in the US labour market following turgid hiring data for May. A clearer picture of the jobs market will become evident on Friday of this week when hiring data for June are released. (FT.com)
No hikes for you?
Judging from the markets reaction at the end of 2015 and start f 2016 after the FED announced its first rate hike in nearly a decade, they will be in no rush to do it again anytime soon.  The odds of another rate hike have been pushed well into 2017.  We've seen this story before.  When zero percent interest rate policy was launched in December 2008 expectations were for a year or two of 0.00% rates before a very slow, telegraphed ascent.  Now some eight years later the talk remains the same.  The only difference is that the stock market has rallied to record highs and debt burdens have never been higher.  But as long as interest rates are low, debt with very low interest carries very little burden.  And the giant circle of life continues unabated.
But let's face it.  All good things come to an end at some point.  Negative interest policy is quickly becoming a new normal.  Corporate debt continues to grow.  Why?  With historically low interest rates the cost to borrow money for corporations has never been lower.  Why not!
This all points to a stock market that looks poised to continue to inflate.
A great read this morning does a nice job of explaining why this market is likely heading higher.
Brexit was just another rope a dope for market participants.  One of many we've seen since hitting record highs last year.
The S&P500, despite all of the large price swings remains contained longer term.  Are we on the cusp of breaking out?  Or does another breakdown lie ahead.  We will know the answer to that soon.
For now individual names are offering some tremendous trades.
$VRX, $AMZN, $GDX....
and with the recent price action there have been some incredible multi-day moves.
and finally the VIX.... contained.
Have a great trading day.