Stock futures are rallying yet again.  Just minutes ago S&P500 futures spiked to their highest levels since the start of the month.  There are a few points of interest this morning to note.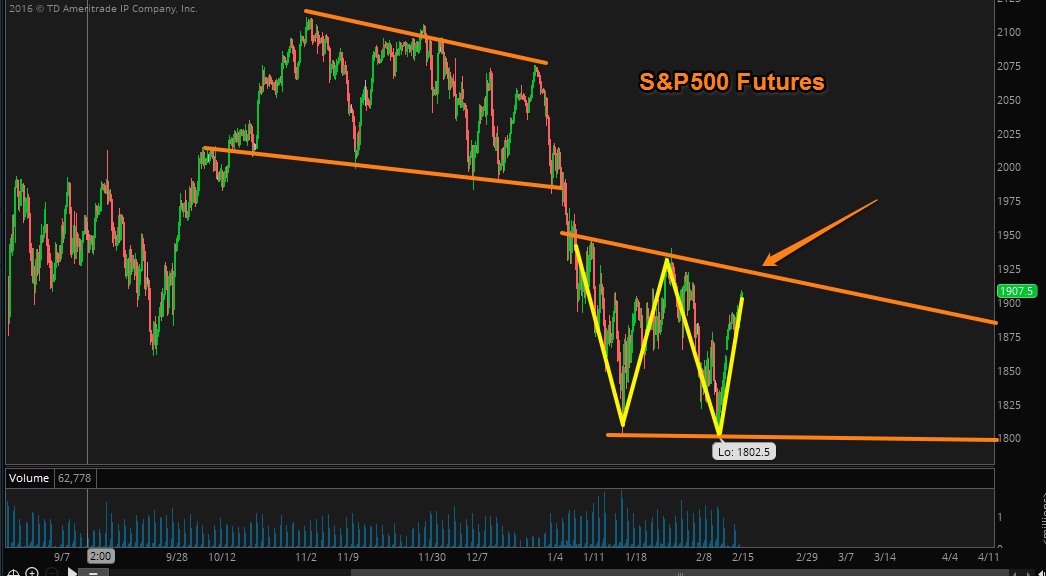 Housing starts declined.  This theme is not something new.  Housing starts aren't close to recovering their pre-housing bubble alure.  This is something to watch as the last decline in housing starts began before the financial crisis of 2008.
PPI came in better than expected this morning as well as manufacturing.
The market has been pricing in the increasing risk of a recession.  Also over seas Europe is struggling with the ball and chain of deflation.  Yet this morning's data paints somewhat of a mixed signal.
The worst thing we could see here in the US is a rise in prices, as this would force the FED to raise rates to cool inflation.  In Europe they are battling deflation with negative interest rates.  In Japan interest rates went negative, another sign of just how desperate the Central Banks have become.
As it stands today, the negative market momentum has turned around.  At the height of last weeks panic the bearish sentiment peaked.  The market reversed course and has embarked on a furious counter trend rally.
The last massive counter trend rally didn't stop until the $SPY hit $210.  That was in October and ran alongside some nasty economic data.  When we see a market rallying despite bad economic data,we know there is a reason why it is being ignored.  And the more bearishness we see concerning that data, the more the market seems to rally.
So here we are, just a week removed from historic negativity in the market, and we are getting all those bullish commentaries returning.
Most Cash On the Sidelines Since 2003
Market to Rally 20% in 2016
The one thing we know is that this rally will fade.  And I think it will fade back to last weeks lows and those lows will give way.  Until that time this counter trend rally will likely meet resistance, and at that point we will see if this is just a short term 5-6 day rally?  Or does it have some real meat to it.