Morning Reads
Todays Open Interest Change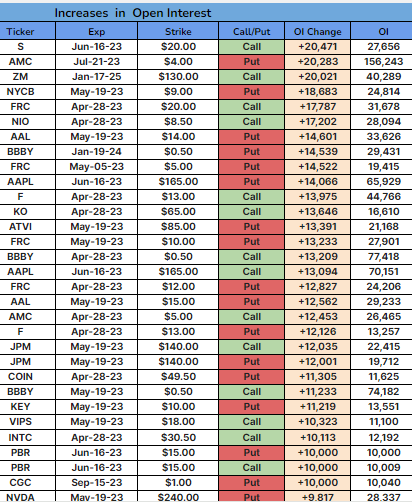 PREMIUM
Prepper
Prepare for some volatility as investors head into the heart of earnings season, with Big Tech stepping up to the plate this afternoon. Alphabet (GOOG, GOOGL) and Microsoft (MSFT) are first in the batting order, but it remains to be seen whether they'll manage a base hit, or if investors will send them back to the dugout. Today's double-header results are not the only ones on deck, with the lineup followed by Meta Platforms (META) tomorrow, and Amazon (AMZN) batting cleanup after the bell on Thursday. "The post-Covid hangover continues, but this isn't 2001-2002," writes Brian Gilmartin, CFA, outlining expectations before the quarterly numbers from mega-cap tech.

Alphabet: While the advertising slowdown will be front and center for earnings watchers, they'll also be seeking information about Google's approach to the hot topic of artificial intelligence and how chatbots will change online search. Wall Street analysts expect Alphabet to post EPS of $1.07, on $68.8B in revenues (which would mark a meager 1.2% growth, similar to last quarter). The plan to cut 12,000 workers will also land on results as Alphabet expects to take charges of $1.9B-$2.3B, with most of that centering on the first quarter.

Microsoft: Wall Street is going to zero in on what the software giant has to say about its Azure cloud business, as well as its massive push into the AI arena via its multibillion-dollar investment in ChatGPT developer OpenAI. Another focus will be on the growth story at Microsoft Teams, which may contrast with the company's personal computing segment that has seen cooling demand from pandemic-era highs. Analysts currently estimate that Microsoft will report a profit of $2.23 a share, on $51B in revenue for its fiscal third quarter (the Windows maker earned $2.22 a share, on $49.4B in sales, a year ago).

Strike zone: The latest Wall Street Breakfast survey is still open, with most subscribers betting that Microsoft (MSFT) and Alphabet (GOOG, GOOGL) will be the biggest gainers in the session following the tech titans' batch of earnings. Cast your vote and see the full breakdown here. Over at Meta (META), investors will debate if the bases are still full in terms of monthly active users, ad product innovation and how metaverse expansion efforts will play out in the age of AI. SA contributors The Asian Investor and Simple Investing also go head-to-head over what lies in store for Amazon (AMZN) with AWS, top line growth, cost-saving measures, free cash flow and margins at a full count.
Fox News and top host Tucker Carlson "have agreed to part ways" - a bombshell move that comes on the heels of a hefty $788M settlement over Dominion Voting Systems' defamation suit against the network. Shares of Fox (FOX) closed down 3% on Monday after the announcement, and fell another 9% in premarket trade, while conservative-focused video platform Rumble (RUM) advanced with Tucker now a free agent. Across the aisle, CNN (WBD) fired star anchor Don Lemon, adding to a news-heavy session for the cable news space. He faced a backlash for on-air comments about women, and the news followed the departure of NBCUniversal (CMCSA) CEO Jeff Shell over an "inappropriate relationship." (456 comments)
Retail investor participation in the stock market is still historically high, near the 90th percentile, according to Morgan Stanley. But the buy/sell imbalance is positive on just one of the S&P sectors, while three others are seeing historically negative sentiment. Meanwhile, J.P. Morgan global strategist Marko Kolanovic is sounding a bullish siren on earnings season for two main reasons, but also recommends selling the resulting bounces. Elsewhere on Wall Street, Goldman Sachs upgraded its sector recommendations, giving its rationale for buying mining stocks. See all its sector calls here. (4 comments)
President Biden officially launched his re-election campaign this morning, seeking a second term in office after defeating former President Donald Trump in 2020. A rematch between the two is highly likely, as Trump still commands a firm hand over the GOP, though there is an increasing list of Republican challengers that are seeking a primary win in 2024. On the economic front, Biden is likely to tout his handling of the COVID recovery and decades-low unemployment rate, as well as the passing of the CHIPS Act and climate-focused investment. However, inflation has heated up under his watch, and while things have eased in recent months, Americans may be reminded of the damaging price pressures if it ends up leading to a recession. (53 comments)
Today's Markets
In Asia, Japan +0.1%. Hong Kong -1.7%. China -0.3%. India +0.2%.
In Europe, at midday, London -0.3%. Paris -0.7%. Frankfurt -0.1%.
Futures at 6:30, Dow -0.5%. S&P -0.6%. Nasdaq -0.5%. Crude -0.4% to $78.44. Gold flat at $2000.30. Bitcoin flat at $27,344.
Ten-year Treasury Yield -8 bps to 3.44%
Today's Economic Calendar
9:00 S&P CoreLogic Case-Shiller Home Price Index
9:00 FHFA House Price Index
10:00 Consumer Confidence
10:00 New Home Sales
10:00 Richmond Fed Mfg.
1:00 PM Results of $42B, 2-Year Note Auction
1:00 PM Money Supply

Companies reporting earnings today »
What else is happening...
Coca-Cola (KO) gains after smashing organic sales expectations.

Disney (DIS) layoffs under way, to reach 4,000 by end of week.

Epic fight: Apple (AAPL) wins appeal backing its App Store policy.

Corn slumps to eight-month low after China cancels purchase.

Department of Energy to crack down on extensions for LNG projects.

Super Mario Bros. Movie (CMCSA) led box office for third straight weekend.

Coinbase (COIN) slides as crypto prices extend retreat.

Trillium proposes to acquire Getty Images (GETY) for $10 per share.

First Republic Bank (FRC) deposits sank by more than $70B in Q1.

These stocks are expected to be beneficiaries from Bed Bath (BBBY) bankruptcy.