What better time to instill more fear into the masses than with stock prices back near record highs?  Yesterdays rally has morphed into a modest pull back this morning with S&P500 futures falling almost .5%.
We remain firmly above the key 2100 level.  After the market closed, like a thick dense ocean fog, the bearish market commentary flowed in.
George Soros is bearish again.  
Just points away from a new record high in the S&P500, it's not like the bearishness is coming at lower prices.  The tough part about calling a top, as many have found out over the last 7+ years, is that top callers look right for few days or weeks even, but wrong overall.  Those betting against this market since the lows in March 2009 have had their asses handed to them.
There have been plenty of reason to be short this market the last 7+ years.  Most of the reasons remain the same.  In reality the same reason why this market is a great short is the same reason why its a great buy here.  What do I mean?  Absent the central banks this market is a great short.  With the central banks lending their 'invisible hand', this market remains a great buy.
Look no further than the ECB trying their hand at buying corporate bonds.  Negative interest rates weren't enough to skew the market to their liking.  They are now buying corporate bonds, and rumor has it this morning they were buying troubled auto maker Volkswagon.  Where does the asset price manipulation from the central banks end?  Find that answer, and we will know when the 'top' is in for this bull market rally.
This morning the bears got a bone thrown at them.  But will this weakness last?  Look at last week.  There were several bouts of selling.  Each of them met with even more furious bouts of buying.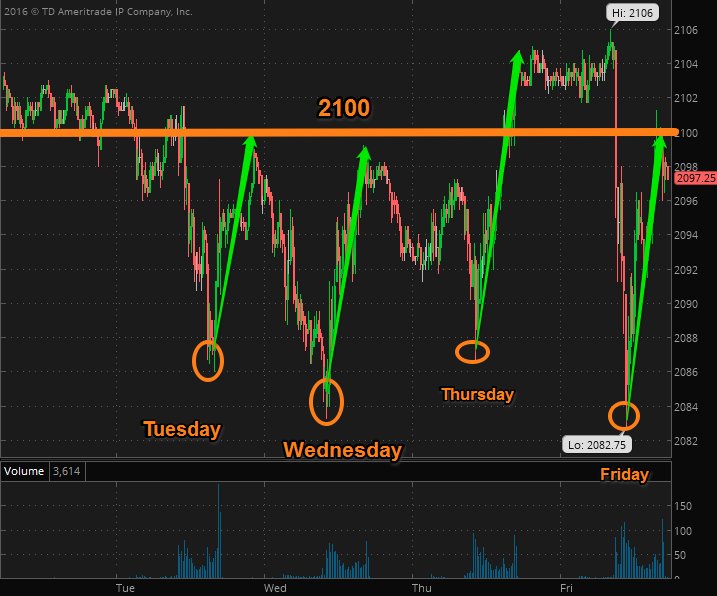 Let's just say the precedent has been set for what we are seeing this morning before the bell.  Weakness has been a great buy the dip opportunity for market participants.
The $SPY has broken out of multi-year consolidation.
$QQQ is on the cusp of a possible breakout.  A few weeks ago $IWM sat in a similar position.  It has since rallied over 5%.
The opening bell is nearing.  The market is trading lower.  Bonds are higher. Crude oil is lower.  The US Dollar is rallying.
S&P500 futures hit the highest level its seen in 11 months.  It's just points away from new record highs.  Key support is below.  Key resistance has been broken.  Central banks remain willing, ready and wanting to enable more inflation of any and all asset prices.
When they stop, we have a top.
See you in the chat room.