Less than an hour before the opening bell and Stock futures are trying to hang on to overnight gains.  Yesterdays action, despite the post earnings collapse of many names, ended precisely where it started with the $SPY closing almost flat on the day.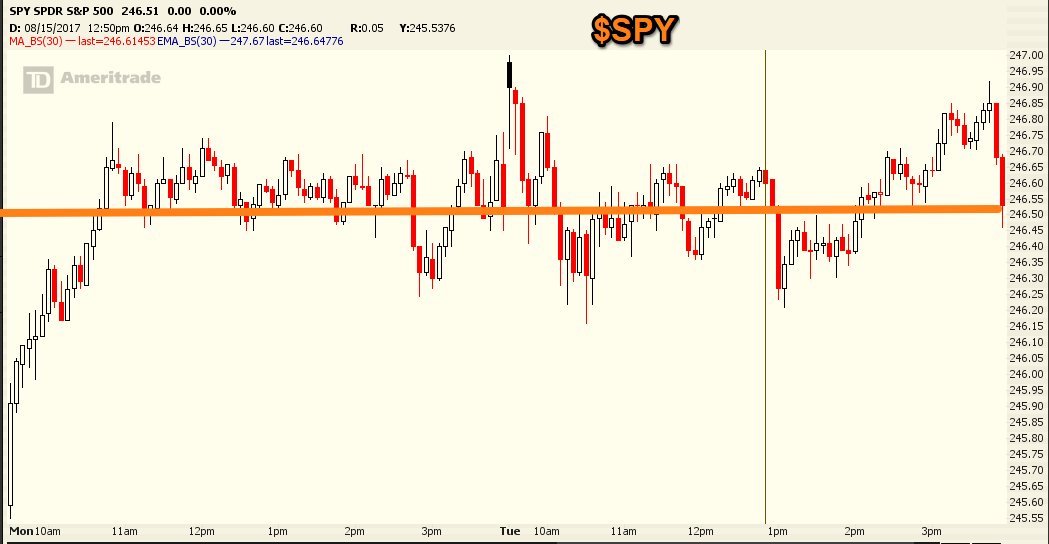 While under the surface there were some tremendous moves, the S&P500 managed to close flat on the day.  I think it was just consolidation from the recent rally off the North Korea lows.  Remember, every named excuse to sell the market since March 2009 has ended up being a great time to buy.  I don't think last weeks named move lower will be any different.
The VIX remains well off its highs of last week.  After hitting 17 last week this week the VIX finds itself back in calmer waters with 11.50 - 12 range.  Enough to keep the 'this market is fearless' commentary at bay.  We heard enough about it heading into the most recent decline with the VIX plunging to never seen before levels.
Doing my early morning market reading, I find at least a few talking about the relative weakness of small caps.  Small caps remain that 'canary in the coal mine'.   We've heard that many times over the years including the tech wreck in April 2014.
Heading into the election in 2016 small caps were plunging, and the broader S&P500 was falling some 9 days in a row.  Small caps reversed the Friday before election day and never looked back.  $IWM was up some 13 days in a row.
Look at $IWM since the end of July:
It's looking weak.  But longer term, its come down to channel support and looks poised to head back to the top of its range.
Momentum looks ready to turn positive for the first time in a while.   A  support break would set small caps up for more downside and that will trigger an overall market correction.
Right now that correction everyone has been looking for has been going on with the small caps.  And that correction may have already ended.
Let's keep a close eye on the VIX and IWM.  One should continue heading lower and the other should hold the recent support test, in which case the market may be setting up for another move to record highs.