Monday's Reads
Reads:
News:
 Futures:
Yesterdays UOA:
Charts: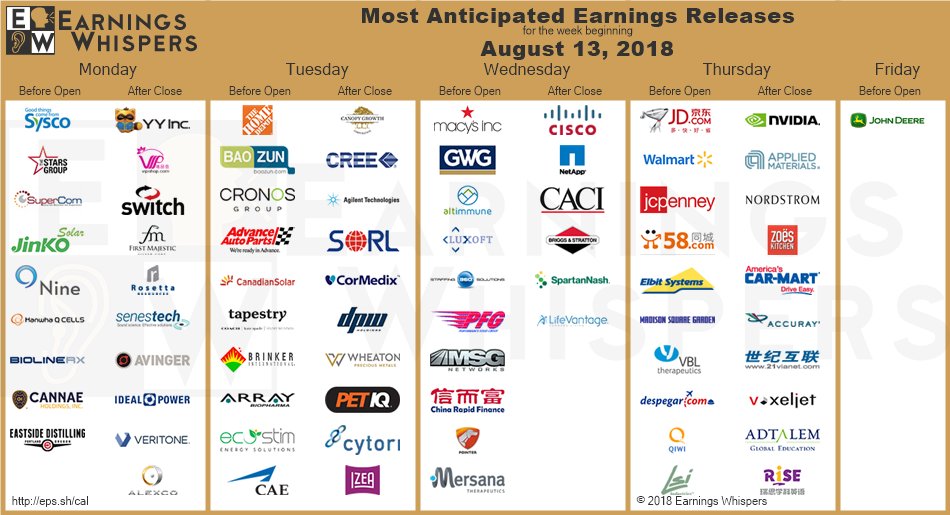 SeekingAlpha:
U.S. stock futures point to a lower open, following other global markets lower in reaction to Turkey's economic turmoil and fears of possible contagion. European bourses are following Friday's sharp losses with a somewhat milder dropoff, with Germany's DAX and the U.K.'s FTSE ~0.5% lower; in Asia, Japan's Nikkei closed down 2% and Hong Kong's Hang Seng slipped 1.5%. "Turkey's problems are quite idiosyncratic and should be relatively well-contained outside of the obvious short-term risk-off unless there's a major investor retrenchment from EM generally," according to Deutsche Bank, referring to emerging markets, of which South Africa and Indonesia have been hit particularly hard overnight. Contagion fears continue to weigh on European banks, including Spain's BBVA; Spanish banks lent $81B to banks headquartered in Turkey during Q1. ETFs: SPY, VOO, SH, SDS, IVV, SSO, UPRO, SPXL, RSP, SPXS, VFINX, EPS, SPLX, SPUU, SFLA, SPDN, SPXE, SPXT, FXY, YCS, JYN, YCL, EIDO IDX, EZA, EWP, HEWP, DBSP.
Economy
The Turkish lira continues to trade lower but recouped some earlier losses of more than 10% against the dollar after Turkey's central bank announced it lowered reserve requirement ratios for banks and pledged to take all necessary measures to maintain financial stability. Turkey's lira pulled back from an overnight record low of 7.24 to the dollar after Pres. Erdogan reiterated his opposition to raising interest rates and said the lira's recent free-fall was the result of a foreign plot and did not reflect Turkey's economic fundamentals. Analysts had hoped to see a rate hike and tightening of monetary policy to try to help halt the lira's decline. ETFs: UUP, UDN, USDU, TUR, TUSC.
North and South Korea have agreed to hold a summit in Pyongyang by September, in what would be the third meeting this year between North Korea's Kim Jong Un and South Korea's Moon Jae-in. Although a fixed agenda for the coming summit meeting has not been set, South Korean officials are expected to discuss ways to keep alive planning for more economic cooperation and to negotiate ways of easing military tensions on the inter-Korean border. ETFs: EWY, KF, KORU, DBKO, FKO, KOR, HEWY, FLKR.
Stocks
Earnings season is winding down, but a few big names are slated to issue their quarterly reports this week. Home Depot (NYSE:HD), Advance Auto Parts (NYSE:AAP) and Wheaton Precious Metals (NYSE:WPM) are slated for Tuesday; Macy's (NYSE:M) and Cisco Systems (NASDAQ:CSCO) are set for Wednesday; Wal-Mart (NYSE:WMT), Nvidia (NASDAQ:NVDA) and Nordstrom (NYSE:JWN) will report on Thursday; and Deere (NYSE:DE) is scheduled for a Friday release.
Saudi Arabia's sovereign wealth fund is in talks on ways to join any investor pool that emerges to take Tesla (NASDAQ:TSLA) private, according to a Bloomberg report, while Reuters says the kingdom's Public Investment Fund has shown no interest so far in financing a deal. PIF would be a natural financing partner after amassing a nearly 5% stake in Tesla and pouring tens of billions of dollars into tech investments such as SoftBank's Vision Fund. For its part, Softbank reportedly is not pursuing an investment in Tesla given its investment earlier this year in rival GM Cruise. Tesla board members are preparing to meet with financial advisers this week to evaluate Musk's going-private proposal, and directors likely will tell Musk to recuse himself and hire his own separate advisors, according to CNBC.
Pres. Trump has backed a boycott of Harley Davidson (NYSE:HOG), ratcheting up their dispute over tariffs on steel following the company's plan to shift some production abroad. Over the weekend, Trump tweeted: "Many Harley Davidson owners plan to boycott the company if manufacturing moves overseas. Great! Most other companies are coming in our direction, including Harley competitors. A really bad move! U.S. will soon have a level playing field, or better." Harley has forecast that the European Union's tariffs in retaliation for U.S. tariffs would cost the company $30-$45 million for the rest of this year and $90-$100 million on a full-year basis.
Google is courting allies in China by providing tools and support to a growing number of app developers, manufacturers and advertisers who rely on the company to reach global consumers, even as its core services such as search, Gmail and You Tube remain blocked for most Chinese citizens, the Wall Street Journal reports. Those allies could prove critical as Google (GOOG, GOOGL) launches a broader China expansion strategy, including testing a mobile version of its search engine that would adhere to China's strict sensors, according to the report. By working with local players, Google seeks to build the case that it is helping China's economy - and provide customers-in-waiting for additional services it sells, such as cloud hosting and business apps.
Construction is halted along the entire length of the Atlantic Coast Pipeline after an order from the Federal Energy Regulatory Commission, citing last week's decision by a 4th U.S. Circuit Court of Appeals panel to vacate two key federal permits issued for the $5.5 billion, 600-mile natural gas pipeline. The court's decision included a National Park Service right of way permit for the pipeline to cross the Blue Ridge Parkway and a U.S. Fish and Wildlife Service permit for the "incidental taking" of five threatened or endangered species in its path. The FERC sent a letter late Friday to Dominion Energy (NYSE:D), the company leading construction of the pipeline, saying work must stop until the permit issues can be resolved; Duke Energy (NYSE:DUK) and Southern Co. (NYSE:SO) also are partners in the project.
Bayer opened 9% lower in European trading following Friday's decision by a California jury ordering the company to pay nearly $290 million or failing to warn a dying man that Monsanto's Roundup weedkiller might cause cancer. Jurors unanimously found that Monsanto, whose merger with Bayer (OTCPK:BAYRY) still must be approved by U.S. regulators, acted with "malice" and that Roundup and the professional grade RangerPro version contributed "substantially" to the man's terminal illness. California Attorney General Xavier Becerra said Friday he was leading a coalition of five states opposing the merger; the $66B deal has received approval from regulators in the European Union, Russia and Brazil, making U.S. approval one of the last major hurdles.
Elliott Management has taken a stake of more than 8% in Nielsen Holdings (NYSE:NLSN) and plans to push for a sale of the company, the Wall Street Journal reports. Paul Singer's firm could unveil its sale effort as soon as today, the report says, noting that multiple private-equity firms have expressed an interest in Nielsen. The company's market cap is almost $8 billion and Elliott's stake would be worth at least $640 million.
Today's Markets 
In Asia
, Japan 
-1.98%
. Hong Kong 
-1.52%
. China 
-0.34%
. India 
-0.65%
.
In Europe
, at midday, London 
-0.53%
. Paris 
-0.32%
. Frankfurt 
-0.61%
.
Futures at 6:20
, Dow 
-0.39%
. S&P 
-0.35%
. Nasdaq 
-0.41%
. Crude flat at $67.63. Gold 
-0.81%
 to $1,209.1. Bitcoin 
+1.95%
 to $6,462.
Ten-year Treasury Yield
 +1 bps to 2.866%