Mondays Market Prepper
Reads:
News:
Charts:
Premium:
Yesterdays Unusual Option Action
Earnings this week: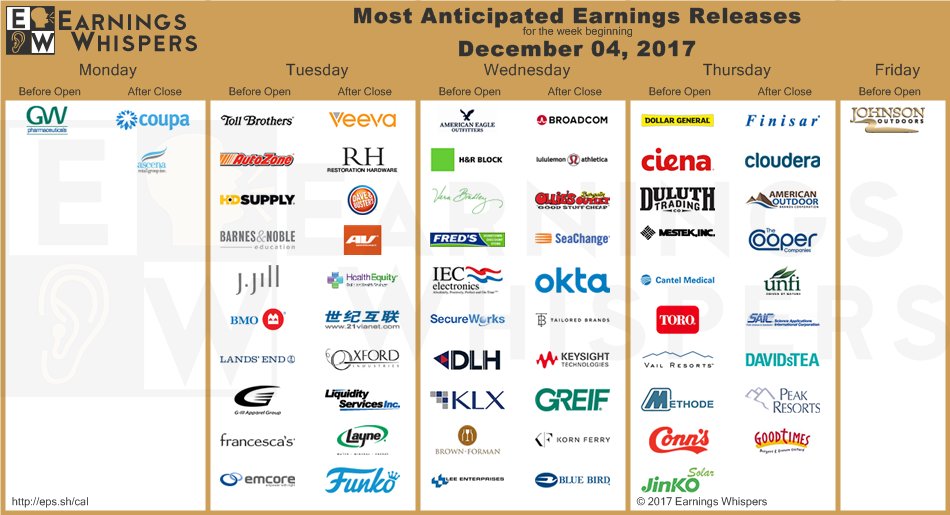 Seekingalpha:
It's a strong beginning for the week after the U.S. Senate narrowly passed a major tax bill over the weekend. The dollar and Treasury yields are on the rise, while Dow futures are up by more than 200 points, along with big gains for other U.S. indices. The GOP still needs to overcome future obstacles for the Senate and the House to craft a joint bill, which will then be presented to President Trump. A deal is hoped to be completed by Christmas.
Economy
Trade will be high on the agenda this week as Canadian Prime Minister Justin Trudeau visits China in a bid to boost business ties with the world's second-largest economy. Canada has previously explored opening full-blown free trade talks with China and Trudeau's Dec. 3-7 trip comes as he wrestles with trade pacts in North America and with other partners in Asia.
Just a week after North Korea test-fired its most advanced ICBM, South Korea and the U.S. have launched their annual aerial drills, which Pyongyang said would push the "peninsula to the brink of nuclear war." Called Vigilant Ace, the program will run until Friday, with six F-22 Raptor stealth fighters to be deployed among more than 230 aircraft. KOSPI +1.1% despite the news.
Saudi Arabia's stock market is on the rise for a ninth straight day as sentiment was helped by hopes for an end to the conflict in Yemen. Former Yemeni President Ali Abdullah Saleh, previously allied with Houthi forces, said he was ready for a "new page" in ties with the Saudi-led coalition fighting in Yemen if the kingdom stopped attacks on his country.
"The 21st century has arrived!" declared Venezuelan President Nicolas Maduro as he announced the future launch of the "petro," a cryptocurrency backed by oil and gas reserves. The move, he said, would help Venezuela "advance in issues of monetary sovereignty, to make financial transactions and overcome the financial blockade."
European Council President Donald Tusk has thrown his weight behind the Irish government, stating the EU will be led by Dublin when it comes to assessing the U.K.'s proposal on avoiding a post-Brexit border with Northern Ireland. "If the U.K.'s offer is unacceptable for Ireland, it will also be unacceptable for the EU," he told a news conference over the weekend.
The 19 finance ministers of the eurozone are due to vote on their new chief today, a key moment that will determine the future direction of the bloc. Mario Centeno, a socialist from Portugal, is considered a favorite. Jeroen Dijsselbloem, who has been president since January 2013, is no longer a member of the Eurogroup, after his Labour Party failed to enter the new Dutch government.
Greece and its eurozone creditors have reached a preliminary agreement on the reforms Athens needs to roll out, paving the way for the disbursement of around €5B in funds next month and the country leaving its bailout program in August. The deal covers fiscal issues, energy and labor market reforms, bad loans and privatizations.
The Bank for International Settlements has added its voice to institutions questioning whether stocks have become too expensive, saying they look "frothy," particularly in the U.S. According to the central bank of central banks, "the vulnerabilities that have built around the globe during the long period of unusually low interest rates have not gone away... and high debt levels are still there."
Stocks
The landmark agreement is one of the year's largest so far. CVS Health (NYSE:CVS) is acquiring Aetna (NYSE:AET) for roughly $69B in cash and stock, creating the first healthcare triple threat that will combine pharmacy, benefit manager platforms and insurance. It comes as insurers are under pressure to lower medical costs, and retailers are under attack from new competitors.
Underlining its commitment to Britain as the country prepares for Brexit, Facebook (NASDAQ:FB) has opened its new London office, stating it would add 800 more jobs in the capital next year. The location will be Facebook's biggest engineering hub outside the U.S. and will also house the company's first in-house startup incubator, called LDN_LAB.
Apple could design its own power-management chips rather than rely on Dialog Semiconductor (OTC:DLGNF), but the Anglo-German chipmaker said this would not happen next year. Shares in Dialog, which analysts estimate derives more than half of its revenue from Apple (NASDAQ:AAPL), lost more than a fifth last week following a report that the tech giant could design its own PMICs for iPhones starting in 2018.
More hack attacks? PayPal (NASDAQ:PYPL) has found evidence of a data breach in TIO Networks, a payment processing company it bought this past July, but its platform and systems were not affected. The unauthorized access could have compromised "personally identifiable information" for approximately 1.6M customers, including TIO customers and customers of TIO billers.
Disney has restarted more serious discussions to buy some assets from 21st Century Fox (NASDAQ:FOXA), and Comcast (NASDAQ:CMCSA) remains in the mix, WSJ reports. Disney's (NYSE:DIS) talks center on the Twentieth Century Fox movie and TV studio, U.K. satellite TV provider Sky (OTCQX:SKYAY), India's Star TV and some U.S. cable networks.
Broadcom will take its first formal step today toward a hostile takeover of Qualcomm (NASDAQ:QCOM), unveiling nominees whom Qualcomm shareholders can vote on to replace the company's board of directors, Reuters reports. Stockholders who want the U.S. semiconductor giant to engage in sale talks will be able to vote on Broadcom's (NASDAQ:AVGO) board director slate on March 6.
ABC News has suspended its chief investigative correspondent, Brian Ross, for four weeks without pay following his erroneous story that Michael Flynn was prepared to testify on a collusion between President Trump and Russia. Wall Street's main indexes all fell by more than 1% after the report on Friday. "People who lost money... should consider hiring a lawyer and suing ABC (DIS) for the damages," President Trump wrote on Twitter.
Infosys has picked an outside CEO for a second time, ending a search for a new leader after previous head Vishal Sikka quit following a clash with the company's founders. Hailing from consultancy firm Capgemini, Salil Parekh will begin a five-year term effective Jan. 2, with the goals of reviving growth at Infosys (NASDAQ:INFY) and forging peace between top brass.
Looking to boost its reserves, Exxon Mobil (NYSE:XOM) recently held talks with Egypt's petroleum ministry about investments in oil and gas production, Petroleum Minister Tarek El Molla told Reuters. "We have been discussing with them, visiting them. They've visited us... We are exploring all opportunities for having more and further upstreamers in Egypt."
Once the most valuable startup in the world, Xiaomi (Private:XI) is now in discussions with investment banks about an initial public offering, seeking a valuation of at least $50B, Bloomberg reports. The Chinese smartphone maker is considering an offering as soon as next year with banks suggesting Hong Kong as the most likely destination.
General Cable +36% premarket after Prysmian (OTCPK:PRYMY) agreed to acquire the company for $30 per share in cash, or a total of $3B, including debt and certain liabilities. "This combination ensures we are well-positioned to meet the future opportunities and challenges in the dynamic and evolving wire and cable industry," said General Cable (NYSE:BGC) CEO Michael McDonnell.
Often the subject of tie-up speculation, Fiat Chrysler (NYSE:FCAU) is in talks with Hyundai (OTCPK:HYMLF) about a technical partnership, but there are no merger talks between the two. "We already buy components from [Hyundai]... let's see if we can agree on other points, especially for the development of transmissions and hydrogen," CEO Sergio Marchionne told reporters.
Putting its Dieselgate scandal behind it, Volkswagen's (OTCPK:VLKAY) Moia division has unveiled a battery-powered minibus that will roam the streets of Hamburg starting in 2018 as carmakers delve into ride-pooling services. Moia plans to then roll out its offering internationally with the goal of replacing 1M cars across European and U.S. cities by 2025, said Ole Harms, chief executive of the division.
Today's Markets 
In Asia
, Japan 
-0.5%
. Hong Kong 
+0.2%
. China 
-0.2%
. India 
+0.1%
.
In Europe
, at midday, London 
+0.4%
. Paris 
+1.1%
. Frankfurt 
+1.3%
.
Futures at 6:20
, Dow 
+0.9%
. S&P 
+0.6%
. Nasdaq 
+0.5%
. Crude 
+1%
 to $57.78. Gold 
-0.5%
 to $1276. Bitcoin 
+1.4%
 to $11332..
Ten-year Treasury Yield
 +4 bps to 2.4%
Today's Economic Calendar
10:00 Factory Orders
12:30 PM TD Ameritrade IMX