Monday's Market Prepper
Reads:
News:
Fridays Unusual Option Action
Central Bank Balance Sheets: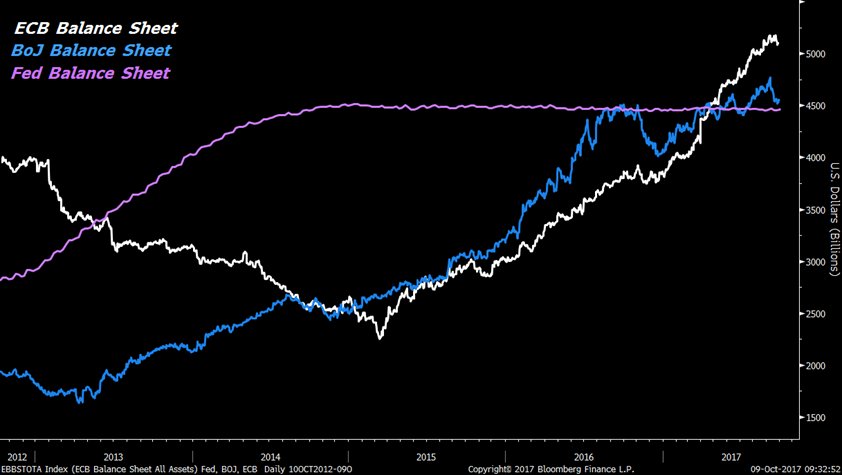 Premium:
Charts:
Seekingalpha:
Senate Democratic leader Chuck Schumer says he rejected an offer from President Trump to work on replacing the Affordable Care Act. Schumer said the Democrats will only work on fixing problems with the ACA, instead of looking to replace it. Trump tweeted on Saturday morning that he had placed a phone call to Schumer to discuss the issue. Behind the scenes, Republican Senator Lamar Alexander and Democrat Senator Patty Murray are working on a bipartisan fix to calm the insurance markets amid the unrest. Also, all eyes are on the White House to see if the administration will fire off an executive order to ease some ACA insurance rules in its most substantial move yet to set healthcare policy. The Trump order is expected to allow certain small businesses to band together to buy insurance coverage as a group.
Economy
Federal Reserve Bank of Boston President Eric Rosengren argued in a speech for the continued gradual removal of monetary policy accommodations and for a slow pace of interest rate increases not tied to short-term economic data. The comments by Rosengren followed September's hurricane-impacted jobs report that showed the first decline in employment in seven years amid a higher labor force participation rate. There's been some building consensus from economists there might be more slack in the job market than what Fed officials forecast when they called a 4.6% unemployment rate an economy firing on all cylinders. Traders can rest easy on the question for the day with the bond market closed for the Columbus Day holiday.
European stocks are slightly higher, with the Stoxx Europe 600 Index up 0.13%. Spain's IBEX 35 is in positive territory following a large demonstration in Barcelona over the weekend to protest the Catalonia secessionist movement. Chinese stocks were mixed after a weak nonmanufacturing print and more concerns over Golden Week traffic. The Shanghai Composite Index rose 1%, while the Hang Seng Index fell back 0.5%. U.S. stock futures are riding confidently into the beginning of Q3 earnings season. Dow and Nasdaq futures are up 0.1% in early trading action.
Hurricane Nate has weakened to a tropical storm after making separate landfalls near the mouth of the Mississippi in Louisiana and in Biloxi, Mississippi. Oil operators shut in 1.62m b/d of U.S. Gulf oil production in preparation for Hurricane Nate. The tally represents about 92% of all production. Key ports in Mobile and New Orleans were also closed as Nate approached. Early reports indicate minimal damage to Gulf operations.
Industrial production in Germany blazed to its best month in six years in August with a 2.6% jump. The mark topped the 0.7% gain forecast by analysts as German exporters benefited from international demand. On a year-over-year comparison, industrial production tracked 4.7% higher.
Crude oil prices are looking to recover today after a 2% decline on Friday, sparked in part by some concerns over overproduction. On the U.S. Gulf Coast, producers and ports in Louisiana, Mississippi and Alabama are expected to be back up and running today after a shutdown in front of Hurricane Nate. Brent crude oil future -0.18% to $55.52/bbl at last check. WTI crude +0.28%to $49.43/bbl.
Stocks
In an aggressive move, Qualcomm (NASDAQ:QCOM) indicated in a European regulatory filing that it will offer concessions in an attempt to get a green light for its $38B acquisition of NXP Semiconductors (NASDAQ:NXPI). The European Commission has raised concerns that a Qualcomm-NXP combination could squeeze out rivals and then raise prices. A spokesperson for the EU said the deal deadline is still suspended despite the new remedies.
A major shakeup may be in the cards for Honeywell (NYSE:HON). Sources indicate that the company is considering a plan to spin non-core assets in a streamlining strategy that could see at least two new publicly listed companies created. The development arrives with hedge fund Third Point applying pressure on the Honeywell board.
After a consistent build-up in criticism from military chiefs and President Trump over the cost of the F-35 fighter jet, the Pentagon is taking over cost-cutting efforts on the $400B program. The move is an implicit rejection of the most recent efforts championed by the key partners on the F-35: Lockheed Martin (NYSE:LMT), Northrop Grumman (NYSE:NOC) and BAE Systems (OTCPK:BAESY).
A defensive move out of Bentonville, Arkansas could rattle the exploding smart speaker market. Wal-Mart (NYSE:WMT) is offering a $25 discount to users who purchase a Google (NASDAQ:GOOG) Home product and link their online Wal-Mart account to Google Express. The strategic move appears to be a countermeasure to Amazon's (NASDAQ:AMZN) aggressive Echo/Alexa push. On a broader scale, the recent e-commerce acquisitions by Wal-Mart of Jet.com and Bonobos are a clear indication that Wal-Mart intends to keep challenging Amazon directly.
In a bid that marks a 23% premium, France's Accor hotel group (OTCPK:ACRFF) has offered A$1.2B (about $932M) for Australia's Mantra Group. Due diligence on the deal is underway to see if Mantra will agree to the offer. The proposed deal would double Accor's size in Australia and is more expensive than prior deals at a purchase price of 13 times 2018 EBITDA. Mantra Group closed 16% higher in Sydney trading.
Steve Wynn said the behavior of the Las Vegas mass shooter would have set off warning signals at Wynn Resorts (NASDAQ:WYNN) properties. For starters, Wynn noted that an inquiry is launched by the hotel when a guest has a "do not disturb" marker on their room for more than 12 hours as happened at the Mandalay Bay. The casino exec also pointed to additional security measures instituted at Wynn Las Vegas and Encore Resort, including guarding all doors and installing magnetometers at high-traffic areas.
M&A radar: It could be an active week for deals with SeaWorld Entertainment (NYSE:SEAS) being circled by Merlin Entertainment, the Nordstrom (NYSE:JWN) family scrapping for a go-private deal and a casino marriage of Penn National Gaming (NASDAQ:PENN) and Pinnacle Entertainment (NYSE:PNK) brewing. BroadSoft (NASDAQ:BSFT) is in play, while Marriott Vacations (NYSE:VAC) is said to be stalking ILG (NASDAQ:ILG). Sprint (NYSE:S) and T-Mobile (NASDAQ:TMUS) are also seemingly heading for the runway.
The number of visitors to Macau during the first four days of Golden Week fell 2% from last year's level, according to tourism officials. At the gambling mecca's casinos, VIP betting volume is expected to have fallen slightly, while mass gaming revenue is anticipated to have posted a gain despite the slip in traffic. Wynn Macau (OTCPK:WYNMF, OTCPK:WYNMY, WYNN), Sands China (OTCPK:SCHYY, OTCPK:SCHYF, LVS), MGM China (OTCPK:MCHVF, OTCPK:MCHVY, MGM) and Galaxy Entertainment (OTCPK:GXYEF) fell today in Hong Kong to extend on last week's slide. The sector could see some extra volatility this week as analysts start pumping out their revenue projections for October.
The estimated box office numbers for Blade Runner 2049 fell below expectations after the film's running of over three hours held back the number of showings that exhibitors such as AMC Entertainment (NYSE:AMC), Regal Entertainment (NYSE:RGC) and Cinemark Holdings (NYSE:CNK) could squeeze in. The Warner Bros. (NYSE:TWX) sci-fi sequel brought in about $32M to fall short of the $45M to $55M range forecast by analysts. The film brought in $50.2M across 63 global markets, a mark much closer to expectations. The film cost Warner about $150M to make before market costs.
Today's Markets 
In Asia
, Japan closed. Hong Kong 
-0.46%
. China 
+0.76%
. India 0.10%.
In Europe
, at midday, London 
-0.20%
. Paris 
-0.09%
. Frankfurt 
-0.05%
.
Futures at 6:20
, Dow 
+0.12%
. S&P 
+0.12%
. Nasdaq 
+0.19%
. Crude 
+0.10%
 to $49.34. Gold 
+0.81%
 to $1,285.20.
Ten-year Treasury Yield
 +11 bps to 2.361%
Today's Economic Calendar
12:30 PM TD Ameritrade IMX