After a few hours of trade today the market looked on the precipice of that long awaited market crash.  The action looked rather foreboding.
$AAPL, the largest company in the world by market cap, was getting juiced.  In between each short lived bounce was a crushing spike lower.    Bonds were in rally mode and  the VIX even decided to participate today.  An early shrug of the shoulders for the VIX in the morning turned into a rally that continued after the lunch time hour.
But then, the story came to the same ending it always does.... late in the day stocks reversed course and closed Off The Lows (OTL).
The late day rally turned the dull Consumer Staples ETF into a momentum stock.  It seems Pepto Bismol, Tissues, and Toilet Bowl Cleaner are in high demand when the largest company in the world by market cap drops 3%.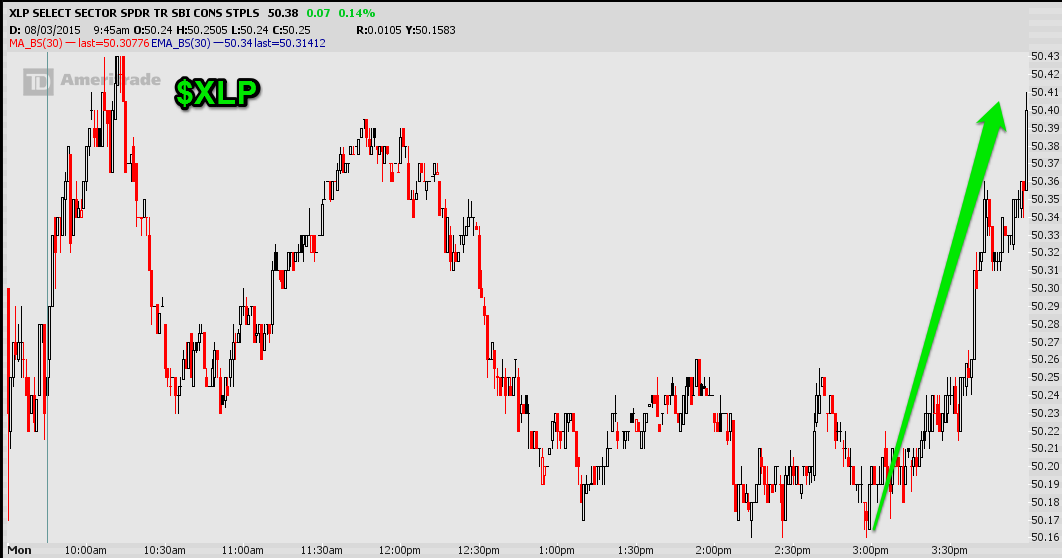 OTL, Buy the dip,  whatever you want to call it.  Stocks had a late day push.  Let's see if this action picks up where it left off in the morning.
With stocks in late day rally mode, the VIX endured its customary smack down.  It remains rather subdued, and despite the action we saw today still looks to be setting up for a prolonged stay under 12.  Of course it has to get there first:
The US Dollar remains on close watch.  Many earning reports contain the "Currency Headwinds" commentary.  A spike back over 100 would add to those headwinds, while a break back down to 94 support could put the headwinds on the back burner for a while.
The Crude oil crash from over $100 a barrel to near $40 earlier this year began in late June 2014.  Perhaps its not coincidence that the recent pull back in Crude Oil began late in June.  The question now: Is this the start of another nasty pull back for crude oil? And if so where will it stop.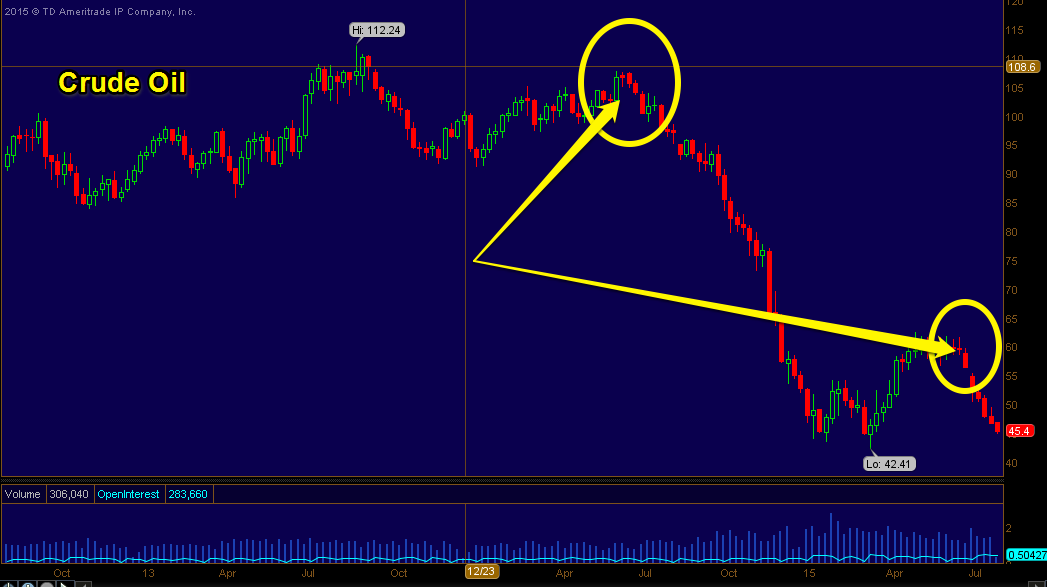 Cheaper prices at the gas pump are all well and good, but if it comes at the expense of the entire energy sector....  yeah... it becomes not such a good thing.  Kind of like winning a million dollars after inflation makes a gallon of milk worth a million dollars.
Energy remains something to watch going forward.  Are we setting up for some Crude and Unusual Punishment?
With $XLE the trend is clearly broken.  The question now, is this just the end of the second leg up, and the bottom is near?  Or is this the end?  and if so, will the broader market play catch up?
$AAPL  Yes Apple.  I was spot on in May 2013 when I called the bottom for this stock.  I also said it would soar in the coming years... it has.  The very same analysts who were downgrading the stock at $60 and less, are the ones the last 6 months who have upgraded with when it broke $120.  As the stock consolidated in 2015 and held above support I was looking for a break to new all time record highs.  If someone asked me this morning if I thought $AAPL was going to hit new highs this year, I would say yes.  I even bought a few calls this morning as the stock dipped, looking for a push higher off support.  Instead support gave way.
Despite a lack of negative analyst commentary, I think it's safe to say investors have lost faith in $AAPL as a growth stock again.  It's failure to resume its parabolic rise has many taking their money and running to.... what?  Where are you going to move your money?  Bonds?  Who knows how much more gas the Bond market has in its tank.  And if stocks resume their rise to new record highs, bonds will not offset those potential gains.
From a long term perspective, $AAPL remains in pull back territory, but not yet complete trend change.   However is this going to be a September 2012 to May 2013 type pull back?  Short term, support is broken.  Today's action broke 2015 trendline support.  I think tomorrows action is vital.  Continued weakness could portend a more significant move to the downside.  While I am a holder of Calls, I'll be wary of tomorrows action.  A day does not a trend make.  But another 1-2% down and this could spark a move to $110 and lower.   Do I think that is what is going to happen?  No.  But then again I thought support would hold.   And in the cruelest of $AAPL moves would it not be appropriate to rally back over $120 support tomorrow?  Would that not abuse both sides of the short term trade?
$TWTR took a path to new lows today.  Ironically last week the analysts were still bullish on the name.  Today not a peep from any of them yet the stock collapses 6%.  Perhaps today was 'shake the Twitter long tree' day, where are those longs who were on the fence about holding on, finally threw in the towel.
The early strength of $TWTR turned to a steady drubbing throughout the trading session.  Let's see if it can dust itself off the mat tomorrow.
For a bounce tomorrow:
Crude oil will need to stabilize and/or bounce
Energy needs to stabilize and/or bounce
Precious Metals need to stabilize and/or bounce
US Dollar index needs to start pulling back
Bonds need to take a breather
AAPL and/or TWTR IBM need to halt their declines.
For stocks to continue to fall:  reverse all the above statements.  
Finally S&P500 futures pulled back today, but still have not negated my perspective for a move to new record highs.
Stay tuned for the option action recap.  Have a great evening.