Monday Morning Reads, Options, News, Charts
Reads:
News:
Futures:
 Open Interest Changes:
Charts:
Unusual Option Action 
Earnings This Week: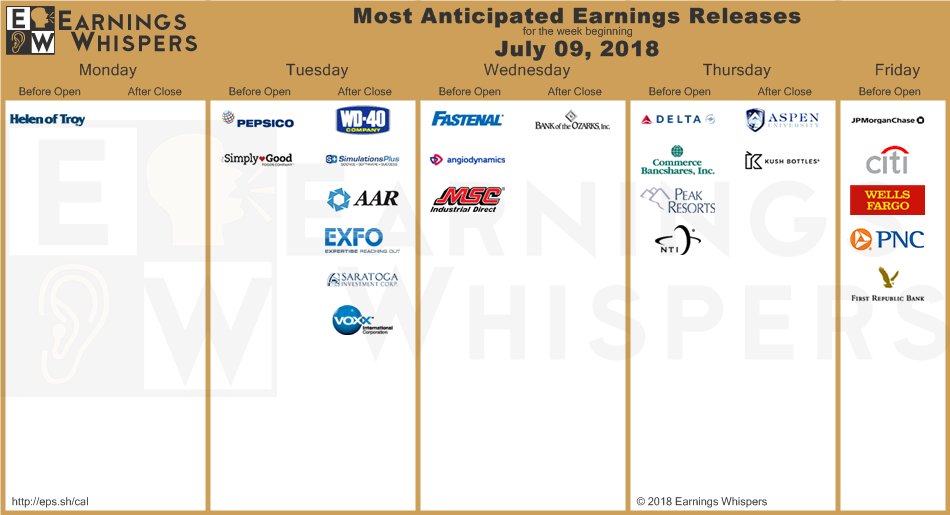 Seekingalpha:
Brexit Secretary David Davis, along with junior Brexit ministers Steve Baker and Suella Braverman, have resigned, in a stinging rebuke to Theresa May after forced she through a new "soft Brexit" strategy. With nine months before Britain leaves and just over three before the EU says it wants a deal, the departures put a question mark over whether May can get the backing of parliament and whether there may be a leadership contest. Sterling +0.4% to $1.3333.
Economy
The loss comes days after a meeting at the Chequers country residence that supposedly sealed a cabinet deal on Brexit. The proposal envisioned Britain keeping close ties to the bloc for trade in goods - via a Facilitated Customs Agreement - but breaking free on many services. Divisions have run deep over a full split with the EU, giving Britain more freedom, and those who want closer ties because of concerns about economic damage.
The Trump administration is suspending a program that pays insurers to stabilize health insurance markets under Obamacare, saying that a recent federal court ruling prevents the money from being disbursed. Based on their 2017 business, the payments amount to $10.4B. With 20M Americans receiving health insurance through the Affordable Care Act, the latest freeze could increase uncertainty and drive up premiums this fall. Related tickers: UNH, AET, ANTM, CI, HUM, WCG, CNC, MOH, GTS, HQY, QHC, HCA, THC, UHS, LPNT, CYH, HCP, SEM
President Trump will also announce his decision tonight on a U.S. Supreme Court Justice to replace retiring Anthony Kennedy. The shortlist reportedly consists of federal appeals court judges Amy Coney Barrett, Thomas Hardiman, Brett Kavanaugh and Raymond Kethledge. Landmark rulings may be revisited as any one of the candidates could tip the balance of the nine-person court toward conservatives.
France's CMA CGM, which operates the world's third largest container shipping fleet, has decided to pull out of Iran following the Trump administration's decision to renew sanctions on companies operating in the country. The announcement comes after the five remaining signatory countries to the 2015 nuclear deal offered a package of economic measures to Iran on Friday, although Tehran said they did not go far enough.
Talks between the U.S. and North Korea appeared to hit a snag as Pyongyang called a visit by Secretary of State Mike Pompeo "regrettable" and accused Washington of making "gangster-like" demands. The U.S. insisted on unilateral "CVID," or complete, verifiable and irreversible denuclearization, according to North Korea's foreign ministry, instead of both sides taking a series of simultaneous steps.
Turkish President Recep Tayyip Erdogan will be sworn in today, assuming sweeping powers granted under a new constitution. Ahead of the ceremony, authorities dismissed more than 18,000 state employees for alleged ties to terror groups. The sweep on police officers, military personnel and justice officials is a dramatic extension of the mass purges launched following a 2016 failed military coup.
China's foreign exchange reserves unexpectedly rose in June, bolstered by an increase in the value of its U.S. Treasury holdings despite concerns of a full-blown trade war between Beijing and Washington. The small increase in reserves, which climbed $1.51B to $3.112T, compared with a drop of $14.23B in May.
Stocks
In their first day of trade, Xiaomi (BATS:XI) shares opened down 2.4% in Hong Kong after being priced at the low-end of a HK$17-HK$22 range. The IPO still raised $4.72B, the world's largest tech float in four years, but it could deliver a blow to tech sector sentiment where peers have lined up listings in the city. Established only in 2010, Xiaomi is the world's fourth-largest smartphone manufacturer.
Chinese internet giant Tencent (OTCPK:TCEHY) is looking to spin off its online music business, seeking an initial public offering worth up to $4B. Terms of the proposed deal, including offering size, price range and entitlement, have not yet been finalized. Market leader Spotify (NYSE:SPOT) debuted its own shares in April, structuring its listing to allow existing investors to sell directly to the public.
"We have a healthy balance sheet," PayPal (NASDAQ:PYPL) CEO Dan Schulman told Germany's Handelsblatt, adding that the company is ready to invest up to $3B a year on acquisitions that enable it to acquire specific capabilities. It comes after PayPal acquired iZettle, the Swedish fintech startup, for $2.2B, in the U.S. payments company's biggest deal ever.
Ahead of Brexit, Citigroup (NYSE:C) is boosting its operations in France with a series of senior appointments, including Pierre Drevillon as its new head of M&A and Luigi de Vecchi, Citi's chairman for continental Europe, relocating to Paris. The bank also plans to add 150 jobs in its sales and trading operation in Frankfurt and as many as 100 more across Milan, Madrid, Paris, Dublin, Luxembourg and Amsterdam.
The recent slowdown in China will be short-lived, according to outgoing Starbucks (NASDAQ:SBUX) executive chairman Howard Schultz, amid growing concerns that the U.S. coffee chain is under pressure in the fast-growing market. He further hinted at a potential tie-up with Alibaba (NYSE:BABA) founder Jack Ma that could help rev up online coffee sales for the chain in China.
The movement is gaining traction... Starbucks (SBUX) is also eliminating single-use plastic straws from all of its cafes globally by 2020, offering recyclable strawless lids and alternative-material straws, like paper or compostable plastic. The company already uses strawless lids nationally for some of its drinks like Nitro Cold Brew and any beverages topped with Cold Foam.
More than 200 people have been infected by cyclosporiasis, a parasitic intestinal infection, after reportedly eating vegetables from Fresh Del Monte Produce (NYSE:FDP) vegetable trays. According to the CDC, most of the trays were bought from Kwik Trip or Kwik Star convenience stores across Iowa, Michigan, Minnesota and Wisconsin. Fresh Del Monte Produce shares have been essentially flat YTD.
Looking for a buyer? Groupon (NASDAQ:GRPN) representatives are aggressively looking to create interest among potential suitors, according to Recode. It's unclear what's behind the push to sell, though it's fair to assume that its meandering share price hasn't inspired investors. In 2011, Groupon IPOed at $16B; today it's worth just $2.4B.
It's the country's biggest military purchase in decades. New Zealand is buying four Boeing (NYSE:BA) P-8A Poseidons for $1.5B as it seeks to counter a Chinese buildup in the Pacific that has worried the U.S. and its allies. The submarine-hunting surveillance jets can track vessels across vast areas of ocean, deploying missiles, depth charges and torpedoes from a rotary launcher to sink them if necessary.
Nissan shares tumbled 5% overnight in Tokyo after the automaker said that emissions data had been falsified on new cars produced at five domestic plants in Japan. The revelation is a fresh blow to Nissan's (OTCPK:NSANY) efforts to regain customer trust, following the discovery last year that the company allowed unqualified personnel to conduct quality checks on its vehicles.
Tesla's website reveals that as a result of additional new tariffs resulting from Friday's official trade war launch, prices of Model S and Model X sold in China have spiked by roughly 20%. China has been one of Tesla's (NASDAQ:TSLA) core markets, where after a slow start it managed to double its sales in 2017 to over $2B. This represents over 20K vehicles based on their average sale price.
Mexican President-elect Andres Manuel Lopez Obrador will seek to end the country's massive fuel imports - nearly all from the U.S. - by the "half way point of my six-year term," while boosting refining at home. According to data from Pemex, foreign gasoline imports have grown by nearly two-thirds, while diesel imports have more than doubled since 2013, the first year of outgoing President Enrique Pena Nieto's term. Related tickers: XOM, COP, CVX, PSX, DK, VLO, MPC, HES, PXD, PBF, NUE, BP, RDS.A, RDS.B
Today's Markets 
In Asia
, Japan 
+1.2%
. Hong Kong 
+1.3%
. China 
+2.5%
. India 
+0.8%
.
In Europe
, at midday, London 
+0.4%
. Paris 
+0.6%
. Frankfurt 
+0.2%
.
Futures at 6:20
, Dow 
+0.5%
. S&P 
+0.4%
. Nasdaq 
+0.4%
. Crude 
-0.2%
 to $73.65. Gold 
+0.7%
 to $1265. Bitcoin 
-0.1%
 to $6699.
Ten-year Treasury Yield
 +2 bps to 2.85%
Today's Economic Calendar
9:10 Fed's Kashkari speech
12:30 PM TD Ameritrade IMX
3:00 PM Consumer Credit