Monday Morning Reads
Reads:
News:
Premium:
Todays Top Open Interest Changes: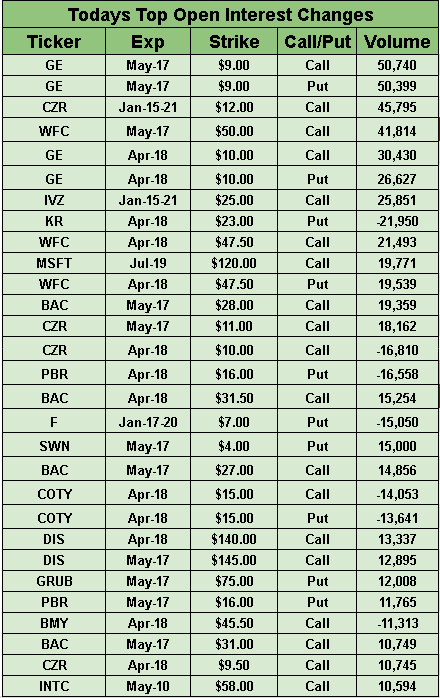 Morning Charts:
From the Weekend:
Seekingalpha:
Though it will be a shorter trading week (due to Good Friday), traders will have plenty of things to monitor. Bank and financial earnings continue to pour in today, with Citigroup (NYSE:C), Goldman Sachs (NYSE:GS), Charles Schwab (NYSE:SCHW) and M&T Bank (NYSE:MTB) updating investors before the bell. U.S. stock index futures are holding steady ahead of the Q1 reports, pointing to a muted open on Wall Street. Other events throughout the week include Pinterest's (PINS) highly-anticipated IPO, retail sales data and the Fed's beige book release.
U.S.-China trade talks near final round
U.S. Treasury Secretary Steven Mnuchin said on Saturday a U.S.-China trade agreement would go "way beyond" previous efforts to open China's markets to American companies and the two sides were "getting close to the final round of concluding issues." "This is way beyond anything that looked like a bilateral investment treaty," he added. U.S. negotiators have also reportedly tempered demands that China curb industrial subsidies as a condition for a trade deal after strong resistance from Beijing.
Draghi takes aim at Trump as he targets Fed
"If the Fed had done its job properly, which it has not, the Stock Market would have been up 5000 to 10,000 additional points, and GDP would have been well over 4% instead of 3%...with almost no inflation," President Trump tweeted on Sunday. "Quantitative tightening was a killer, should have done the exact opposite!" ECB President Mario Draghi took the rare step of sounding concern over the independence of the Fed in the face of the constant criticism and cautiously stuck to the message that an upturn in the European economy is still possible in the second half of 2019.
IMF: Global growth will 'firm up'
A communique from the IMF's steering committee, released Saturday in Washington, said that "growth is projected to firm up in 2020, but risks remain tilted to the downside." "These include trade tensions, policy uncertainty, geopolitical risks, and a sudden sharp tightening of financial conditions. To protect the expansion, we will continue to mitigate risks, enhance resilience, and, if necessary, act promptly to shore up growth for the benefit of all."
Calls for a new Brexit referendum
The idea of a second Brexit referendum is "very likely" to be put before Britain's parliament again although the government remains opposed to any new plebiscite, according to Chancellor of the Exchequer Phillip Hammond. While the government was opposed to a new public vote, many Labour lawmakers are pressing their leader Jeremy Corbyn to demand a new referendum in talks with the government. Theresa May has so far failed to get her own Conservative Party behind her Brexit divorce deal and has reached out to the opposition.
Macron hopes to appease Yellow Vest discontent
French President Emmanuel Macron will address his nation this evening to announce a set of measures designed to quell the anger that has fueled the Yellow Vest protests. It follows a 10-week national debate devised to assuage grassroots discontent and relaunch his presidency, a month ahead of EU elections seen as a referendum on his policies. Some 31,000 Yellow Vests turned out across the country on Saturday for a 22nd consecutive weekend.
Another outage for Facebook, Instagram and WhatsApp
Facebook (NASDAQ:FB), Instagram and WhatsApp were down in much of the world for several hours on Sunday, in the latest failure to hit the three social media platforms. The company told the BBC: "We're sorry for any inconvenience," but gave few other details. Facebook experienced one of its longest outages in March, when some users around the globe could not access Facebook, Instagram and WhatsApp for more than 24 hours.
More cancel 737 Max flights through the summer
The grounding of Boeing's (NYSE:BA) 737 MAX jetliners continues to ripple through the airline industry, with American Airlines (NASDAQ:AAL) now joining Southwest (NYSE:LUV) in extending flight cancellations into August. Together, the two airlines will be cutting an average of 275 flights a day and many of them will be during the key summer travel period. It's still unclear when the Max, which has been grounded since mid-March, will return as Boeing works on a highly-awaited software fix.
Expanding its digital business and North American footprint, French advertising giant Publicis (OTCQX:PUBGY) will pay $4.4B to acquire Alliance Data's (NYSE:ADS) Epsilon marketing unit. Catalent (NYSE:CTLT) is set to announce this morning it will acquire privately-held Paragon Bioservices for $1.2B, in a bid to expand its gene therapy manufacturing capabilities. Meanwhile, in one of the biggest solid-waste company acquisitions in more than a decade, Waste Management (NYSE:WM) is reportedly near a deal to acquire rival Advanced Disposal Services (NYSE:ADSW) for nearly $2.9B.