Monday Morning Reads
Reads:
News:
This week: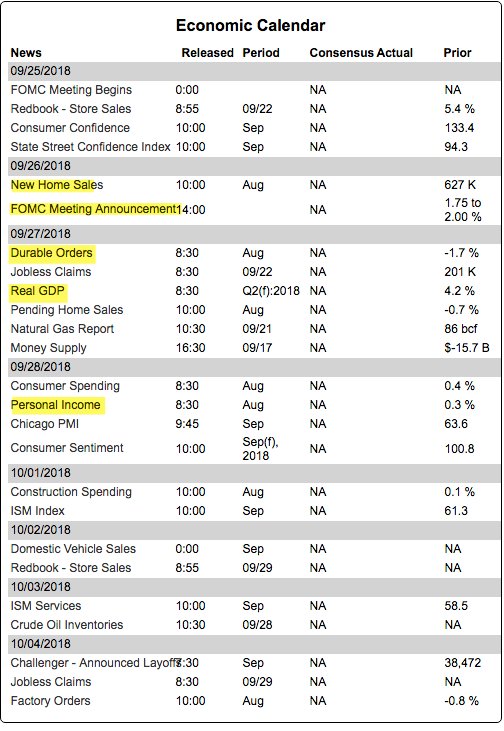 Futures:
Premium:
Open Interest Changes:
Charts:
 From The Weekend:
Seekingalpha:
Global markets are mostly lower as the newest tariffs between the U.S. and China took effect overnight, marking a sharp escalation in the dispute between the world's two largest economies. The duties include U.S. tariffs on $200 billion worth of Chinese goods, along with retaliation to the order of tariffs by Beijing on $60 billion worth of U.S. goods. Talks have broken down, with no date set for a follow-up. The Trump administration likely will dig in, but what about Beijing? China likely will hold off on negotiations, economist Rob Carnell says, noting there's "sufficient stimulus in the pipeline" to limit damage from the new tariffs. China also could be waiting things out until the U.S. election: "With generic polls favoring the Democrats, they may feel that the trade environment will be less hostile after November 6."
Economy
The latest tariffs spare many high-profile consumer technology items such as smartwatches and speakers but not so the less flashy home modems, routers and switching and networking gear that make them work. The basic gear that keeps the internet functioning was not included in a newly created U.S. tariff code that was exempted from the latest China tariffs, according to the U.S. Customs and Border Protection Agency. The move effectively creates a two-tiered tariff structure for consumer internet, with products such as Apple's watch (NASDAQ:AAPL), Amazon's (NASDAQ:AMZN) Echo smart speaker and Fitbit's (NYSE:FIT) fitness tracker favored over routers and internet gateways from Arris (NASDAQ:ARRS), Netgear (NASDAQ:NTGR), D-Link (OTC:DLINF) and others.
Prices of many products will go up as U.S. tariffs on China go into effect, according to large retail chains such as Walmart (NYSE:WMT), Target (NYSE:TGT) and J.C. Penney (NYSE:JCP). Retail sector analysts warn items in certain categories could see a 20% increase in prices based off of what happened in the washing and drying machine industry in an earlier round of tariffs. On the flip side, the retail giants have been working on mitigation strategies and are likely to have stockpiled some key products and components in anticipation of the tariff impact. Some chains like Dollar General (NYSE:DG) and Dollar Tree (NASDAQ:DLTR) are seen as having very limited tariff exposure.
Companies will be deterred from carrying out big deals, thanks to rising geopolitical tensions and the escalating trade war between the U.S. and China, according to Hernan Cristerna, JPMorgan's (NYSE:JPM) global co-head of M&A. "Anything that points to uncertainty and a lack of confidence is not good for M&A," Cristerna told Business Insider. "We're already seeing signs that geopolitical risks, including trade tensions, are dimming the prospects for large-scale M&A going into next year." Cristerna said the collapse of deals such as Alibaba's (NYSE:BABA) planned $1.2 billion takeover of MoneyGram (NYSE:MGI) and Broadcom's (NASDAQ:AVGO) abandoned $144 billion combination with Qualcomm (NASDAQ:QCOM) have "made some corporate boards think twice about the ongoing dispute between the U.S. and China."
Informal talks between U.S. and Canada officials are "very likely" in the coming days, as both parties are in New York for a meeting of the United Nations General Assembly, Canadian Prime Minister Trudeau said Sunday. U.S. Trade Representative Lighthizer and Canadian Foreign Minister Freeland are scheduled to attend. Pres. Trump, who reached a trade agreement with Mexico last month, is urging Canada to make a deal by the end of this month and has threatened to exclude the country if it won't make concessions. Sticking points include U.S. access to Canada's protected dairy market, a dispute resolution mechanism and Trump's threat to impose a 25% tariff on Canadian auto imports.
Brent crude jumped to its highest in four years overnight after the world's biggest oil producers, led by Saudi Arabia and Russia, decided against further increases in production, despite calls from Pres. Trump for OPEC to lower prices. At its meeting in Algiers Sunday, OPEC said it was satisfied "regarding the current oil market outlook, with an overall healthy balance between supply and demand." Brent spiked as much as 2.6% higher to $80.94 per barrel to its loftiest levels since 2014, while U.S. WTI climbed 1.8% to $72.06 per barrel, its highest since this June.
Stocks
The winner of the rare one-day auction for U.K. broadcaster Sky (OTCQX:SKYAY) over the weekend was Comcast (NASDAQ:CMCSA), which beat rival bidder Twenty-First Century Fox (FOX, FOXA) in the third round with a sealed bid of £17.28 per share, or about $22.60/share. The bid, which values Sky at more than £30 billion (about $38.8 billion, not including debt), easily topped Fox's highest bid of £15.67. Sky's independent committee recommended Comcast's offer, and Fox said it was weighing options for its 39% of Sky. But all is not lost for Fox and backer Disney (NYSE:DIS), since their stake is more valuable now and could be stock in trade for Comcast's 30% holding in Hulu, where Disney is set to take majority control.
The White House has drafted the text of a proposed executive order for President Trump that would trigger an antitrust investigation into Google (GOOG, GOOGL) and Facebook (NASDAQ:FB), according to a memo being circulated on the web. Such an order, if enacted, would represent a significant escalation of Trump's aversion to the two social media companies, whom he has accused of silencing conservative voices and news sources online. "Although the White House is concerned about the conduct of online platforms and their impact on society, this document is not the result of an official White House policymaking process," the Deputy White House Press Secretary said.
Two of the world's largest gold miners are merging as Barrick Gold (NYSE:ABX) agreed to acquire Randgold Resources (NASDAQ:GOLD) in a share-for-share deal that would create an $18.3 billion mining giant. Barrick shareholders would own roughly two-thirds of the combined company, which would own five of the world's top 10 tier-one gold assets by total cash cost, with two potential tier-one gold projects under development or expansion. Barrick Executive Chairman John Thornton is set to become Executive Chairman of the new company, and Randgold CEO Mark Bristow would become President and CEO.
Apple is taking a conservative approach with its push into streaming entertainment, seeking high-quality shows with big names and wide appeal but without gratuitous sex, profanity or violence, WSJ reports. Tim Cook reportedly spiked a show about hip hop artist Dr. Dre's life because it featured drug use, sex and violence, sending a clear message to Hollywood that Apple (AAPL) does not want shows that could taint its brand image. The result is an approach out of step with other video streaming platforms, including Amazon (AMZN) and Netflix (NASDAQ:NFLX), which have made their mark in original content with edgier programming that often wins critical acclaim.
The U.S. airline industry scored a win over the weekend as bipartisan congressional legislation dropped plans to mandate "reasonable and proportional" baggage and change fees, after heavy lobbying by the airlines. U.S. airlines' revenue from baggage and reservation change fees rose to $7.5 billion in 2017 from $5.7 billion in 2010. Just last week, American Airlines (NASDAQ:AAL) became the latest major airline to raise fees for checked bags by $5 for the first bag to $30, joining Delta (NYSE:DAL), United (NASDAQ:UAL) and JetBlue (NASDAQ:JBLU). Congress is set to vote on the measure this week ahead of a September 30 deadline.
There's some electrifying news out of Germany with word that Volkswagen (OTCPK:VWAGY, OTCPK:VWAPY) unit Porsche (OTCPK:POAHY, OTCPK:POAHF) plans to stop offering diesel versions of its cars. Porsche will be the first German automaker to drop diesel since the emissions-cheating scandal developed within the industry. As it prepares for a diesel-free future, Porsche says it will focus resources on hybrid and battery-powered vehicle development. The unit aims to launch its first fully electric sports car next year when a new Taycan is introduced.