Monday Morning Reads
Reads:
Powell, Trump and the Amazon effect: What we heard at Jackson Hole.
"I was cheated": tales from the collapse of a commodity giant.
It's not the economy, stupid. For European stocks, it's politics.
Ferraris a better bet than stocks in age of market exuberance.
Democrats aren't talking Trump impeachment but are vowing probes.
Fox (FOXA) has reached a deal with Comcast (CMCSA) to prevent Big Ten Network blackout. WSJ Report
Whole Foods' competitors not being hurt following Amazon (AMZN) deal (NGVC, SFM, KR). WSJ Report
PG&E (PCG) may have lost control of confidential information regarding its systems. WSJ Report
Endurance International (EIGI) is considering options including possible sale. Bloomberg Report
Exxon (XOM) is considering purchasing renewable energy in Texas (TAN, XLE). Bloomberg Report
Elliott Management is against Dell's (DVMT) attempts to purchase VMWare (VMW). NY Post Report
Lloyd's (LYG) might be required to appoint Deloitte as its auditor. Sunday Times UK Report
News:
Futures:
Premium:
Open Interest Changes:
 Earnings: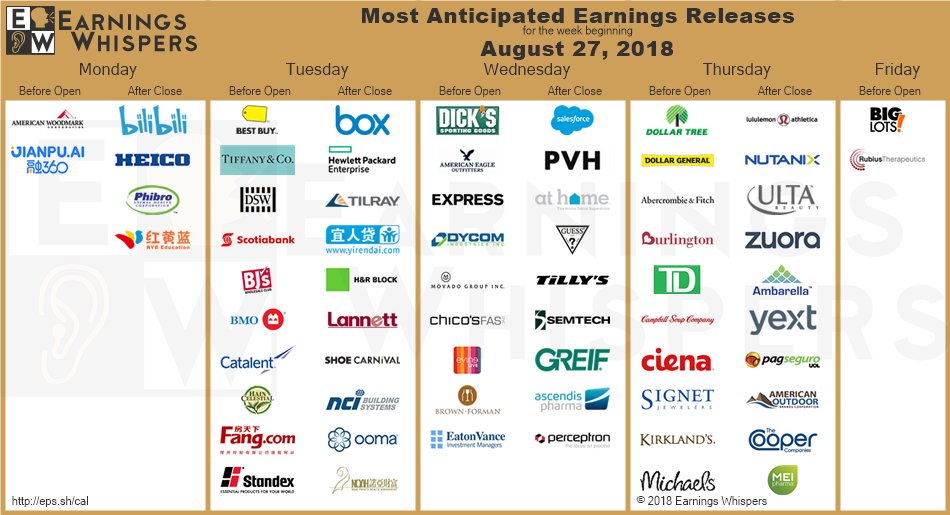 Charts:
SeekingAlpha:
U.S. and Mexican trade negotiators are "hours" away from squaring away bilateral differences on the NAFTA, but work with Canada is likely to stretch into September, Mexican Economy Minister Ildefonso Guajardo told reporters as he entered the offices of the U.S. Trade Representative. Optimism was also seen from President Trump. "Our relationship with Mexico is getting closer by the hour," he tweeted. "A big Trade Agreement with Mexico could be happening soon!"
Economy
Reassuring comments from Jerome Powell at the Jackson Hole Symposium in Wyoming are sending futures higher to start the week. The Fed Chair said the central bank would likely continue with its policy tightening if the economy continued to strengthen, but a "gradual approach" to rate hikes remains appropriate to protect the U.S. economy and job growth. Powell last week came under fire from Trump, who said he was "not thrilled" by the Fed's raising of rates.
Profit growth for China's industrial firms cooled for a third straight month in July, rising 16.2% to $75B vs. 20% in June, the latest sign of mounting U.S. trade pressure on the world's second-largest economy. The weaker reading comes after the People's Bank of China announced tweaks to its methodology for the fixing of the yuan's daily midpoint in an effort to stabilize the currency market.
Australia's new Prime Minister Scott Morrison is shaking up his cabinet with a new foreign minister, as well as a host of other positions, in a bid to heal divisions following a week of political chaos. An opinion poll published by The Australian newspaper on Sunday showed Labor leading the government by 56% to 44% on a two party preferred basis - the worst figures in a decade for the Liberal-National coalition.
Hawaii dodged a direct hit by Hurricane Lane, which was downgraded to Tropical Storm Lane over the weekend. However, the Big Island was hit by more than 4 feet of rain, with roads washed out, homes damaged, thousands without power and dozens needing to be rescued. "Despite Lane weakening, rain will remain a major threat to the islands," according to AccuWeather Meteorologist Steve Travis.
Germany's business morale improved for the first time this year in August as a "trade truce between Juncker and Trump is clearly providing relief," Ifo economist Klaus Wohlrabe told Reuters. The economic institute's closely-watched business climate index jumped to 103.8, beating July's reading of 101.7, with current figures pointing to "economic growth of 0.5% in the third quarter."
Turkey's lira whipsawed heavily overnight before rebounding against the dollar, shattering last week's relative calm when local markets were shut for holidays. The currency has so far slumped 18% in August. Investors will now turn their attention to a meeting today between Turkish Finance Minister Berat Albayrak and his French counterpart in Paris, after which they are scheduled to make a statement.
Iran's parliament ousted the country's economy minister on Sunday, amid a sharp fall in the rial currency and a deterioration in the economic situation following President Trump's withdrawal from the Iran deal. Meanwhile, Iranian lawyers will ask the U.N. International Court of Justice today to order the lifting of new U.S. sanctions imposed on Tehran, citing a little-known 1955 friendship treaty between the two countries.
Stocks
Tesla -5.4% premarket after Elon Musk called off his $72B bid to take the company private. The decision to scuttle the proposed deal was motivated in part by existing Tesla (NASDAQ:TSLA) shareholders who said they wanted the luxury EV maker to remain publicly-traded. Other concerns centered on ceding too much control to private investors and shutting out smaller investors who might be unable to retain a stake.
Larry Thompson, a former prosecutor assigned to monitor Volkswagen (OTCPK:VLKAY) after its emissions scandal, will issue a report today detailing whether the carmaker has complied with the terms of a U.S. civil settlement. The findings, which will be released during a news conference at VW's headquarters in Wolfsburg, Germany, are expected to be critical of the carmaker's progress toward becoming a more ethical company.
Ride-hailing news: UBER is planning a shift in emphasis from cars to electric bicycles and scooters for shorter journeys, which may mean a further financial hit for the company in the near term. Separately, Didi Chuxing (DIDI) has fired two executives and will suspend one of its carpooling services called "Hitch" across China after a woman was raped and killed by a driver in Yueqing.
A mass shooting at a Madden NFL 19 tournament in Jacksonville on Sunday saw three people dead at the scene, including shooter suspect David Katz, who was there "for the competition." Eleven other victims were wounded. Electronic Arts (NASDAQ:EA), the maker of the game who runs the tournaments, released a statement saying: "The tragic situation was a senseless act of violence that we strongly condemn... Our focus right now is on those affected and supporting law enforcement."
Disney has reached an agreement with its workers at Walt Disney World to raise the minimum wage to $15/hour by 2021, CNN reports. That marks some peace in a labor fight that has raged for nearly a year and affects tens of thousands of employees of the resort. Disney's (NYSE:DIS) union members will vote on the agreement Sept. 5, with passage likely.
Facebook is turning to a high-profile communicator known for championing diversity to take over its marketing and communications roles in a challenging time for the company and its public image. It's hired HP's (NYSE:HPQ) global chief marketing and communications officer, Antonio Lucio, to be its new chief marketing officer. "Facebook's (NASDAQ:FB) story is at an inflection point," wrote Chief Product Officer Chris Cox.
Boosted by its strong upstream and refining business, China Petroleum & Chemical (NYSE:SNP), the country's largest refiner, reported its best quarterly profit in years, with first-half net income up 54% to 41.6B yuan ($6.05B). That marks its best H1 performance since Sinopec listed 18 years ago, a company spokesman said, adding that it expects higher fuel sales in the second half. SNP +3.6% premarket.
Ensuring the survival of what was once Asia's biggest commodity trader, Noble Group (OTCPK:NOBGY) has won shareholder approval for a $3.5B debt restructuring. The company's debt will be halved as it gets access to trade finance and hedging facilities in return for handing over 70% of its restructured business to creditors. Remaining equity will be whittled down to management and shareholders.
According to the Economic Times, Berkshire Hathaway (BRK.A, BRK.B) is in talks to pick up something in the area of a $300M stake (about 3-4%) in One97 Communications, the parent company of Paytm. If closed, it would mark The Oracle's first direct investment in India and value the digital payments firm at more than $10B. Softbank (OTCPK:SFTBY) and Alibaba (NYSE:BABA) are among the major investors in Paytm.